Feature: A Specifically Not Specific Murray Hill Makes His Solo Debut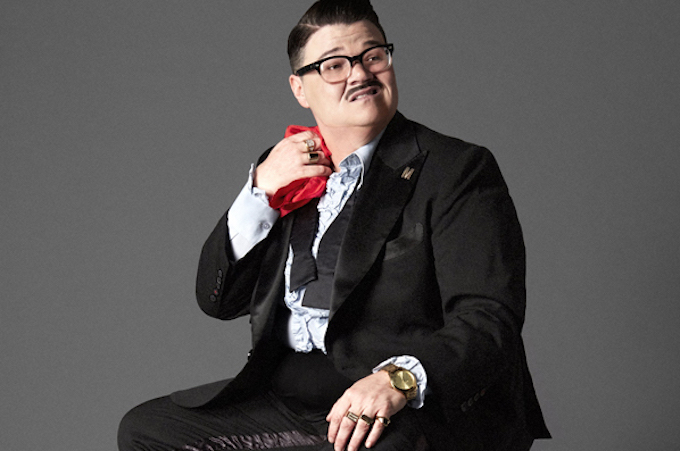 Murray Hill's debut solo show, ABOUT TO BREAK, officially opened Friday night (September 21), at Joe's Pub. Though he has been performing for over two decades, this solo show marked a first for him: a career show, as he put it. New York Voices, Joe's Pub at The Public's artist commissioning program, gave him unprecedented resources---his first time working with a director (Scott Wittman), space, budget, rehearsal, a full six-show run. All these things that, as he said, makes it possible to "actually do creative development."
I met Hill briefly after the show, then we spoke on the phone the next day about the changing landscape of drag, his inspiration, and where he'd like to go next as a performer who, if he hasn't gotten his break already, certainly seems on his way and committed to keep at it.
SHOWBIZ: A PHILOSOPHY
In ABOUT TO BREAK, it's a punchline after every item in the list that opens his act: "When you're performing in the back room at Bally's, literally called The Back Room--- showbiz!"
In his young life, it was the space where Hill took solace amidst strong personalities on TV shows and formed a chosen family of characters whose too-much-ness was acceptable and even welcomed.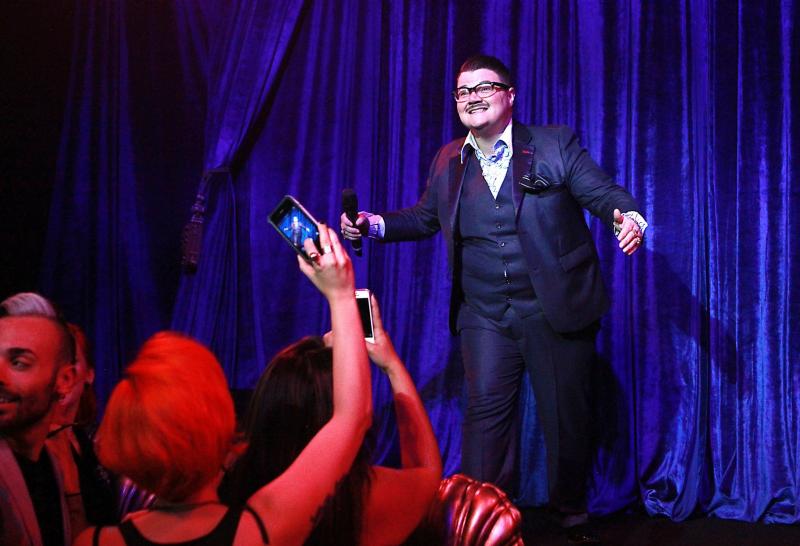 In a career that's difficult to categorize and spans more than two decades, it's the most apt way to encompass the huge variety of performances he's done, from headlining his own shows with Elvis impersonations, to hosting burlesque shows, to doing multiple television appearances. It's the actual name of the pop culture show he starred in on MTV's digital network. It's the industry that---according to ABOUT TO BREAK---has kept him on the cusp of making it big for who knows how long, but that's also given him every epithet from "pioneer of drag kings" to "reining patriarch of downtown performance."
In the present moment, it's a way to talk about and navigate anything from a pilot not getting picked up to Saturday's weather starting out sunny and then turning ugly: "anything that sounds kind of promising, like something will happen and then... it doesn't."
In watching him perform and then speaking with him, you constantly get a sense of ease in the face of disappointment--- not out of some sort of contentment to rest on one's laurels but, rather, because his relentless determination is a foregone conclusion. Simple; showbiz.
OLD SCHOOL PERSONA, NEW SELF-DISCOVERIES
Something fascinating about Murray Hill is that his persona never leaves him, neither onstage nor off. And yet---or, perhaps because of this---he is strikingly warm, genuine, and easy to talk to.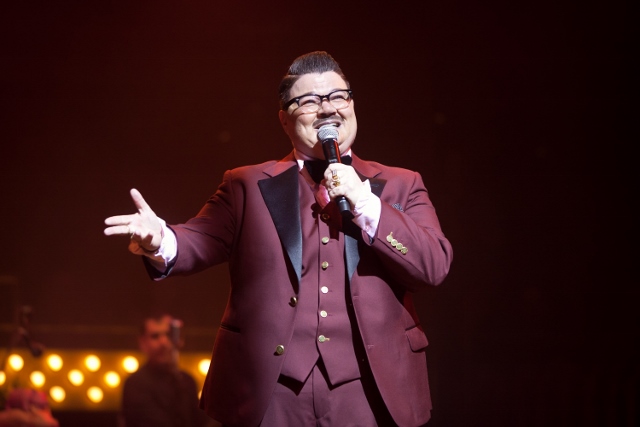 What's also exciting about his new work is that, not only is his persona as present and dynamic as ever, it's also going into brand-new territory, being vulnerable in ways you might think would cause Hill's persona to crack or collapse, which maybe adds another layer of meaning to his show's title.
"One of the things about Joe's and Scott Wittman is that it has given me the opportunity to look at my past," he said. "Because I'm very old school in that, when I started, you develop a persona and no one asks you about anything! You don't have to have a backstory; you come to New York to make your own backstory! So, I think this process was to actually not separate it out so much. It's that the backstory of Murray is there."
When Murray develops new material, he usually generates material on his feet as opposed to sitting down and writing. "I'm totally an on-my-feet person. If I say something funny I have a musician write it down and then I build off of it." So, another great result of New York Voices is, he said, that "the process has had me sitting down, actually writing jokes. That's been a great thing because I thought I couldn't do it!"
"I JUST BECAME IT"
While he has been called a drag king, iconic gender-bender, downtown's "it" boy, and more, Murray Hill prefers simpler terms: Comedian. Entertainer. Much of ABOUT TO BREAK is about how Hill has been in showbiz for a long time, and in other interviews he has discussed what he has seen change over the years. He's been performing since the mid-'90s, when the public discussion around gender was less open, less informed. This shift has its advantages, but also its disadvantages, which people don't talk about as much.
"Things are more compartmentalized now, and I think it's made the community much more fragmented," he said. "There are so many terms now. When I first started, it was butch or femme-- -that was it!" Hill discussed the big feminist performance art movement in the '70s, whose thrust was the idea that "the personal is political," and that this allowed for greater freedom than today: "You could just be whoever you were trying to be." As for his own relationship to the terms and labels that have since emerged, he said,"I've always been pretty specific in not being specific. How's that?"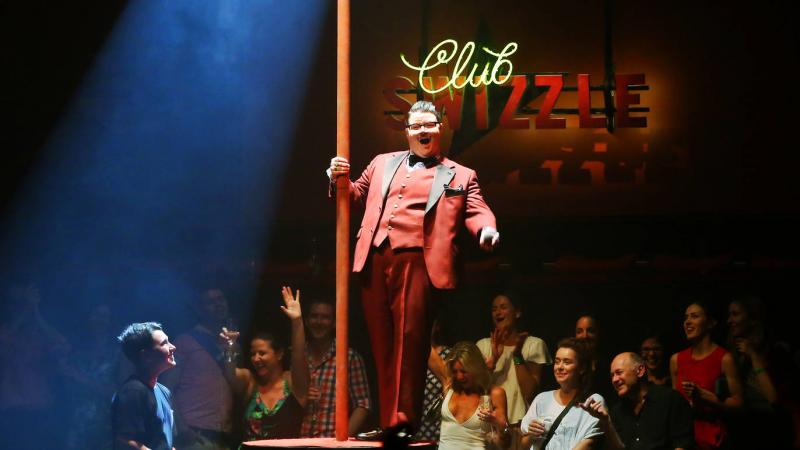 Hill continued, "I feel like it's helpful for people who need [labels] and want [them], and that's totally fine. I think I come from a different generation where instead [of giving myself a label] I just lived in that space. I just became it." Hill never wants a label to precede him: "I believe in assimilation. If I can be just Murray Hill the comedian, that's what I want. Why do I have to be put in 15 categories first?"
Lest lest you think him apolitical, Hill was careful to clarify: "I don't identify as being any one thing. But I do acknowledge that I come up from the nightlife scene, heavily influenced by drag queens and queer nightlife." His career of performing with so many different members of this scene is certainly a testament to that.
"THEIR STORIES FROM THEIR PERSPECTIVES"
Hill's sentiments about fragmentation and in-fighting echoed in his assessment of the recent Dante "Tex" Gill and Scarlett Johansson situation.
"Nothing is simple and not thought out," he said. "Getting things made in Hollywood is tough, and Scarlett Johansson is a big name! My response wasn't anger, because anyone can do any project they want, and fund it, and produce it, and push themselves. The challenge is, if you're going to do that, why not at least look at other actors where that's a part of their story? And the funny thing is, I look like the guy!"
He continued, "Acting is about playing a character, it's about portraying someone else. So, I don't feel like just because she's Scarlett Johansson she can't play a butch trans guy. I think it's just people want to tell their stories from their perspectives. So, then, my thing is, go ahead and do that. Like I always say, 'If you don't see yourself represented, go out and represent yourself,' which is what I've always done."
HOME COURT, AWAY COURT
Speaking of representing oneself, Hill talks about his visibility strategy as one that encompasses both the community he came from and the one outside of it--- preaching to the converted, as it were, but also "proselytizing" to the heteronormative world at large.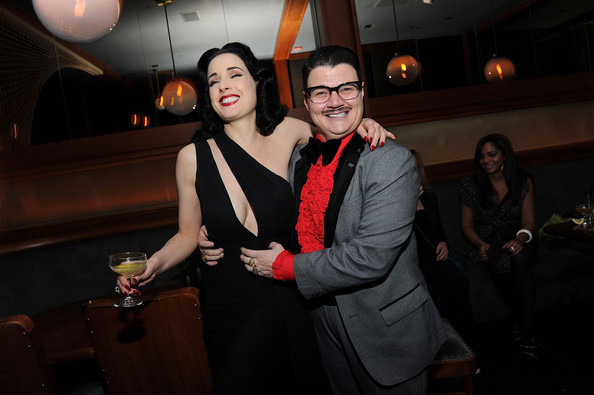 "I've always played to the home court and the away court," he puts it. "Since I've started, first with Dita Von Teese all over the country and then starring in Club Swizzle at the Sydney Opera House, I was always in front of mainstream non-queer audiences. I definitely believe in having Murray exist in that space, because that in itself is radical. But you know, I also 'play to the kids,'" he added, to account for the home court he spoke of. "But this is why I'm still trying to get a TV show," he said.
Hill's ideal next move is to get a talk show like those of his great loves, Dean Martin and Johnny Carson. This is for two reasons. One, because to him that would be the fastest way to assimilation: "That would be the ultimate visibility, you know, getting Murray in front of the real mainstream, not the analog version," he clarified, speaking of the theatre-going sector.
HUMBLY AMBITIOUS
The second reason he wants a TV show is that he sees something missing from the current repertoire of talk shows: realness. "When---and I'm gonna say 'when,' not 'if,'---when I do my version, it's gonna have old school flair and we'll just be in the room, talking to people. Seeing what happens naturally, keeping it real."
He continued, "What I loved about Carson is, people would just come on, just talk, not pre-prepared, not political, not promotional. Just showbiz people talking and listening. We don't see that as much, that type of friendly sit-down. And John listened!" he added. "You know, these hosts now, they don't even do that."
I love that Hill emphasized this aspect of Carson, his apparent consideration of and advocating for the guests he brought on The Tonight Show. When I met Murray Hill in his dressing room the night before, a couple guests already on the couch, the first thing he said to me was, "Oh, and these are my friends. They're performers, too; you should write about them next!" I brought this up in our phone call as evidence of Murray's resemblance to Carson in this regard, to which he replied without missing a beat, "Well, yeah, they're both great performers!" The fact that advocating for fellow artists is such a non-negotiable for Murray Hill showcases his embodiment of Carsonesque ideals as good as any of his many ways of entertaining.
---
Murray Hill's ABOUT TO BREAK plays at Joe's Pub through Sept. 29. For tickets and information, visit www.publictheater.org.
Audrey Moyce likes to write and perform and write about performance. You can find more of her work at audreymoyce.com.