Click Here for More Articles on NEW YORK CITY
BWW Review: Tilda Swinton Moves Into The Laurie Beechman In The Absurd and Exquisite TILDA SWINTON ANSWERS AN AD ON CRAIGSLIST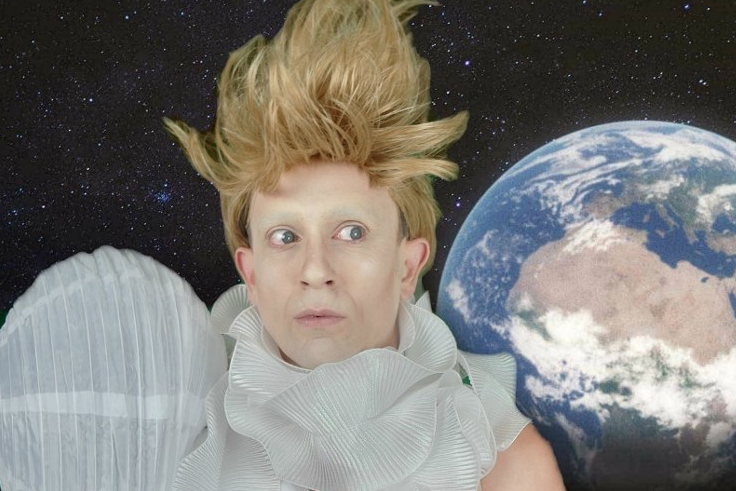 Byron Lane's meditation on the artifice and projection of fame and celebrity is brilliantly explored through the prism of Tom Lenk's exquisitely crafted performance in Tilda Swinton ANSWERS AN AD ON CRAIGSLIST, which ran March 16-25 at the Laurie Beechman Theatre, following a fall run at Celebration Theatre in Los Angeles. CRAIGSLIST's Tilda is almost better than the real thing, because she is utterly raw in being herself, and Lenk was a treat to behold for all of the show's 80-odd minutes; his performance and Lane's writing were equally superb.
Bryon Lane not only wrote the piece but also plays Walt, the sad, recently dumped gay man with a spare room who Tilda Swinton has decided to use as inspiration for her next movie role. Walt's sad life becomes the fodder for Swinton's endless derision but also her latest project. Throughout the piece Swinton receives Walt's ex-boyfriend (Mark Jude Sullivan), mother (Jayne Entwistle), and father (also played by Sullivan), and, in her strange, circuitous way, she half-inadvertently helps Walt troubleshoot each relationship one by one.
A notable tidbit: lots of audience winks to her various film roles. "You're not flawless. We all saw The Beach!" Walt says. (I have not seen it, but Rotten Tomatoes gives it a 20 percent.) THE CHRONICLES OF NARNIA, WE NEED TO TALK ABOUT KEVIN, ONLY LOVERS LEFT ALIVE, SNOWPIERCER, DOCTOR STRANGE (and yes, this Tilda acknowledged her "transformation" for that role into an old, Asian man), and OKJA also make the cut.
But also, and perhaps even more interestingly, there was lots of Tilda claiming to be in movies she clearly was not. For example, she argues that she starred in THE MATRIX... as Keanu Reeves ("Ree-ves," she pronounces, part of a general tic she has to sound as snobby as possible). Each subsequent claim increases in absurdity, with the penultimate claim that she starred in DIE HARD... as Christmas itself.
The script is chock full of hilarious one-liners, so many of them allusions to the nature of celebrity and reflecting the meta-commentary Lenk is doing by playing Swinton. In that vein, is it so strange to imagine Swinton as "going through a phase of being David Spade?"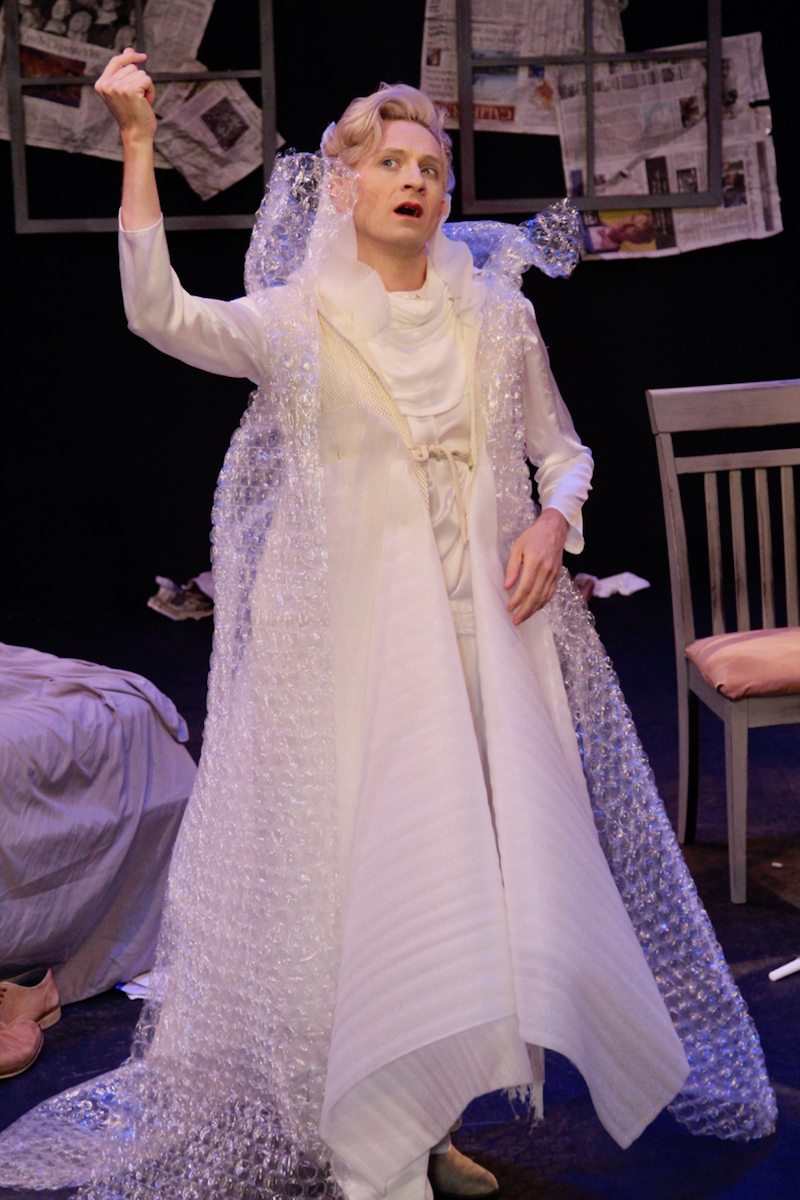 This idea could not be more realized---I want to say "fleshed out," but that's a little too off the mark for an incorporeal being---except perhaps to make her entire presence a literal projection or merely a disembodied voice. But this would, of course, deny us the magnificence of Lenk's magnetic presence, the way Lenk becomes Swinton. It's true, Lenk's appearance and physique naturally lend itself to the comparison, but the performance goes so far beyond mere physical resemblance. Highlights included Swinton mimicking Walt as part of her research: she takes his emotional pain and makes it physical, slumped over almost twice as low as Walt ever gets, whimpering with every touch of her body to a physical surface. Or, when she mews and rubs her own ears in self-soothing when imitating Walt later on--- as Walt notices, her imitations of him get increasingly more abject.
In crafting this character, Lane and Lenk come at a surprisingly profound meditation on celebrity, acting, and persona. The absurdism required to go with Swinton's self-seriousness is not that far off from the way we imagine celebrities to actually live their lives: in mansions with servants and pampering, diets most of us either cannot afford or could not stomach, and so out of touch with reality because they truly no longer live in it.
The notion of Swinton answering an ad on "The List of Craig" speaks to the idea that, if an artist becomes successful enough, she will lack the anguish that fueled the passion for artmaking in the first place. She will then have to manufacture ways to become miserable again, or she can do elaborate research into "the everyday folk." The play between reality and un-reality that becomes a part of daily existence for the famous not only points to the way they live so differently from us, the common people but also suggests the ways we are rather the same. Walt's ex-boyfriend Bobby seems dismayed that, unlike him, Walt has an "odd Instagram feed" that cannot rival his 21,000 followers, or that he is not, unlike Bobby, "verified on Twitter." When towards the end Walt finally gives Bobby the boot and finds some self-confidence, Bobby exclaims, "I've never wanted you more!"
Walt's experience with someone famous (who repeatedly refers to herself as a fundamentally unreal being, practically alien to the human species) makes his life all the better, all the more worth living, and all the more real to him. This feeling could similarly have been elicited by a particularly good performance by Tilda in MICHAEL CLAYTON, or I AM LOVE, or any number of Wes Anderson or Coen Brothers films, and maybe that's the point.
Though an uneven performance by the rest of the cast makes the show at times a bit lacking in energy, anytime Lenk deigns to speak, make an odd sound, rub his own ears to self-soothe, basically do anything as Tilda, he is transcendent.
---
Audrey Moyce likes to write and perform and write about performance. You can find more of her work at audreymoyce.com.