BWW Review: BROADRAY! at Porgy And Bess Vienna
FAMOUS COUNTERTENOR RAY CHENEZ IS BROADRAY!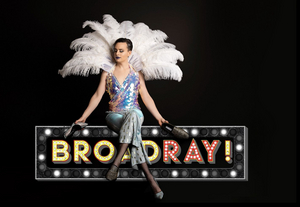 WELCOME BROADRAY !
It has been a while since we sat down with the famous countertenor, Ray Chenez, at his producers office in Vienna and had a chat about his fascinating project called BROADRAY! (click here to read about our first meeting) and what he has in mind to do with it. We talked a lot about the role of countertenors in musical theatre, Broadway history, and upcoming projects. The whole idea started with his producer's suggestion to sing more musical show tunes after she heard him performing CHICAGO'S A Little Bit Of Good at a birthday party. After hours of brainstorming, recording, arranging, and the small matter of a global pandemic, BROADRAY! finally got his shot and came alive at the Porgy and Bess Jazz Club in the heart of Vienna for one night only. Sad to say, without any live audience in the room where it happened, but Chenez gifted us with a professional recording, so you can enjoy BROADRAY! in your very own living room. Ray Chenez is giving an entertainingly vivid and exciting performance you should not miss out on.
Ray Chenez is BROADRAY!, produced by Silvia Purcar, with Lukas Leitner (Piano), Fabian Rucker (Saxophone), Mario Rom ( Trumpet), Herbert Pirker ( Drums), and Beate Wiesinger ( Double Bass). Costume Design by Marlize Coetzee Boshoff and Make Up by Andrée Lauterbour.