Feature: COACH BACHMANNS HIDDEN HANDSTAND THEATRE at Imhere Aerial Dance Studio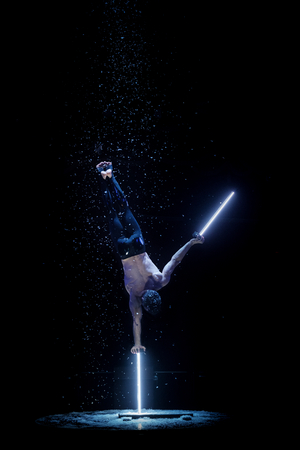 Coach Bachmann's Hidden Handstand Theatre!
Ever thought of taking classes with Acrobats who have been seen at Cirque du Soleil, Palazzo, Cirque De Demain, and Les Sept Doigts De La Main. Sascha Bachmann, trained at the National Circus School under the supervision of Yury Bozyan opened his Hidden Handstand Theatre in the heart of Vienna. For the next three months, you can join Coach Bachmann to learn what it means to be a great Artist. Bachmann has been in PIPPIN on Broadway and has taken the road with the show.
Visit www.gym.coachbachmann.com for further informations. Do not hesitate and join the great Coach Bachmann for a lesson you might never forget. Maybe he will share some anecdotes from his Tour-Life and his time on Broadway as well. Try and see the world like he does.