LIZ AND MIL WALK INTO A BAR Comes to The Butterfly Club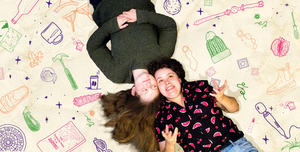 An uptight lesbian and a bisexual disaster walk into a bar. They're both there to remind you that even in the face of a pandemic, sometimes the most romantic relationships of your life are the platonic ones - exactly the medicine Melbourne needs right now.
'Liz and Mil walk into a bar' is about the unique bond between two people who love each other deeply, but would rather sleep with anyone other than each other, thank you very much. Taking inspiration from modern classics such as Fleabag and Broad City, 'Liz and Mil' is both a raucous sex comedy and a tender celebration of queer friendship and community (something we could all use an extra serving of in times like these.)
The 55 minute two-hander explores the friendship between Liz, an uptight lesbian who needs to get out more, and Mil, a bi disaster who accidentally melts her sex toys. A generation Z odd couple that bicker like they have been gay-married long before it was legal.
'Liz and Mil' is a new work written and starring best friends Elizabeth Everett and Amelia Newman. Newman's third independent production and Everett's debut as a writer, this performance continues Newman's thematic exploration of the joys and losses of youth.
'Liz and Mil walk into a bar' is a queer take on the classic romantic comedy, opening at The Butterfly Club on April 27th and running until May 2nd. Escape from the panic and the toilet paper hoarding for a night of laughter and gals being pals. Bookings recommended.
Show Details: Liz and Mil walk into a bar
Dates: 27- 2 April/May
Times: 8:30pm
Venue: The Butterfly Club
Address: 5 Carson Place (off Lt Collins St)
Tickets: $26 to $35
TO BOOK TICKETS: thebutterflyclub.com
More Hot Stories For You