Photo Flash: THE BEST LITTLE WHOREHOUSE IN TEXAS Opens Tonight at TexArts
The Best Little Whorehouse in Texas is a political satire full of flirty fun and gusto. Based on a true story, the show recounts the heyday and demise of the infamous "Chicken Ranch." The real-life story made national headlines in the 1970's when investigative reporter Marvin Zindler started a crusade to shut the infamous house that had been in operation for more than a century. The cornball TV personality from Houston caused such a primetime ruckus that the local politicos, most of whom were regular customers, forced the Sheriff to close down the legendary institution.
Check out photos from the show below!
The cast features Christina Stroup as Miss Mona, the classy yet brassy madam with a heart of gold. Jarret Mallon as Ed Earl, the hotheaded, celebrated cussin' Sheriff joins her. The cast includes Joe Falocco (Melvin P. Thorpe), Roderick Sanford (Jewel), Yanis Kalnins (Governor), Zach Thompson (Senator Wingwoah), Corinna Browning (Doatsy Mae), LAuren DeFilippo (Angel) and Kristin DeGroot (Shy). The company features Emily McIntyre, Lara Wright, Lindsay Palinsky, Kaitlin Street, Thomas Griffin Williams, Nathan Daniel Ford, Michael Wheeler, J. Dylan Gibson and Ryan Alvarado.
Photo credit: Karla Ent


Lara Wright, Kaitlin Street, Lindsay Palinsky, Emily McIntyre, Christina Stoup

Ryan Alvarado, Thomas Griffin Williams, Nathan Daniel Ford and J. Dylan Gibson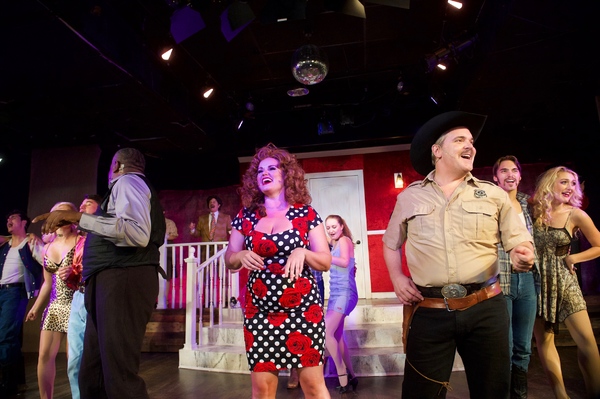 The Company of TexARTS' The Best Little Whorehouse in Texas

Joe Falocco, Yanis Klanins, and the Company

The Company of TexARTS' The Best Little Whorehouse in Texas