Frank Benge's Top Ten Austin Theatrical Experiences of 2018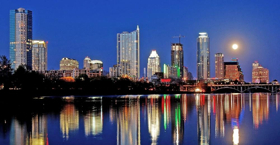 This past year, I saw over 50 productions in the Austin area. As I think back over the year, there are ten experiences that have stuck with me long after the curtain call. This isn't a best of list so much as it is a list of those nights in the theatre that stand out in my memory and the experiences that moved me. While I didn't get to experience everything in Austin this past year (that would flatly be impossible) these are the most memorable of those I did see.

1. Leonard Bernstein's MASS at Dell Hall
A once in a lifetime opportunity to take in the majesty of one of Bernstein's seldom performed works. This was a massive undertaking that was beautifully realized, utilizing the talents of Conspiere and the glorious voice of Jubilant Skyes. I wish they'd done a recording of this production.

2. Will Eno's WAKEY WAKEY at Hyde Park Theatre
A perfect blending of playwright and performer, WAKEY WAKEY moved me deeply while making me laugh out loud. I believe this to be Eno's masterwork. The good news is that this production will be playing in Houston in January with the original Austin cast and crew.

3. PERFORMANCE PARK at The Vortex
A totally unique experience that combined role playing games with quest adventures in an interactive audience experience. No two people had the same experience with this Bonnie Cullum crafted one of a kind experience that engaged all the senses.

4. Texas State Theatre Departments musicals
I have to lump RAGTIME and CABARET together as the best musical theatre I saw this year, due in no small part to the remarkable program Kaitlin Hopkins has developed there in San Marcos. I guarantee you that many of these young performers will be names of note in the years ahead.

5. THE SECRETARY from Theatre en Bloc
An original black comedy from Theatre en Bloc who continue to up their game with each new production. This pitch black commentary about America's love of guns made you laugh and think at the same time.

6. SOME HUMANS WERE HARMED IN THE MAKING OF THIS SHOW at Ground Floor Theatre
Theatre that takes you unexpectedly to another place is always a favorite and this original script started out as a raucous farcical comedy against the backdrop of Ia Enstera's repurposed pallet set and ended up taking us to a meditative place without feeling like whiplash.

7. ENRON at UT
This all female production at UT featured some remarkable video and audio work along with some truly inspired costumes and those visually arresting dinosaurs. All around a visually appealing production with an important message.

8. THE CURIOUS INCIDENT OF THE DOG IN THE NIGHT-TIME at ZACH
This regional premiere features outstanding performances and some dazzling tech work that, when combined with Dave Steakley's direction was a moving adventure that assaulted the senses in the best possible ways.

9. THE IMMIGRANT at Austin Playhouse
Great Performances of a sensitive script made this a memorable evening in the theatre. The accompanying visuals added true depth to this great story about immigration during a time when we needed this picture of the values immigrants bring to our tables.

10. MIDDLETOWN at St. Edwards Mary Moody Northen Theatre
Finishing out my top ten is another Will Eno script that was beautifully done by St. Edwards. For me, this did what "Our Town" never did. This also features another stunning set from Ia Enstera. This featured several actors whose first appearance left me curious to see what they will do next.