BWW Review: TINY BEAUTIFUL THINGS at Austin Playhouse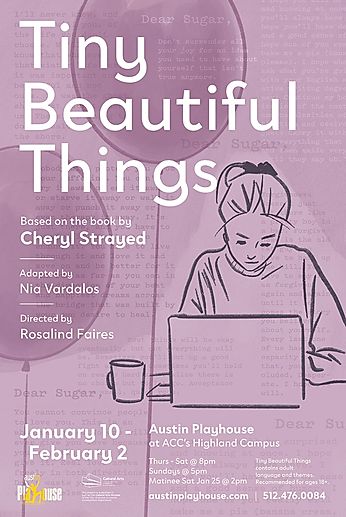 In TINY BEAUTIFUL THINGS, a woman sits on a couch typing away advice to strangers she will never meet in person. The three strangers that invite themselves into her living room represent an array of characters that write anonymous letters to "Dear Sugar". The play masterfully connects them all through an insightful reflection of the meaning of love, life, and happiness, rooted in personal experiences, empathy, and compassion for one another.
The letters to "Dear Sugar" are soulful, honest, and filled with the pain and beauty of humanity. Each one of them has something to teach us. We learn about the different ways that people approach love and relationships, the love for a woman or a man, the love for an unborn child, the love for a parent, all different yet all the same. Love is heartbreaking, love is beautiful, love is forgiveness, it is compassion and passion. Love is what we define it to be. "Dear Sugar" portrayed with sincerity and raw emotion by Barbara Chisholm, truthfully states why human beings need to love and be loved, because "love is our essential nutrient. Without it, life has little meaning."
When a transgender young man writes about being rejected by his parents, "Dear Sugar" advice is that in order to make peace with ourselves and heal our souls, we need to learn to forgive those that wronged us in life. She wisely depicts the act of forgiveness as accepting people for who they are and accepting us for who we are. Forgiveness isn't easy, it "isn't the pretty boy at the bar, forgiveness is the fat guy you have to haul up a hill" but it is through forgiving others, and most importantly, ourselves, that we can cope and move forward.
Through the stories behind each letter, we learn that personal connections give us the strength to face the most horrible hardships, such as rape, the death of a loved one, the abuse of a grandfather, the loss of hope. The human heart is strong but the mind is stronger. We get to decide who and what influences our lives. We are in control of our now and our then.
Some of the letters are funny, some are heartbreaking and emotional, but all of them are thought-provoking and insightful. "Dear Sugar" connects with her readers and the audience sharing her personal experiences and speaking from the heart. Whether it is a story about sexual abuse as a child, a loveless marriage, or drug abuse, "Dear Sugar" is honest, candid, and real, and this makes her relatable and approachable. Isn't that what we want in our relationships with other human beings? Truthfulness, openness, empathy? In her final advice, "Dear Sugar" tells us all to live, to love, to be honest, to be open to the wonders of existence, to love our parents, to forgive, to forget, to not judge others, and to learn to enjoy the imperfections of our humanity.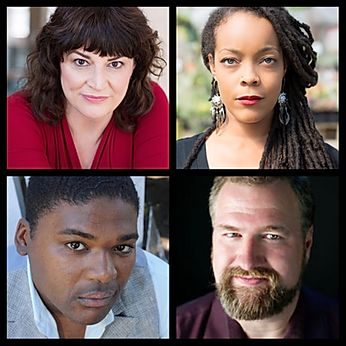 TINY BEAUTIFUL THINGS is a gem of a show and it showcases some of the most honest performances I have seen in Austin in a long time. A perfect example of powerful storytelling, this is a play filled with emotional bursts, interesting stories, and relatable truths that keep the audience engaged, enthralled, and ready to take it all in.
I cannot wait to see what's next on stage for the company of Austin Playhouse!
Directed by Rosalind Faires
Adapted for the stage by Nia Vardalos
Based on the book by Cheryl Strayed
Played at the AUSTIN PLAYHOUSE Jan 10-Feb 2, 2020
Next at Austin Playhouse: INDECENT by Paula Vogel - Apr 3 - 26, 2020
ACC Highland, Building 4000
6001 Airport Blvd., Austin, TX 78752
Related Articles View More Austin

Stories

Shows