BWW Review: Penfold Remount of Doctuh Mistuh's NEVERMORE Still Wows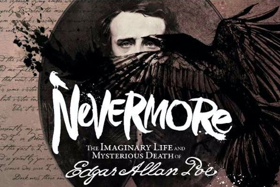 NEVERMORE: The Imaginary Life and Mysterious Death of Edgar Allan Poe is a Canadian musical that was written and composed by Jonathan Christenson which follows the rather dismal life and internal struggles of Edgar Allan Poe that later on inspired his work as an author. The script contains references to both his poems and short stories. While most of the script dramatizes true events in his life, other aspects are entirely fictitious. The musical was originally produced at the Catalyst Theatre in Edmonton, Alberta and went on to be performed across Canada, and at the Barbican Theater in London, and the New Victory Theatre in NYC. The current production now playing at Ground Floor Theatre is a remount of the original Doctuh Mistuh production, produced in conjunction with Penfold Theatre, and features most of the original cast.

A singing narrator (Stephen Mercantel) starts telling the audience the story which begins with Edgar Allan Poe's (Tyler Jones) mother Eliza Poe (Suzanne Balling), a traveling actress. She was married to David Poe (Matt Connely), who gave up studying law to follow his wife's theatrical career. Unlike his wife, however, David suffered from stage fright, making him an easy target for critics. He ended up becoming an alcoholic, spending most of his time in the bar. Eliza Poe's maid helped deliver and raise her children. The oldest was William Henry Leonard Poe (Joey Banks), a child who collects unusual objects, the most prized of which is the skull of a cat. The youngest was Rosalie Poe (Emily Smith), a somewhat deranged little child. When David disappears, he leaves Eliza to raise the three children on her own. Eliza spent most of her time sick, depressed, and in bed. When Eliza later dies of tuberculosis, the children are split up from each other and sent off to new homes. It would be fifteen years before they saw each other again.

Edgar went to live at the Allan household. The Allan's adopted Edgar because of their love for Eliza Poe and theatre in general. At school, Poe meets Elmira Royster (Natalie Blackman), an odd girl who shares his love of things morbid. They secretly plan to marry sometime in the future. When Edgar leaves to go to university, he promises to write Elmira every day, which he did faithfully. However, he never received a letter in return from Elmira, because her father hid all the letters Edgar mailed to her. Possibly because of this, Elmira marries another man. And this is just the beginning of the dizzying tale that is Poe's life.

Michael McKelvey created pure theatrical magic with the original production and has managed to get lightning to strike twice with this remount. Everything about this show is absolutely delightful. The end effect is like seeing a live action Tim Burton-esque film reminiscent of The Nightmare Before Christmas in both look and tone; it has that same macabre joy to it.

Glenda Wolfe's costumes are beautifully detailed and whimsical in design. Sam Chesney's lighting design is constantly morphing in color and mood almost acting as yet another character in the piece. Joel Mercado-See has done a marvelous job with the sound which includes not only the vocal track the actors sing to, but sound effects as well. Teresa Carson, has created whimsical props that provide the perfect support the story. No credit is given for the set design this time around. The original choreography was created by Rocker Verastique, assisted by McKelvey, is intricate and is still perfectly executed by the seven person cast.

The seven person cast, with the exception of Tyler Jones, who plays only Poe, all handle multiple characters with seamless skill. Mr. Jones does a superb job as Poe hitting both the highs and lows of the character with utter believability and is in even better voice this time around. It is hard to single out any cast member individually because they function as a true ensemble. Each member of the company has their moments to shine... and there are many. I was particularly impressed with Stephen Mercantel's singing voice, Matt Connnely's portrayal of Jock Allen, Joey Banks as Henry Poe, Emily Smith as Rosalie Poe, Suzanne Balling as Eliza Poe and the pinkish Natalie Blackman who delights as Elmira.

NEVERMORE remains an absolute gem of a show that should not be missed. My highest recommendation goes out to this joyously macabre production. If you missed it last time, don't miss it this time around.


NEVERMORE: The Imaginary Life and Mysterious Death of Edgar Allan Poe by Jonathan Christenson

Running time: Approximately Two Hours and Thirty minutes, including intermission.


NEVERMORE, produced by Doctuh Mistuh Productions and Penfold Theatre at Ground Floor Theatre (979 Springdale Rd,Austin, TX, 78702)

Performances run through November 10, 2018. Thursdays - Saturdays at 8 pm and Sundays at 5 pm.
Admission $15-$30
Showtimes, tickets and information available at penfoldtheatre.org