BWW Review: LOCUS OF CONTROL Shares A Life's Story in Austin, TX.
A DJ table, projector screen and one performer, sets the stage to reflect on the life of writer/poet Jason Bayani. As stated in the spoken prologue of the piece, Bayani does not perform characters, he will always be himself reflecting on his life and past experiences. Starting from his beginnings, onlookers experience a historical crash course in the Philippine's relations to the United States and more importantly Bayani shares the story of his family first immigrating to the California. Reminiscing about his childhood and sharing universal experiences of music and love, he ventures deeper into the bits that have him hit close to home. Using the formula of macro to micro experiential examination, the show travels time and distance with Bayani exposing the composition of what makes him unique. Moving from childhood to adulthood, LOCUS OF CONTROL explores both the deep and shallow experiences that make up a life.
Presented in a combination of historical oration, musical accompaniment and spoken word performances, this one-man show rides the waves of life both low and high. The collection of poetry performed within the show made up the bulk of this 70 minute performance. As a self proclaimed "slam poet regular", Bayani's vocals showcased a high level of detail and his cadence depicts his life in a way that strikes a chord with the audience. Hearing the reflections of one's love and loss are themes any human can empathize with in one way or another. Additionally the casual unpredictability of Bayani's life path as written in his performance, established familiarity with audience. Compelling those watching to ask, "what's next?".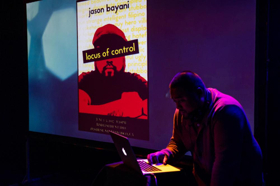 The technical elements of this show are very simple. As mentioned previously, other than lights being operated traditionally, Bayani takes complete control of the timing in his performance. Utilizing his "mid-life crisis purchase" of a sound system, Bayani switches from casual reflection at the DJ table, to center stage poetic performance. The arrangement of the poems complimented the storyline of Bayani's journey reflecting about this life. Director Kat Evasco creates spots on stage for the spoken pieces to hit the hardest. Although, some pieces dealt with more serious subject matter, each poem was relatable.
As a poet, writer and performer, Jason Bayani pontificates his experiences into layered reflection of both regret and hope. Leaving the theatre after spending an hour learning about his entire life, a familiarity is created between lecturer and pupil. A full circle experience leaves the audience wondering what our collective individual chapters may hold. With no performances left to catch this weekend, the best support that can be offered would be to order his book coming out soon. As for the patrons with whom he shared his life with, I'm sure we will all keep our ears to the ground for his next reflection.
The Vortex Presents:
LOCUS OF CONTROL
Written and Performed by: Jason Bayani
Directed by: Kat Evasco
Performance Details:
Feb 28th - Mar 3rd, 2019 - 8PM
The Eloise Stage @ The Vortex (2307 Manor Rd)
For more information on Jason Bayani, please visit:

Related Articles View More Austin

Stories

Shows