BWW Review: HEARTLAND at The Vortex Theatre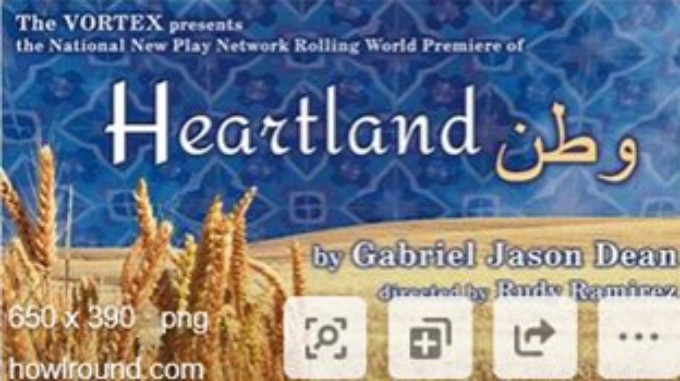 Unfolding before us in flashback mode, HEARTLAND delves into a "West meets East meets West" tale that explores the differences and similarities between two very different cultures that fuse into one coherent story. We are reminded throughout the play of how alike human beings are and just how quickly, easily, and dangerously the simplest of misunderstandings can escalate and create dire, life-long consequences.
A professor of literature and Afghan studies, Dr. Harold Banks (Lowell Bartholomee) of Omaha, Nebraska unexpectedly meets his adopted daughter's boyfriend, Nazrullah (Kareem Badr). Nazrullah, an Afghani math teacher, falls in love with Getee (Kacey Samiee), an Afghani-American teacher of literature. An Afghani orphan from the time of the Soviet occupation, Getee is compelled to return to her homeland and give back to a community she no longer remembers. This year of teaching abroad is a sojourn Getee undertakes before she settling down to a scholastic career in Omaha, the heartland. The play reveals glimpses of Getee's story of acceptance from a mysterious, often misunderstood ancient culture and how the Afghani people welcome this stranger from an equally mysterious land.
Rudy Ramirez's direction does a fine job interweaving the scenes into a coherent whole that drives the story forward and lessens the potentially awkward moments of discovery between the characters. And while the story deals with weighty issues, Gabriel Jason Dean's script provides plenty of humor to offset the dangers of falling into pathos.
The acting here is seamless, understated and simply fascinating. I attended the 3rd performance and yet it unfolded as well as a play would do for its 33rd performance. I hesitate to reveal too much as I don't want to spoil the storyline, at the same time I must emphasize how tight this play is and how much I enjoyed watching these fine artists at work. Another element I'd like to mention is the Dari language within the play. While I am 100% ignorant of the of the Dari language, I was struck by how wonderfully nuanced it sounded to my Western ear. Kudos to Dari language coach Hasti Ahmadi for enabling the artists to deliver the inflections of the Dari lines so beautifully.
I highly recommend HEARTLAND playing now at The Vortex theatre through February 9th. Tickets available at: www.vortexrep.org