BWW Review: FOR PETER PAN ON HER 70TH BIRTHDAY Gentle, Sweet and Mildly Confusing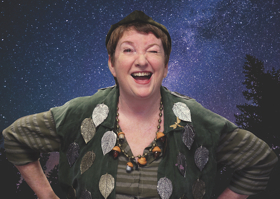 FOR PETER PAN ON HER 70TH BIRTHDAY is an autobiographical play by Sarah Ruhl written as a gift to her mother on her 70th birthday. Like the character of Ann in the play, her mother also played Peter Pan when she was a teenager. What Ruhl has crafted is a gentle look at a loving and supportive family and how they deal with death, their views on life, and how theatre offers the allure of never having to grow up.

The play begins, after a 4th wall breaking speech, with the family gathered at the hospital, holding watch over the impending death of the father. Ann (Janelle Buchanan) explains that when she thinks of her father, it is tied in to her memories of playing Peter Pan in her hometown theater in Iowa, mostly because he used to bring her flowers after her performance. His death sparks a conversational wake that includes everything from arguments over politics to when each sibling realized that they grew up. The play takes some unusual and unfortunately muddied turns that Ruhl does not make exactly clear. The fact that this family is so supportive also leaves the script devoid of the usual forms of dramatic tension.

This one act play has three basic parts. The first part is in the hospital, the second part is the familial wake complete with booze, and the third and final part is a sort of magical realism where the characters become Peter Pan and company. While the first two sections seem to flow naturally into one another, the final section seems disjointed and what happens from then on, while charming and gently funny, leaves you baffled as to why Ruhl chose this and what the ending means.

Director Karen Jambon and this six member company do a wonderful job, especially in the early familial scenes, where the interaction is totally natural and believable. The cast features Janelle Buchanan, Mick D'Arcy, Anne Hulsman, David R. Jarrott, Garry Peters and Tom Swift, all of whom get their individual moments to shine. Janelle Buchanan has a lovely puckish quality that really makes her Peter Pan believable. Tom Swift is hilarious in a mostly silent role. Watching Peters, Hulsman and Jarrott play children is worth the price of admission. D'Arcy makes a wonderful Hook.

Michael Krauss, Scene Designer, has created an extremely clever set that is composed entirely out of vintage windows. When the back wall opens for the final third it is absolutely magical. Colleen PowerGriffin's costumes are delightful and work marvelously. In all, the tech for this production is quite good.

While FOR PETER PAN ON HER 70TH BIRTHDAY seems not as clearly focused as some of Ruhl's other works, it still offers a lot of charm and gentle reminders that growing old doesn't necessarily mean growing up. It also boasts a richness of talent that knows how to entertain and how to make the most of this material.
---


FOR PETER PAN ON HER 70TH BIRTHDAY by Sarah Ruhl
Running Time: Approximately 90 minutes with no intermission

FOR PETER PAN ON HER 70TH BIRTHDAY, produced by Jarrott Productions at Trinity Street Playhouse (Black Box Theatre, 4th floor, First Baptist Church, 901 Trinity Street, Austin, TX, 78701).

Thursdays-Sundays through March 10, 2019. Performances are at 7:30 pm on Thursday, Friday and Saturday nights, with a 2:30 pm matinee on Sundays.

Tickets are now on sale at www.jarrottproductions.com. Prices range from $15-$30 with discounts for seniors/students/teachers/retired teachers.