BWW Review: Capital T's I AND YOU Waxes Poetic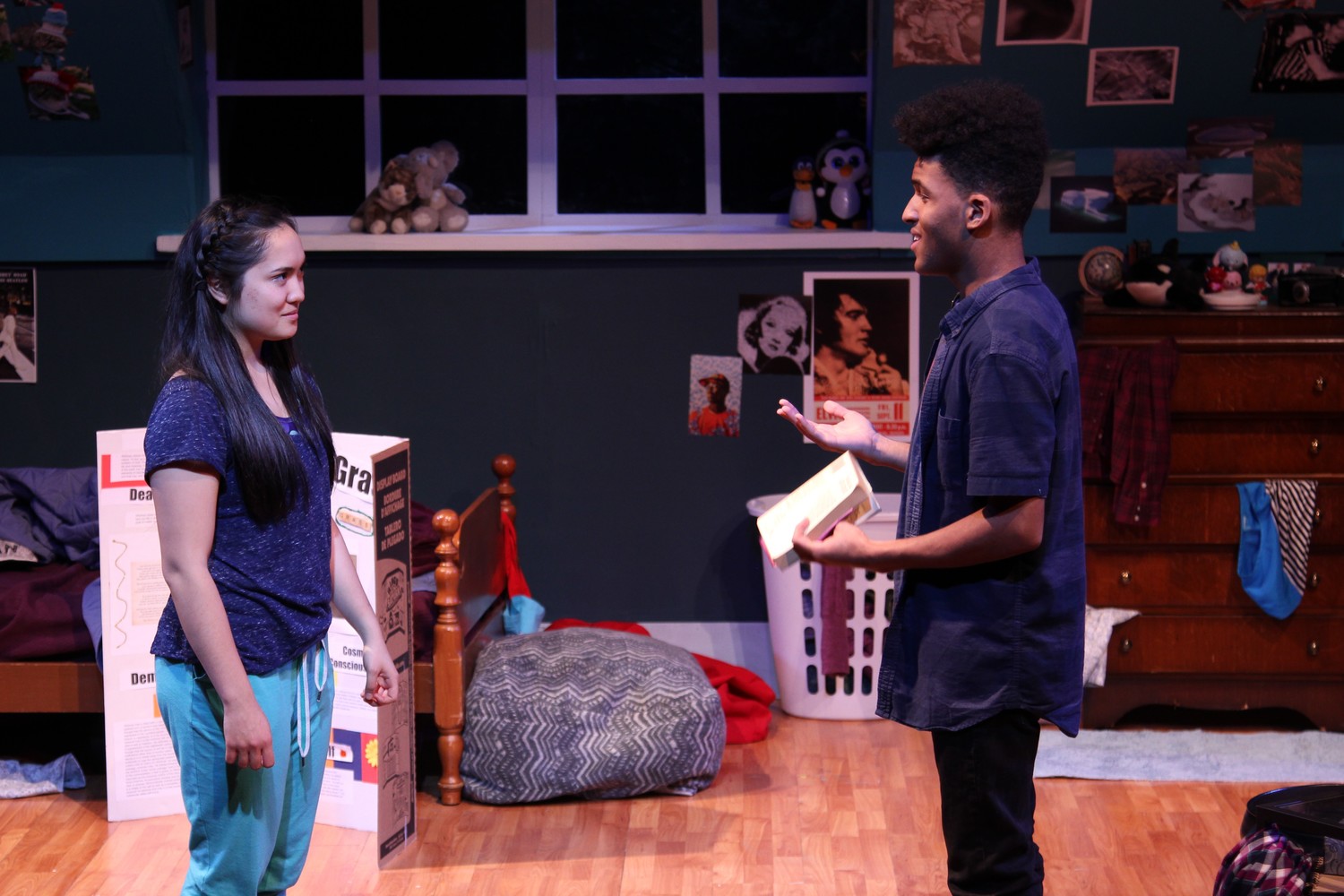 Lauren Gunderson, according to American Theatre magazine's annual data, is America's most produced living playwright of 2017. In Austin, over the course of the last two seasons, this reviewer has taken in four of Ms. Gunderson's works alone. It's no wonder she's so frequently produced, her works are smart, funny, innovative and frequently poignant. I AND YOU is no exception, and for good reason, has won the Steinberg/ATCA New Play award.
One understandably might eschew the premise of I AND YOU, as the play concerns Caroline (Mia King) and Anthony (Kenah Benefield) a pair of teenagers who have been paired together to work on a project about poet Walt Whitman. Not exactly a thrilling premise. But Gunderson captures the essence of adolescence with a charming if stereotypical accuracy. It helps that Anthony has a sophisticated taste in music and a perspective of Whitman's work that is beyond his years. Gunderson pulls from her own romance with Whitman's work in this play, revealing in a recent article with American Theatre magazine that she discovered in high school a love for Walt Whitman. Gunderson imbues Anthony with that love as well.
The apprehensive and ailing Caroline is cynical toward Anthony and his optimism, particularly since he's shown up at her door unannounced, equipped with poster board and texts for a project that is due on the next day. Their English teacher has assigned them the work together, but Caroline has been unaware, as she is ill, quite possibly fatally ill, and has been cooped up in her room for a good portion of the year. She's a fierce little fireball, and he, a star student and athlete. But by the end of the second scene, they're great friends. By the third, Caroline has of course, gotten a crush on Anthony. But there is so much more than meets the eye here, and none of it can be shared without revealing the whole beauty of the play itself.
Capital T's New Horizon's winner Simone Alexander directs this production and she gets great support from her producers and tech team. Scenic Designer Mark Pickell and Lighting Designer Patrick Anthony satisfactorily execute unsuspecting design elements. The set is believably Caroline's room, and it invokes the beauty of Gunderson's script in all the places it should. However, the production itself moves too fast, so some important lines and dialogue get missed. Despite the energetic banter between these two likeable teens, we still want to watch the tension rise and fall; we want to marinate in the budding relationship between these two characters. The impact of the play isn't missed, but an attention to pacing would deeply enrich it. This shouldn't deter one from attending, as Gunderson's script is deceptively powerful and touching. Additionally, King and Benefield are promising young actors and Alexander holds promise as one of Austin's new directors.
I AND YOU
By Laura Gunderson
Directed by Simone Alexander
Produced by Capital T Theatre
At the Ground Floor Theatre
979 Springdale
Wednesday through Saturday
April 11 -14
Tickets available here https://secure.buyplaytix.com/capitalt/reserve/i_and_you_by_lauren_gunderson.html
$20-30
Running time: 80 minutes
Photo credit: Capital T Theatre
Related Articles View More Austin

Stories

Shows