BWW Review: CTHULHU Beach Party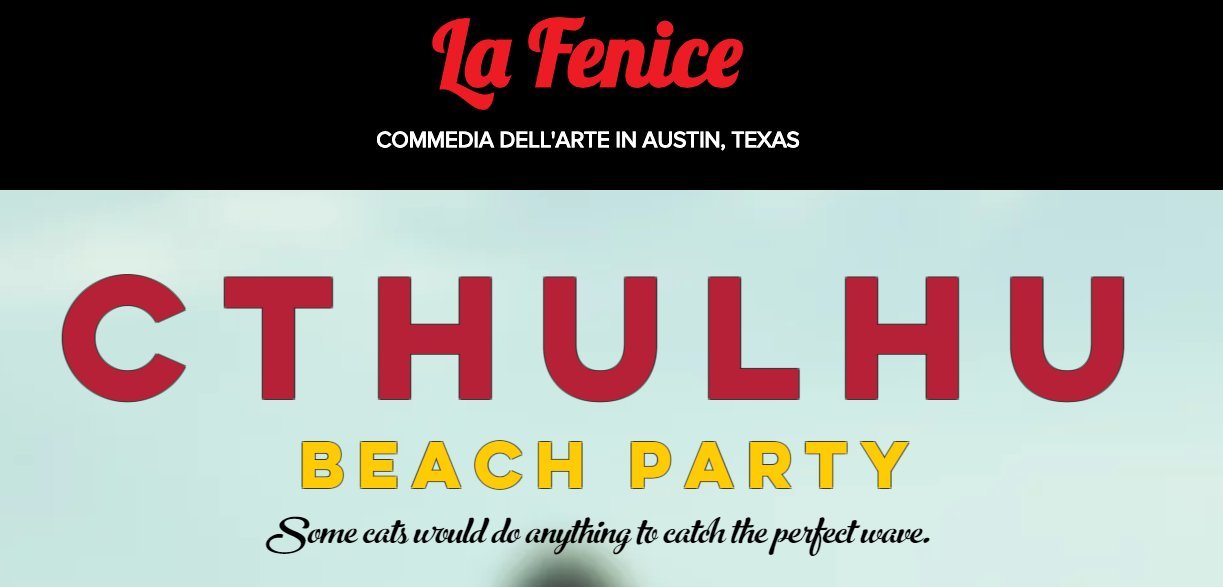 Ah, Commedia dell'arte, how I love it - the zanier the better. Austin's La Fenice (the phoenix) has been delivering the genre since 2010, a rebirth of the former Austin Commedia Society (1999 - 2003).
The setting for Cthulhu Beach Party is an Atlantic beach circa 1920-something. Betty is an ingénue with much to be excited about. She's recently graduated high school (a major achievement), summer is here and she just may be tempted to engage in a few of the naughty activities "those scandalous flapper girls" are said do. Like smoking, drinking, and daring to actually bare a bit of ankle. But most of all she's anxious to share another exciting summer with her BFF, Ruby.
Ruby has been working hard all winter preparing for the best summer ever. She has hand-crafted two surfing boards so she and Betty can ride the waves back to shore for all to see. Won't all the other kids be ever so envious?
Meanwhile, a sea captain suffering PTSD seeks help from the local mad (and filthy rich) scientist for his mental health issues. The scientist's horrid wife has finally died leaving him to care for his son Teddy. He agrees to provide mental healthcare if the captain will rid 'his beach' of those awful, trashy 'poors'. He's concerned their wicked ways could unduly influence Teddy, and needless to say, hilarity ensues.
Add to all of this a live score by Dylan Blackthorne, a well-designed set, awesome period costumes, great props, a Lovecraft-inspired script and you have a killer beach party fit for an Austin summer night of fun.
CTHULHU features performing artists Nate Dunaway, Aaron Johnson, Genevieve Kinney, Kate Meehan and Adam Rodriguez. All of these performers are versatile, prepared and ready for anything that comes their way.
Performances are at:
The Butterfly Bar - 2307 Manor Road
Fridays and Saturdays, 10PM
May 26th - June 16th
Bonus Industry Night - Monday, June 11th
($15 per seat suggested donation)
Seating is informal and intimate. I highly recommend getting there early to enjoy some great food and drinks and soak up the ambiance of Austin's favorite artistic compound - The Vortex
Related Articles View More Austin

Stories

Shows