BWW Review: ATLANTIS: A PUPPET OPERA is a Mesmerizing Experience.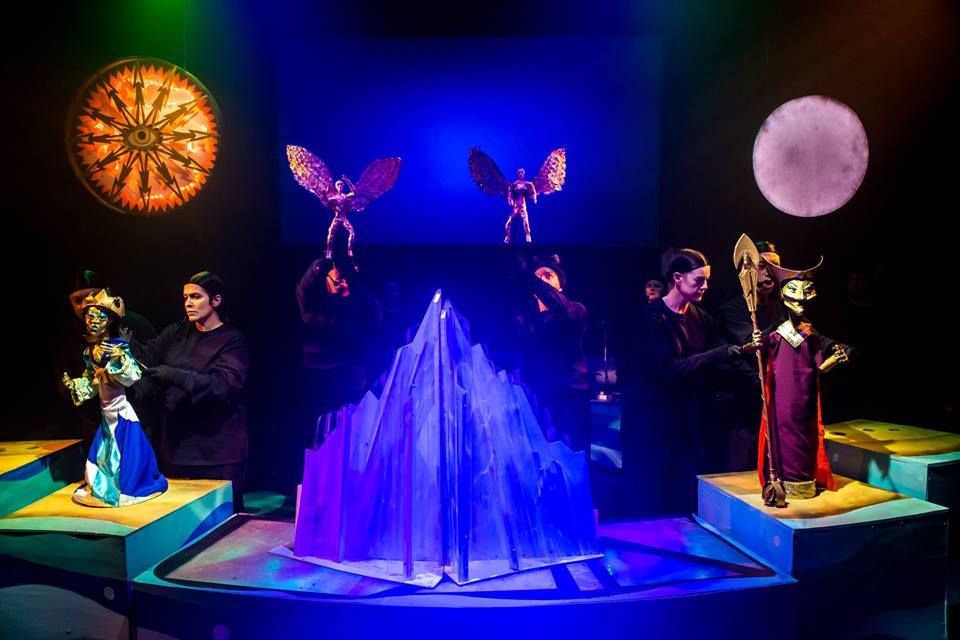 ATLANTIS: A PUPPET OPERA is now onstage at The VORTEX theatre. Presented by Ethos in association with The VORTEX, ATLANTIS first premiered in 2016. This new remounted production created and written by Chad Salvata blends ancient mythology with the inventive use of puppetry. The electronic opera serves as a dynamic cautionary tale that draws eerie parallels to our own cultural climate.
The story of the lost kingdom follows Prince Helios (voiced by Justin La Vergne) and Queen Solstra (voiced by Michelle Hache), two royals hellbent on revenge and domination over their archenemies, Sorceress Chandra (voiced by Melissa Vogt) and the Kingdom of Lemuria. Together, aided by High Priest Magus (voiced by Jonathan Itchon), they use their battleship to hunt down the last great Kracken of Mermaidia to harvest its red eye to control its power.This insatiable desire for supremacy ultimately leads to the destruction of their people and their kingdom being lost to the depths of the ocean.
With Vortex Artistic Director, Bonnie Cullum at the helm, ATLANTIS' diverse and talented cast gives stunning performances and eye-catching visuals. The group of sixteen actors seamlessly transition between the many worlds and songs of the show. Each puppet is operated by at least two performers working as one to create the lifelike movements of the characters. The ability and skill of the ensemble that breathes life into every character from the dancing people of Atlantis to the ethereal mermaids of Mermaidia is to say the least impressive.
Musical director, Anderson Dear, weaves Chad Salvata's fiery score and the ensemble vocals into a rich soundscape. While the voices of the cast are all beautifully melded with the music, it is Justin La Vergne as Prince Helios, Michelle Hache as Queen Solstra, Anderson Dear as Queen Merra of Meramaidia, and Melissa Vogt as Sorceress Chandra that provide the show with its most breathtaking vocal performances. Most notable is Michelle Hache's Queen Solstra. Along with Gabriel Maldonado's puppetry, Hache's soaring vocals and expressive artistry are an entrancing combination in her portrayal of the power-hungry queen.
To call this work a spectacle is an understatement. A spectacle that, while spellbinding, is difficult to describe without experiencing the production firsthand. The Vortex creative team has created a fully encompassing world that utilizes every aspect of the small theatre. From Jason Amato's ambient lighting to Anne Marie Gordon's otherworldly scenic design to the actual construction of the puppets by Melissa Vogt, no stone is left unturned. Each creature, character, and design element is beautiful, captivating, and cohesive. This painstaking attention to detail is obvious in the enchanting environment created.
ATLANTIS: A PUPPET OPERA, is a mesmerizing experience for the senses. Running just at an hour long, the production transports audiences into a world of myth, madness, and magic. In a culture of reboots and revivals, this original work is truly a rare gem and is an event that Austin theatre lovers should not miss.
ATLANTIS: A PUPPET OPERA is now playing at The VORTEX Theatre (2135, 2307 Manor Rd, 78722) until September 29th. Performance run Thursday through Sunday weekly at 8p. Special Industry Night performance - Wednesday, September 26th at 8p.
Run Time: Approximately 60 mins.
Show is intended for adults and contains some puppet violence and puppet nudity, but older children may attend.
Tickets $15 - $35.
Radical Rush Free Tickets: Limited free tickets for each performance in the spirit of sustainability, accessibility, and the gift economy. Radical Rush tickets released at 7 pm each night-in-person only.
Blue Star Theatre: Discounts for Military, Veterans, and their families
2-for-1 admission: Thursday and Sunday with donation of 2 cans for SAFE Austin.