BWW Review: A CLOSER WALK WITH PATSY CLINE is an intimate tribute to a musical giant.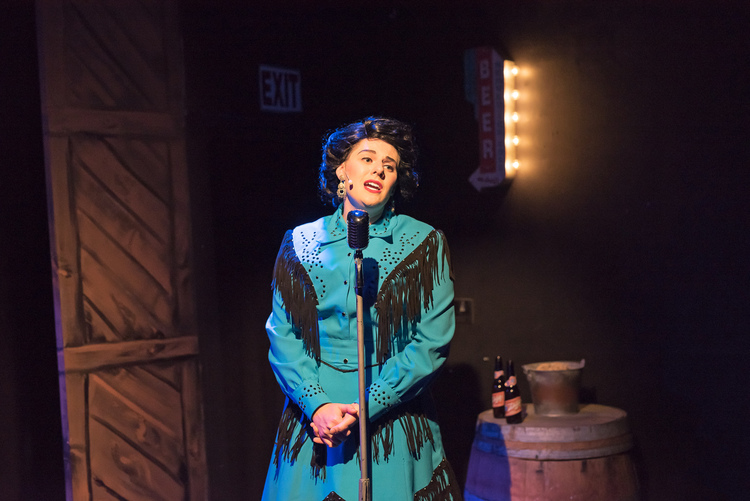 Considered by many to be one of the top country artists of all time, Patsy Cline was a pioneer for women in country music and as a crossover artist. Her story is one of personal struggle and determination, overcoming obstacles from poverty to a devastating car accident; but none of that comes to mind when thinking of this country music legend. What does is her tough as nails resolve, smiling face, and emotionally charged voice that has sold millions of records and is one of the reasons most country artists count her as a major influence.
A CLOSER WALK WITH PATSY CLINE, presented by TexARTS as part of their professional series, was written by Dean Regan in 1991 and remains one of only two Cline inspired musicals to be approved by her family through their company, Legacy Inc. It chronicles the singer's musical career from honky tonks and local radio stations to the Grand Ole Opry, to her history-making appearance at Carnegie Hall. This musical retelling is done appropriately in a concert-like format through the songs that made the small town girl from Virginia a household name. Featuring nineteen songs from "Walkin' After Midnight," to the crossover success and perhaps her most well-known hit, "Crazy."
Lilly Lane Stafford as Cline inhabits the role with both commanding focus and effervescent charm. From the moment Ms. Stafford steps onstage, she is Patsy. Her movements, playful quips with the audience, and stunning vocal performance are enough to make one question if they are actually witnessing the original artist. While each song is engaging and well done, Cline's famous ballads are where Stafford shines brightest, with favorite performances including "Faded Love," "Sweet Dreams," and gospel song, "Just A Closer Walk With Thee." Portraying an iconic person such as Patsy Cline can be a daunting task for any actor, and Stafford does it flawlessly.
Supporting performers Tyler Jones and Jerome Schoolar aid in the storytelling and provide comedic relief as radio DJ, Little Big Man and The Grand Ole Opry Comic. Their naturally witty banter with one another and the band keeps the energy going between musical numbers with delightful Hee Haw inspired one-liners and classic radio spots for products like Mr. Clean and Ajax.
The show's creative elements also contribute to telling Patsy Cline's story. A simple, rustic set (designed by Donna Coughlin) reminiscent of the Grand Ole Opry transports audiences to an era gone by and easily adapts to fit the journey through Cline's career. Patsy's costumes (designed by Talena Martinez) show her progression as a woman of style from fringed western wear to form fitting evening gowns. Musical Director, Jerome Schoolar and a band of talented musicians bring a vast knowledge of country music to the show, supporting Stafford and performing every hit with precision and flare. Direction by Megan Richards Wright wisely keeps the focus on Patsy and the music and makes the performance feel more like an intimate concert than a staged musical. Wright understands this format well and her staging keeps momentum and energy running smoothly throughout the 90-minute performance.
A CLOSER WALK WITH PATSY CLINE is an intimate tribute to the life and music of a musical giant. Patsy Cline's life was tragically cut short in a 1963 plane crash, but her talent, tenacity, and determination live on through her songs and inspiring story. This fresh take filled with the music and spirit that made the singer beloved the world over will delight fans of Cline and newcomers alike and makes the show a "must-see" for families, country music lovers, and patrons of quality theatrical productions.
A CLOSER WALK WITH PATSY CLINE runs through this weekend Thursday through Saturday, July 27th -29th at 8:00 pm and Sunday, July 30th at 2:00 pm at TexARTS Kam and James Morris Theatre (2300 Lohman's Spur Austin, TX 78734).
Tickets: $40 - $50
Run Time: Approx. 90 minutes, including 15-minute intermission
More info on the show and to buy tickets: TexARTS website