BWW Interview: Robert King, Jr. and THE VOICES OF DONNY HATHAWAY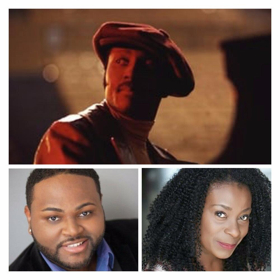 On January 13th, 1979, the world lost singer Donny Hathaway. Austinite Robert King Jr. has written a new, thought provoking musical, in which he introduces the audience to a side of Donny Hathaway that has never been explored before. Most people are unaware Hathaway battled with voices that haunted and tormented him, all caused by his paranoid schizophrenia. King's new musical suggests that the night prior to Donny jumping off of the 15th story of the Essex hotel that he had a conversation at the bar with a fictional character by the name of Pamela Robinson (Samone Murray). Pamela asks him if he knew that he had one last time to perform in a one night only concert, what songs would he perform? This new show takes the audience inside the hallucination that is that last concert.
This new show, THE VOICES OF DONNY HATHAWAY will play at Ground Floor Theatre, Friday & Saturday , January 12th &13th ,2018 at 7:30pm. The show is written and directed by King, who will be playing Donny Hathaway. The show is produced by Ground Floor Theatre. Broadway World had a chance to talk to King about the new show. BWW:
What inspired you to write this production?
Robert:
Donny Hathaway has such an amazing voice. A lot of people just know his voice but not the man. He has given us so many wonderful songs, but at the same time was battling his own demons caused by paranoid schizophrenia. BWW:
You are starring as Donny Hathaway?
Robert:
I am starring as the late legend and I am so excited to be able to step into his shoes. BWW:
I know that you've done a lot of musicals, but, what will you be doing over the next few months to prepare to change your vocal tone and sound to match Hathaway's.
Robert:
Well, I'm definitely going to work on my breathing. What I've notice in his voice is that he savors every single word. I've also got one of the best vocal coaches (Charlite Brooks)who is going to make sure that I execute his sound. BWW:
I understand that you've written, directed and are producing this new show by yourself?
Robert:
Yes. This wouldn't be my first time to wear all three hats. Before
Jeremy Brown
and I joined forces, (RKJB Entertainment) I had my own
Production Company
. I will still have his support on this project as he works on his own project. Ground Floor Theatre is co- producing the show with me as their 2018 Season Opener next year! BWW:
What can we expect to see in this new production?
Robert:
Definitely a side of Donny Hathaway that you've probably never witnessed before. BWW:
You mentioned the date that you are doing this show is crucial; why is that?
Robert:
Because January 13, 1979 is the day that Donny took his own life by jumping from his room window on the 15th floor of the Essex Hotel in New York, New York.
Robert King
Jr.'s new musical THE VOICES OF DONNY HATHAWAY runs for a 2 night engagment on Friday January 12th , 2018 and Saturday January 13, 2018 at Ground Floor Theatre in Austin, TX. Tickets go on sale next week online.Ground Floor Theater is located at 979 Springdale Rd #122 Austin, Texas 78702
Ticket Info: $15.00 / Available online at:
www.brownpapertickets.com
or by calling:
1-800- 838-3006