BWW Interview: Kristin Markiton Talks 'Big, Bold, Beautiful, and Fabulous' MAMMA MIA! at Aurora Theatre
Kristin Markiton blew audiences away last year when she appeared as Francesca in THE BRIDGES OF MADISON COUNTY at the Aurora Theatre, which earned her a Suzi Bass Award.
This year Kristin is ready to wow audiences again, returning to the Aurora as Donna Sheridan in MAMMA MIA! BroadwayWorld spoke with Kristin Markiton about her latest role and what audiences can expect from this production of the popular feel-good show. Check out the full conversation below!
Thank you so much for taking the time to talk with us! Are you excited to be returning to the Aurora Theatre after winning the 2017 Suzi Bass Award for Outstanding Lead Actress in a Musical for your performance in THE BRIDGES OF MADISON COUNTY? Congratulations, by the way!
Thank you! I'm thrilled anytime I have the opportunity to work at the Aurora. You mention the Suzi Bass Award; the reason BRIDGES was so awesome was the team. The Aurora is so great at pulling together a great cast and production team.
The people who won Suzi Bass Awards- the Aurora won seven last year- are involved in this show. It's the same team, plus others as well. Justin Anderson is directing, Ann-Carol [Pence] is the Musical Director, Travis [Smith] is in this show too - he won for Bridges, Kevin Frazer is doing the lighting design again. We also have Daniel Pope who won for sound design last year as our Production Manager, and Julie Allardice Ray who was nominated last year for scenic design, and wait until you see the set - the set is just gorgeous! You really feel like you're on an island in Greece!
We also have a lot of new people. The ensemble is just incredible! They are true triple threats - it's a heavy dance show. The dancers are just amazing, and then they sing their butts off, too! Then there's Hannah Church who played my daughter last year in Bridges. She is playing my daughter, Sophie, again this year. It is really exciting!
It sounds like there is a great team! I understand that this production is taking a "fresh look" at the show. Without spoiling too much, what does that mean?
Anytime you have Justin Anderson directing, the authenticity of the personal relationships that are going on is truly what he is mining for. I grew up on ABBA, and of course that's why people come; they want to hear the ABBA songs and see the dancing - it is such a huge production, and Alan Yeong is costume designing and it is going to be big, and bold, and beautiful, and fabulous. But Justin doesn't want that to be the only takeaway, so we are mining for the relationships and the truth of what is going on. We want it to have heart.
The story is important, but as you said, the music is a big factor for people. Do you have a favorite song to perform in the show?
That's a difficult question... It's really fun getting to do the numbers I do with my girlfriends; those have grown on me because I've gotten to know Marcie Millard who plays Rosie, and Terry Henry who plays Tanya - they are [Donna's] best friends. It is just so fun working with them and I'm enjoying doing those numbers.
"Chiquitita" is one of my favorite ABBA songs, and I don't even get to sing that one, but it is one of my favorite moments in the show, because [Millard and Henry] sing it to me to try to cheer up and it's hard for me not to sing-a-long!
So are you jealous because you just want to sing with them?
Yes! (Laughs) I don't get to sing "Chiquitita," but it is one of my favorite moments. Then, of course, there is "The Winner Takes It All," which is pretty amazing. "Slipping Through My Fingers" is one I sing with my daughter Sophie, played by Hannah Church, which I hadn't even heard before. It is just so full of heart, and my own son just went off to college and I miss him so much, so I'm definitely trying not to cry when I sing that one! (Laughs)
Continuing with the discussion on the music, are you excited for the three performances where the audience can sing-a-long?
I'm pretty sure that was [Director of Sales and Marketing] Al Stilo's idea, and I think it's brilliant! Those performances are going to be so much fun and I'm really looking forward to them. I'm sure those nights are going to sell out, so people better grab tickets! (Laughs).
MAMMA MIA! is one of most successful Broadway shows ever; it ran for almost 14 years! Do you think the music is the main reason, or is it the story as well?
I think it is truly both. It's a kind of absurd and really funny, and fabulous story that the songs have been woven into, and the words of the songs really do weave into and connect with the story. Even "Waterloo", which we perform at the very end of the show as part of the finale, those lyrics relate to Donna's relationship with Sam [one of Sophie's potential fathers]. "Waterloo, I was defeated you won the war. Waterloo, I promise to love you forever more." They loved each other for years, but finally they get to communicate with each other and find out what really happened.
You mentioned this is a dance-heavy show...
Yes, this is my first time working with [choreographer] Ricardo Aponte and he is incredible! I am a singer, actress, dancer, but dancing is my weakest of the three, but Ricardo is a master in differentiation. What I mean by that is, the ensemble is full of incredibly trained dancers, and he has given them very advanced movements, which is spectacular! But for those of us who are doing our best to remember the choreography (laughs), he manages to give even us older ladies some movements that are doable, but sharp, and together, and focused. The moves that the Dynamos [a girl band in the show made up of Donna and her friends, Tanya and Rosie] are doing are going to look really cool, even though none of us have the same level of dance training [as the ensemble].
Ricardo is a lovely, beautiful, encouraging person and I can't say enough about him. He's a beautiful person to work with.
A lot of the younger audiences are probably more familiar with the movie than the stage-show of MAMMA MIA! What do you think the main difference is?
Seeing something live that is superbly done... is better! (Laughs). I feel it has more of an impact emotionally, and spiritually, and in every way. We are always on our smartphones and devices, and live performances are an opportunity for people to put all of that away and watch real people doing something real.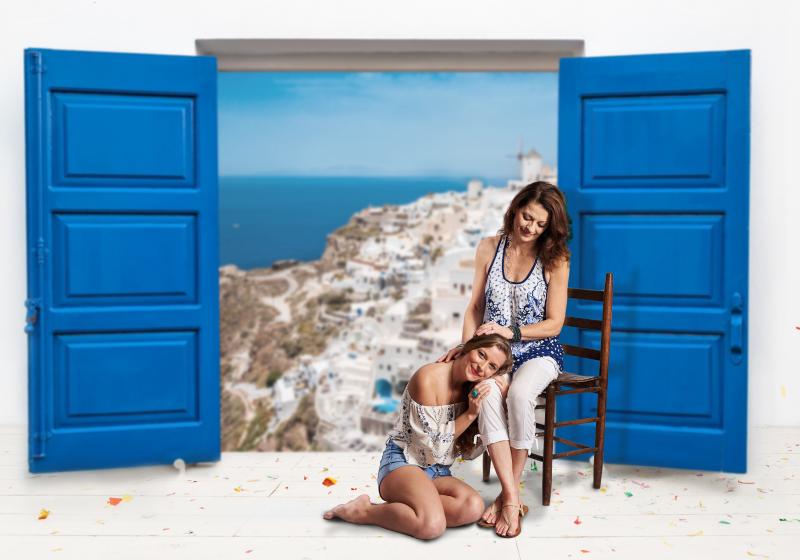 Also, this is a really strong cast. I'm going to give a shout-out to Hannah Church, I don't know if Atlanta and Lawrenceville audiences are aware of her talent, but she plays Sophie, and when you hear her sing these songs... Oh my goodness. She perfectly inhabits the role of Sophie. She just is Sophie! She is going to shine in this production, and if you don't want to see it for any other reason, come to see Hannah, because she is going to kill this role! (Laughs).
After MAMMA MIA!, do you have any other projects in the pipeline?
Not at the moment. I'm coming out of retirement after a 15-year hiatus. This is my third project back, but I will be putting myself out there because this is truly is my passion.
---
Kristin Markiton (Donna Sheridan) is thrilled to be returning to Aurora after having appeared as Francesca in The Bridges of Madison County (2017 Suzi Bass award for Best Lead Actress in a Musical) and the Step-Mother/Witch u/s/p in Into the Woods. Other notable Atlanta credits include Dial M for Murder (Stage Door Players), Spitfire Grill (The Horizon Theater), Master Class (Theatre in the Square), Wonderful Town (Actor's Express), Slam (Jomandi Productions), Della's Diner (The Canton Theatre), as well as A Little Night Music, Kismet and The Merry Widow, all produced at Savoyards Light Opera (now Atlanta Lyric Theater). Kristin is also a music educator, vocal coach, and performing songwriter who has released two studio albums: her debut solo record, "Wandering Moon" (produced by Kristian Bush of Sugarland) and Howlin', a collaboration with the Atlanta-based band, Delta Moon.
MAMMA MIA! is a musical featuring the music of ABBA. It is set on a small Greek island and revolves around Donna Sheridan, whose daughter Sophie is getting married, and all Sophie wants is for her father to walk her down the aisle... the only problem is, she doesn't know who her father is. Sophie secretly invites the three possible candidates to her wedding, bringing them back into her mother's life for the first time in 20 years.
MAMMA MIA! is at the Aurora Theatre in Lawrenceville, GA from March 8th-April 22nd. The audience sing-a-long performances are on March 27, April 3 and April 10 at 8pm. Tickets range from $40-$75 and may be purchased here or by calling the box office at 678.226.6222