Interview: "Being Comedians, we had to poke holes." Director Casey Holloway and Musical Director L. Gamble discuss parodying a classic in VAPE at Sketchworks Comedy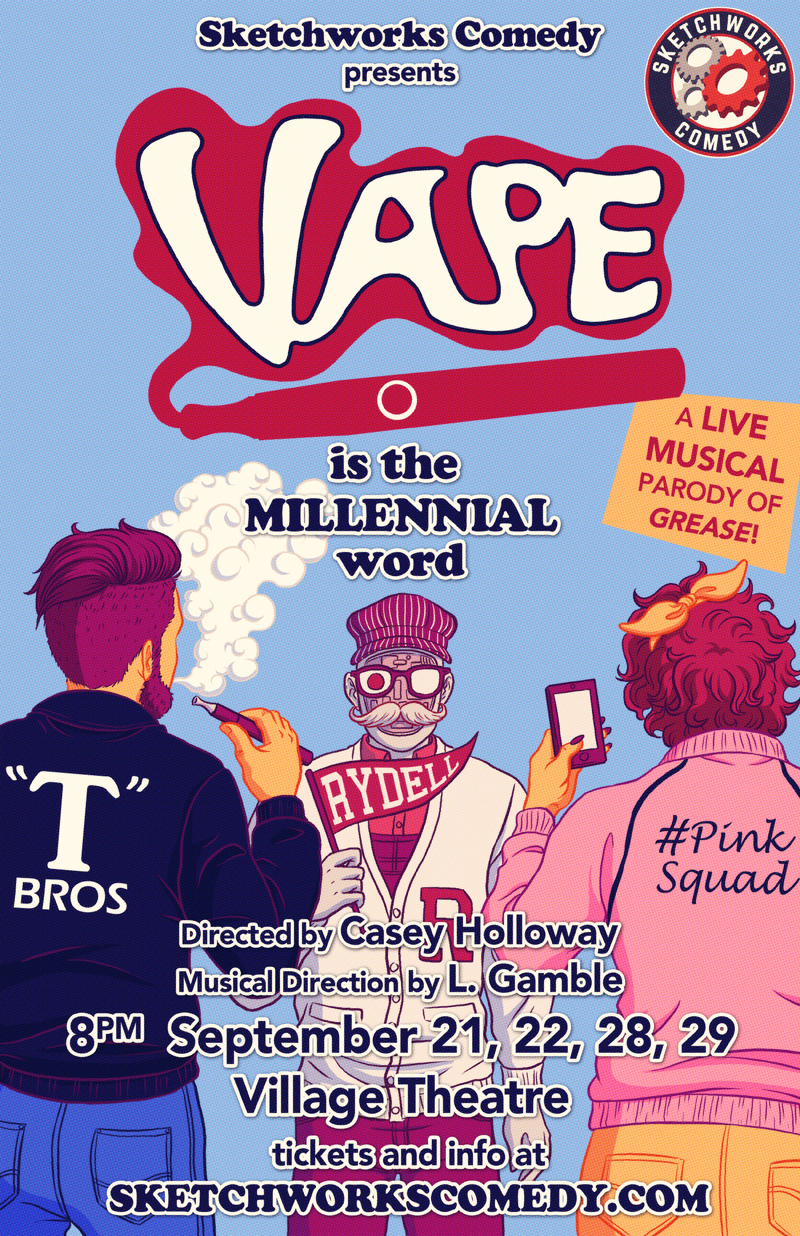 They may have chills, but they weren't multiplyin'! After a group of actors with Atlanta's award winning comedy troupe Sketchworks Comedy saw a recent production of GREASE, they decided to take the beloved musical and poke fun at some of the more polarizing story elements in the classic show. VAPE, a musical parody of GREASE, represents the nostalgia of the classic with a hilariously updated storyline and lyrics. Ever thought you'd see a version of GREASE that included millennial slang and Snapchat? Think again. VAPE is the Millennial Word!
We spoke with Director Casey Holloway and Musical Director L. Gamble around how this parody came to life, and the challenges and excitement of staging Sketchwork's first musical.
This show looks hilarious! Can you tell us where the idea came from?
CH: It's a really fun story. A couple years ago, I directed a show with a lot of the same crew called HEELS. This group of women has stuck together, and we do a lot of things around town together. Last summer, we went and saw GREASE down at Serenbe. GREASE is so nostalgic for us, it's one of our favorite musicals. So when we saw it, and we were reminded that within all of the love and nostalgia, there's a good portion of the content that is pretty problematic. Being comedians, we had to poke holes and make fun of that. So, it was born from that trip. We thought we should make our own millennial version that highlights the problems in that story, as well as poking fun at millennials themselves.
LG: I wasn't in the group that went to see GREASE down at Serenbe, because, I actually really hate GREASE!
CH: This is the first I'm hearing of this!
LG: (Laughs) It's funny, because I really hate it. I do a lot of shows in the community and teach at a high school, and so every year, kids are like - "What's the show going to be?" I'm asked so many times if we have thought about doing GREASE. I just say, think about what that would look like, and how would you want to direct kids on stage with teenage pregnancy, rape, and how the moral of the story is how the girl changes everything about herself for a guy. Do you want to teach that to these kids? Because I don't! So, hilariously, the connection is my wife Summer plays Putzie in the show. She has been doing a lot of work with Sketchworks Comedy. I'd never done any work with Sketchworks, but I'd been in the audience. They reached out to me and said "We're a bunch of sketch comedians who have never done a musical...Help!" So I was brought in with a Hail Mary at the end. I was so skeptical of it, and then at the first table read, I came home and told Summer, "Oh no, I'm so mad because it's SO funny!"
CH: At that point I had been a part of the script process, but really removed because I was super busy at the time. I really hadn't gotten a full scope of the script until that first table read. We all left knowing that we had something special!
So many of us are familiar with GREASE and love the story and the music. How much of VAPE is the same, and what's different?
CH: The plot is very similar. We've truncated it, so it's under an hour and we accelerate it. It's Danny and Sandy, and the T-Bros and the Pink Squad. We've changed the language, some the story aspects, and some of the songs, to bring it into present day and use an exaggerated version of millennial slang, how they act and what they say. It's the same songs and music, it's just a parodied version of it. We felt like it was important to keep the story, because the story is what we were trying to remind the audience that we had issues with.
LG: The songs are probably some of the biggest differences. Songs don't usually push the plot in a musical. And that is consistent in this show, it just really takes a moment and highlights it. But sometimes the moments we've highlighted with the songs are different than what the original song highlighted. For example, "Summer Lovin'" is still about recapping their summer romance, but we call it "Summer Snaps" and it's about all the Snapchats they took over the summer. And then, there's where Rizzo sings "There are Worse Things I Could Do", but instead, that's not even in there and the whole song is how she at too much food. Instead of "There are Worse Things I Could Do", its "I Probably Just Need to Poo." So it's completely irreverent and a stupid comedic break, instead of the real song which is dark moment! But again, none of that really effects the plot. We've just chosen to highlight different moments.
Even though GREASE is a classic work, you've adapted that story to create an entirely new show. What are some of the challenges and benefits of that process?
CH: At Sketchworks, we're constantly writing new material. Putting together new material is something that we do all the time, we just never do it in this format. So our biggest challenge was that it was a musical! Making sure we were hitting the right notes, no pun intended. In terms of not going so heavy handed, but making smart, clever points and having a lighthearted time. We want everyone to have a really fun time when they come to the show! A big challenge is making sure its balanced, because comedy can often be very polarizing. Granted, our audience is typically a younger audience who is usually pretty Progressive, so we tend not to have to worry about that so much. But since it's such a nostalgic show, it's a fine line between bringing the fun and playfulness and parodying it and making fun of it. We want to show that we are actually a group of people who love the musical GREASE and are just parodying it and making fun of it as opposed to tearing it apart.
LG: Not only is it the group's first musical, it's my first time being an active participant in the creation of a musical. Unlike the Sketchworks team who is so active in creating new stuff all the time, that's really not my thing. I'm more used to taking existing works and making them gorgeous. When Casey said, "Here's our draft of the lyrics, change whatever you want", I had a great bit of fear about it in the beginning. Eventually I took it and ran. The things I was scared of were making it relevant and using millennial terminology without being too obnoxious with it. You can only say "lit" and "dope" so many times! So there's a definite balance. Additionally, I had to let go of my control freak nature, because there were such frequent changes. There's been a cool, collaborative atmosphere with everyone in this group.
You mentioned this is the first musical that Sketchworks has put on, which is exciting! Are there any difficulties that you've seen in putting this show together from more of an organizational standpoint?

CH: Yes! The show itself has really turned into an hour-long sketch, because we're carrying on the story. Normally, we put on these 3-5 minute scenes, and then move on to another story. The setting is very sketch comedy. We're in a black box theater, we don't have a giant stage to dance on, but we make it work and we dance anyway! Normally, you're going from scene to scene and you can change direction in terms of mood or music. We've added a couple of transition moments that aren't in the original story to help us move from scene to scene and tried to find funny ways to stimulate motion - like stimulating a car race for example! It's very absurd and silly. Trying to find out-of-the-box ways to make this huge musical work in a small space was a big challenge. We've had so much fun doing it and we've really impressed ourselves with how we do it!
---
Performances of VAPE will take place Fri. and Sat. nights, Sept. 21, 22 and 28, 29, 2018 at Village Theatre.
Founded in 2001, Sketchworks Comedy features some of Atlanta's top working comedy professionals. Sketchworks Comedy's current cast and alumni have gone on to write for network TV shows and perform in film, stage, and television productions. For more information on shows and classes, visit http://www.sketchworkscomedy.com.