World-Renowned St. Olaf Choir Will Share Its Artistry And Beauty Of Sound During 2019 Winter Tour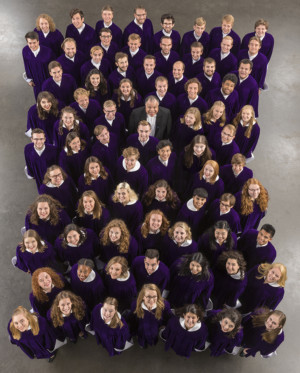 For more than a century the world-renowned St. Olaf Choir has set a gold standard for choral singing, and the ensemble's 75 singers and conductor Anton Armstrong will travel to Tennessee, Georgia, South Carolina and Florida from Thursday, Jan. 31, through Monday, Feb. 11, 2019 during its 2019 National Winter Tour. (Tickets are available online at stolaf.edu/tickets.)
Over the span of 99 years, touring has played an important role in the life of the St. Olaf Choir, sharing its artistry and beauty of sound with audiences across the United States and around the world. Organist Catherine Rodland joins the ensemble and Armstrong on this tour.
"Hearing the St. Olaf Choir in concert is more than just a musical experience," says Anton Armstrong. "Our singers, performing at the highest artistic level, convey a message of hope. Our music provides a bridge to what can unite us at a time when the world is so divided."
Armstrong adds: "We often hear from concertgoers who tell us they are not only struck by the sound and uniformity of the St. Olaf Choir, but also by the earnestness of what comes through the voices of our young singers. The St. Olaf Choir performs at the highest artistic level, focusing on body, mind, spirit, and voice. Our singers touch the hearts and souls of listeners, and our audiences leave transformed."
Founded 107 years ago by F. Melius Christiansen at St. Olaf College in Northfield, Minn., the St. Olaf Choir is internationally recognized as a creative force behind America's a cappella choral tradition.
Now in his 29th year as conductor of the St. Olaf Choir, Anton Armstrong is only the fourth conductor in the ensemble's history, beginning his tenure in 1990. In addition to his role as a professor of music at St. Olaf College, he is in demand in the international choral scene as a guest conductor and lecturer.
Like his three predecessors, Armstrong carries forward the international reputation of the St. Olaf Choir, an ensemble that is rooted in St. Olaf College's tradition of faith and commitment to a global perspective.
For the 2019 Winter Tour program, Armstrong has divided the concert into four sections with themes that reflect how music serves the wider world: 1) We Are Called to Sing and Praise, 2) We Sing of Light and Love, 3) We Are Called to Compassion and Care of Our Neighbor, and 4) We Sing of Hope and Love.
"In all of these sections I want the music to remind us of our responsibility to one another," Armstrong says, "especially sharing messages of hope and love in a dark world."
In the first section - We Are Called to Sing and Praise - the St. Olaf Choir will perform for the first time ever Claudio Monteverdi's Cantate Domino, followed by Henry Purcell's Hear My Prayer, O Lord, and Johann Sebastian Bach's Lobet den Herrn.
The famous arrangement of Phillip Nicolai's Wake, Awake arranged by the St. Olaf Choir's founder F. Melius Christiansen opens the second section - We Sing of Light and Love. This section incudes a new work by Norwegian composer Kim André Arnesen, I Will Light Candles, which received its world premiere performance during the 2018 St. Olaf Christmas Festival in late November. The section also features Gwyneth Walker's Dazzling As the Sun, Mark Jenning's O Crux, an arrangement by Leland Sateren of the traditional Norwegian folk hymn My Heart is Longing, and a setting by Gilbert Martin of Lowell Mason's When I Survey the Wondrous Cross.
Following intermission, the third section - We Are Called to Compassion and Care of Our Neighbor - features Felix Mendelssohn-Bartholdy's For God Commanded Angels, Robert Harris' Canticle: The Hungry Angels, Eric Nelson's arrangement of Jayne Southwick's When Memory Fades, and John Ferguson's arrangement of Jean Sibelius' This is My Song.
The final section - We Sing of Hope and Love - pays tribute André J. Thomas, a long time associate of Armstrong's who has become one of this nation's most treasured choral composers and conductors, and who will retire in 2019 after 30 years as professor of Choral Music Education at Florida State University in Tallahassee.
"We are very pleased to be performing at Ruby Diamond Hall at Florida State, and this is our opportunity to pay tribute to a man whose music has been a large part of the St. Olaf Choir's repertoire during my 29 years as its conductor," says Armstrong. "We will perform three of André's works: Rockin' Jerusalem, I Dream A World, and Gloria from his Gospel Mass." The fourth section will also include the spirituals Here's One arranged by Mark Hayes, and Walk Together Children arranged by Moses G. Hogan, Jr.
Joining the St. Olaf Choir and Armstrong on their tour is organist Catherine Rodland, whose playing has been described as "transcendent" (The American Organist). She is Artist in Residence at St. Olaf College. She is a prizewinner in several competitions including the 1994 and 1998 American Guild of Organists Young Artists Competition, the 1994 Calgary International Organ Competition, and the 1988 International Organ Competition at the University of Michigan for which she received first prize. She concertizes extensively throughout the United States and Canada.
St. Olaf Choir 2019 National Winter Tour Itinerary
Sewanee, Tennessee
Thursday, January 31 - 7:30 p.m.
University of the South
Atlanta, Georgia
Friday, February 1 - 8 p.m.
Schwartz Center for Performing Arts,
Emory University
Greenville, South Carolina
Saturday, February 2 - 7:30 p.m.
First Presbyterian Church
Augusta, Georgia
Sunday, February 3 - 3 p.m.
St. John United Methodist Church
Jacksonville Beach, Florida
Monday, February 4 - 7:30 p.m.
Palms Presbyterian Church
Tallahassee, Florida
Tuesday, February 5 - 7:30 p.m.
Ruby Diamond Concert Hall
Florida State University
Orlando, Florida
Wednesday, February 6 - 7:30 p.m.
First United Methodist Church
St. Petersburg, Florida
Friday, February 8 - 7:30 p.m.
First Presbyterian Church
Naples, Florida
Saturday, February 9 - 3 p.m.
Saturday, February 9 - 7:30 p.m.
Moorings Presbyterian Church
Vero Beach, Florida
Sunday, February 10 - 3 p.m.
Community Church of Vero Beach
Miami Beach, Florida
Monday, February 11 - 7:30 p.m.
New World Center
Tickets are available online at stolaf.edu/tickets.