World Premiere Of SPIN OFF Will Be Presented at The Riverside Theatre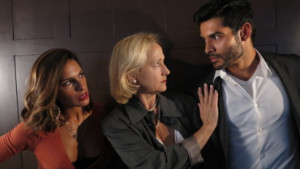 Creative Women New York will present the world premiere of "Spin Off" by Bernard Pomerance, author of "The Elephant Man," in a production directed by Ron Canada from September 21 to October 13 at The Riverside Theatre, 91 Claremont Avenue.
"Spin Off" (www.spinofftheplay.com) is set within the world of a network television series and weaves a surrealistic tale of characters attempting to "immigrate" from the world of fiction into the reality beyond the soundstage. Figures from television's seemingly endless stream of cop shows--a male NYPD Detective, a woman psychiatrist and a young Puerto Rican woman--have been mysteriously awakened to the narrow limits of their existence as stereotypes. They devise a plan to "cross over" in order to find fully dimensional lives. In preparing to escape the confines of their artificial world, they make discoveries about the nature of memory, aspiration, identity, loyalty and, most importantly, love.The play swings from moments of sardonic comedy to metaphysics as the characters prepare for a climactic confrontation with the individual who seems to hold power over their futures. Ultimately, the decisions they make on how to deal with the Faustian bargain offered by their TV masters, lead them to essential questions about what it means to be real Americans and what it means to be truly human. The play is being produced almost exactly on the one-year anniversary of
Bernard Pomerance
's death. He originally drafted this play in 2003 and revised in 2006, but it chillingly anticipates troubling issues of today. Both the detective and the young woman are Hispanic, possibly of Mexican or Puerto Rican heritage. They live in a purgatory of unfinished character, created without pasts or families. Oddly, when a TV producer offers them a spin off, it's one in which they would be "middle class" -- they would have funny neighbors and joke about what life was like when they were immigrant class. In TV reality, hurricanes and family separations wouldn't matter. The play slyly questions, in part, whether TV's hold on the popular mind is a product or shaper of our ugliest ethnic/class prejudices.Playwright
Bernard Pomerance
(1940-2017) was born and raised in New York City and educated at the University of Chicago. Mr. Pomerance moved to London in 1968. His first play, "High in Vietnam, Hot Damn," was performed at the Interaction Almost Free Theatre in 1972 and directed by Roland Rees. Along with Rees and
David Aukin
, Mr. Pomerance helped to found the theater company Foco Novo in 1972. The name was taken from Pomerance's play of the same title, the company's inaugural production (at Oval House, 1972). Others include "Someone Else is Still Someone" (
Bush Theatre
, 1974), "Melons" (RSC 1985-86) and an adaptation of
Bertolt Brecht
's "A Man's A Man" (Hampstead Theatre, 1975). His best-known play, "The Elephant Man," premiered at Hampstead Theatre in 1977. It was performed in repertory at Britain's National Theatre and several times off and on Broadway. The play earned Mr. Pomerance a Tony Award, the New York Drama Critics' Award, an Obie Award, a Drama Desk Award and Outer Critics' Circle Award. Of the many revivals worldwide this play has enjoyed, the most recent, directed by
Scott Ellis
and starring
Bradley Cooper
, transferred to Broadway from Williamstown in 2014 to great acclaim. The production subsequently transferred to the West End in 2015 and garnered four Tony Nominations including Best Revival, Best Leading Actor and Best Featured Actor and Actress.
Ron Canada
(Director/Executive Producer) was born and raised in NYC. His directing credits include "The Invested" (4th Street Theater, NY), "Lights Up on the Fade Out" (Lillian Theatre, CA), "The Maids" (CAP Theatre Company, CA), "Split" (Independent Production/Elephant Asylum), "Nobody" (Ace Theater Company, CA), "Soap Opera" (Poet & Peasant Theatre Company, Wash., DC) "Beyond Your Command" and "Mash Note to an Old Codger" (New Playwrights Theater, Wash., DC), "Bus Stop" (The Old Opera House, Charleston, West VA), "Guido Girl" (TADA Theatre, NY) and Associate Director of "Divinity of Hell" (Theater for the New City, NY). A noted actor, Mr. Canada has been working on stage, in film and television for over 47 years. He was Iago to
Patrick Stewart
's Othello at The Shakespeare Theatre in DC. He is the second man in the country to play Troy Maxson in
August Wilson
's "Fences". He recently played Simon in "The Whipping Man" at The
George Street
Playhouse. Mr. Canada has guest starred on scores of television series. Recently, he completed episodes of "The Orville," "Seven Seconds," "
Jack Ryan
," "Madame Secretary," and "The Good Fight." Mr. Canada's film credits include "The Discovery" with
Robert Redford
and
Rooney Mara
, "Wedding Crashers," "Cinderella Man," "The Human Stain," "The United States of Leland," "The American President," and "The Hunted." He received the Dallas Film Critics Award and significant national attention for his performance as Otis Payne in "Lone Star." He has worked twice with director
Chris Columbus
in "Adventures in Babysitting" and "Home Alone 2." He is also an Emmy winning television newsman. He is founder and Director of The Acting Department NYC (
https://www.roncanada.nyc/
). Visit
Ron Canada
on IMDB (
https://www.imdb.com/name/nm0133474/
) The actors are
Kevin Rico Angulo
, Thomas Hildreth, Tricia Mancuso Parks, Megan McQueen,
Chad Restum
and
Najla Said
.Scenic designer is
Paul Smithyman
; costume designer is Matsy Stinson; lighting designer is David Shocket; sound designer is
Sean Hagerty
. Producing consultant is
Madeline Austin
. Composer of "Spin Off Theme" is Jack Benedict. Choreographer is Sarah Weber-Gallo. Singer/Co-Composer of "Yara's Theme" is Ann Osmond along with musician/Co-Composer Dennis Yerry. Production Stage Manager is Carey Campbell.Creative Women New York (Producer) is a non-profit performing arts organization and producing entity dedicated to creative development, training, and the production of theatre and film. CWNY empowers creative work through co-production and fiscal sponsorship (
www.cwnyi.org
).
Joe Campanelli, Susan Canada, Ron Canada, Creative Women New York, Carrie Schoenfeld and Sternman Productions will present "Spin Off" September 21 to October 13, 2018 at The Riverside Theatre, 91 Claremont Avenue, Manhattan. Previews begin September 21; the production opens September 23 and runs through October 13. The schedule is: Wednesdays through Saturdays at 8:00, Saturday and Sunday matinees at 3:00. Tickets are $40 adults, $25 seniors/students; $20 for previews. There is a $20 Early Bird Special available for presale through September 3. To buy tickets, go to http://www.spinofftheplay.com or call 212/870-6784. The show's website is http://www.spinofftheplay.com. The running time is two hours. To travel to the theater, take the #1 subway to 116th St. & Broadway (Columbia University). Claremont Avenue is one block west of Broadway. Enter between.120th & 121st Streets. Parking is available at 621 W. 120th Street for a special price of $25 for cars, $32 for SUV's.