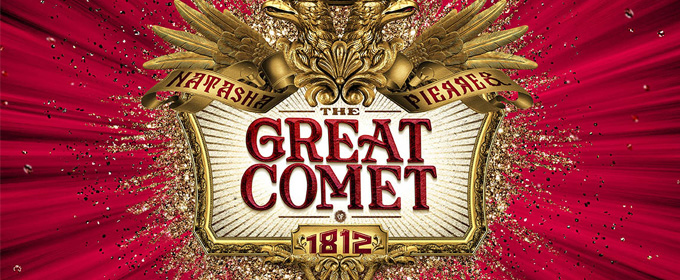 Click Here for More Articles on NATASHA, PIERRE AND THE GREAT COMET OF 1812
VIDEO: Josh Groban & 'GREAT COMET' Cast Talk Tonys & Diversity on Broadway
NATASHA PIERRE AND THE GREAT COMET OF 1812 has been hailed as one of the most innovative musicals of the decade. The show, inspired by a part of Leo Tolstoy's "War and Peace," came to Broadway in the fall of 2016, and turned the Imperial Theatre into Imperial Russia-with a modern twist. Yahoo Global News Anchor Katie Couric sat down with the Tony nominated stars Josh Groban, Denée Benton, and Lucas Steele as well as Tony nominated director Rachel Chavkin and creator Dave Malloy to talk about the show, the Tonys and diversity on Broadway and more.
"It's a longtime coming for a show that has had so many years of development and family around it," said Groban, who plays Pierre, a philosophical man who is struggling to find his purpose in life. The Grammy winner explains that shows that are so "out of the box and brilliant" are not always successes, so "to be able to celebrate that understanding from the community and that welcoming from the community means a lot to all of us." Watch the video below!
Natasha, Pierre & THE GREAT COMET of 1812 stars multi-platinum recording artist Josh Groban in his Broadway debut. Inspired by a 70-page slice of War and Peace, this "vibrant, thrillingly imagined new musical" (The New York Times) is "stunning and blazingly original" (Entertainment Weekly) and brings us just inches from Tolstoy's brash young lovers as they light up Moscow in a "heaven-sent fireball" (The New York Times) of romance and passion.
Natasha is a beautiful ingenue visiting Moscow while she waits for her beloved fiance Andrey to return from the war. In a moment of indiscretion, she is seduced by the dashing (but already married) Anatole and her position in society is ruined. Her only hope lies with Pierre (Groban), the lonely outsider whose love and compassion for Natasha may be the key to her redemption... and to the renewal of his own soul.
Video credit: Yahoo News
Related Articles