The Face Of Brazil Comes to Planet Connections Theater Festivity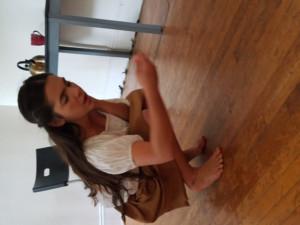 Made in Brazil, with Italian roots, based in New York. That is the best way to describe the many-sided Raiane Cantisano, actress and singer, who moved to the US three years ago and is taking the city by storm. Back in her hometown she's been seen many times on Rio's stages in renowned productions of plays like A Midsummer Night's Dream, Hair: The American Tribal Love-Rock Musical, And Then There were None and the original musical Só Por Hoje. She then trained with some of the most prestigious teachers in America at the Lee Strasberg Theatre and Film Institute (where names like Angelina Jolie, Al Pacino, Marlon Brando and many others built their craft) and since her graduation she's hardly found time to breathe in between gigs.
Her debut was the leading role in the critically acclaimed Child's Play, where she played an abused child who had lost her voice - quite literally, under the direction of Brock Harris Hill, with Rising Sun Performance Company. She then proceeded to play Mariana in the play Snipped/Cut/Tied: Una Noche de Magia, role that awarded her a nomination for best actress at the Planet Connections Theater Festivity. After that she was invited to be a Bat - a member of the resident acting company at the Flea Theater (founded by Jim Simpson and Sigourney Weaver, among others) - and through an intensive audition process became part of the company's most important production yet, the hip-hop feminist parody ms. estrada, that just resumed it's run in their new theater, The Sam. The musical is an adaptation of the Greek comedy Lysistrata by the Q Brothers Collective (best known for their Off Broadway hit Othello: The Remix) and is directed by Michelle Tattenbaum. In a play that explores and exposes such pressing subjects like equality, rape culture, sexuality and revolutionary movements, representing her country and being a flag-bearer for diversity and inclusion felt like an honor and a duty.
But that was just the beginning for this emerging starlet. She's what you would call a woman on a mission - and her next step is her biggest one yet. After originating the role in a Governors Island's artist residency workshop, she'll be returning to Planet Connections Festivity to reprise her portrayal of Clérèse, a girl whose coming of age is permeated by her surroundings (a Parisian brothel on the 19th Century), her imagination and her heart, in the world premiere production of Éléphant, co-directed by Akia Squitieri and Anna Hogan. She will also be sharing the stage with an incredibly diverse and talented cast.
This versatility, to her, is an obligation to her roots and fellow Brazilian artists. She believes fiercely that the time has come for people from all over the world to make art that goes beyond stereotypes and that portrays humanity as it really is: multifaceted, complex, profoundly deep and intrinsically connected to all who exist on the planet. "I want to be a voice and model for actors who dream of being in groundbreaking projects, committed to diversity and representation, because it truly matters. Stereotypes may have served a purpose to humanity in the past but we now as a society must acknowledge our similarities, not our differences: what makes us human, what causes our hearts to beat. This is just the beginning for me. We still have a long way to go and I can't wait to see what we will achieve."
Éléphant will be at the Flamboyán Theater (The Clemente), as a main production at The Planet Connections Theater Festivity (July 9th through August 5th).
For more information visit www.risingsunnyc.com.
Featured at the Theatre Shop
T-Shirts, Mugs, Phone Cases & More
Related Articles
More Hot Stories For You
Breaking: Tony-Winning Choreographer Bob Avian Passes Away at 83
BroadwayWorld is saddened to report that beloved Broadway choreographer Bob Avian passed away yesterday from cardiac arrest at Holy Cross Hospital in ...

Final Lineup Announced For SAVE BIRDLAND: A Celebration Of Music, History, And Community
The fundraising campaign for Birdland Jazz Club will conclude on January 24th with a free streaming concert titled Save Birdland: A Celebration of Mus...

Disney Adaptation of BETTER NATE THAN EVER Holds Virtual Open Call
Calling all kids! Casting is underway for Walt Disney Studios Motion Pictures' film adaptation of Tim Federle's children's book Better Nate Than Ever....

Ellen's Stardust Diner Presents STARDUSTERS Concert Next Weekend
An interactive musical theatre benefit show, Broadway Alive, will stream live from Broadway's iconic Ellen's Stardust Diner, on Saturday, January 30 a...

VIDEO: Christopher Jackson Performs 'The Times They Are a-Changin' at The Creative Coalition's Inaugural Ball
On January 20, 2021, The Creative Coalition brought together leaders from entertainment, media, Congress, and the White House Cabinet and Administrati...

Social Roundup: The Theatre Community Mourns the Loss of Bob Avian
Read what theatre stars from across social media are saying about the passing of Bob Avian....