Click Here for More Articles on Podcasts
The 'Broadwaysted' Podcast Welcomes BE MORE CHILL's Will Roland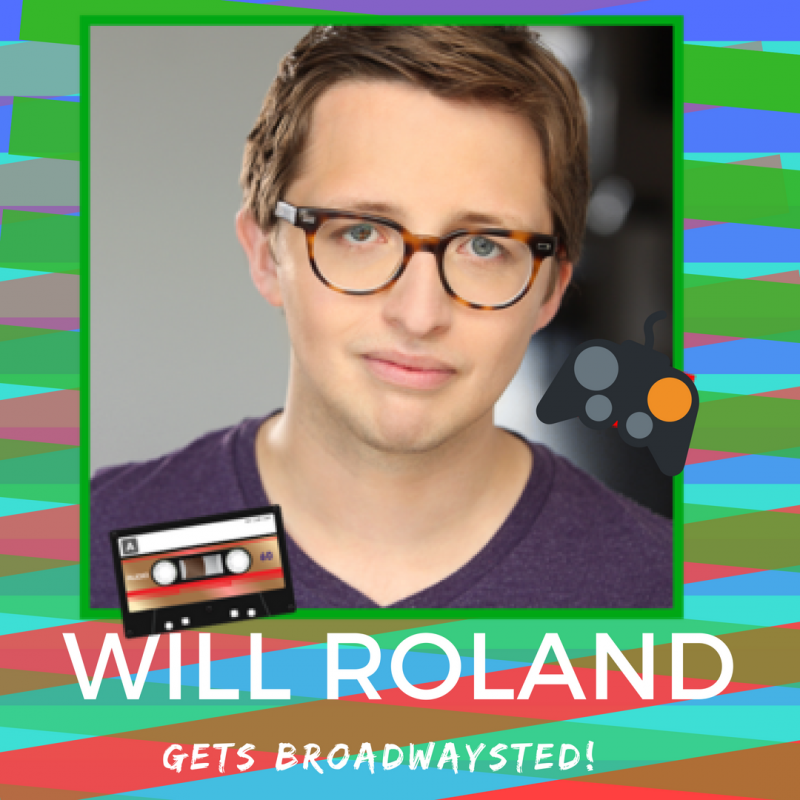 He's back! But don't worry, we're totally chill about it because this week we're sharing some laughs and some drinks with #FriendoftheShow and star of Be More Chill Will Roland!
We're pouring out MANCAN, Tangueray, and Tanteo Jalapeno Tequila while Will spills about flugabones, angler fish, and "playing nice with the other kids at school."
"What Have You Seen This Week" finds us all discussing On A Clear Day You Can See Forever at the Irish Repertory Theatre and This Ain't No Disco at the Atlantic Theater Company (Spoiler Alert: it is a disco.)
Game Master Kimberly leads us through a rousing few rounds of Plot Points, Will takes a journey to "Kevin's Corner," and Bryan challenges Will with a series of "Would You Rather?" scenarios. We have an amazing time with Will--but up front we have to apologize that the final moments of our episode were hijacked by #EmbargoedFriendoftheShow Aaron J. Albano who cuts in with the so-called "Embargo Report" from his current gig traveling the country in the Hamilton Philip Tour with castmates Nyla Sostre and Eean S. Cochran.
Regardless...listen in, get your tickets for Be More Chill, and join in the laughs for the second time Will Roland gets Broadwaysted!
Listen to the episode here:
Also...DON'T FORGET! You can get incredible tickets to all forms of live entertainment at affordable rates from our friends at Goldstar!
Visit goldstar.com/broadwaysted and use the code "BROADWAYSTED" at checkout to get an additional $10 off your purchase! Don't forget to share your Tix Pix with us on Social Media!
---
About Will: Will Roland is currently starring in the highly-anticipated Off-Broadway debut of the Joe Iconis musical Be More Chill. Previously, Will created the role of Jared in the smash-hit musical Dear Evan Hansen. He also appeared on TV in "The Mysteries of Laura" and "The Unbreakable Kimmy Schmidt" and the 2017 drama film "One Penny." Follow Will on Twitter @will_roland and Instagram @actually_will_roland
---
About the Show: Join the hilarious happy hour antics on Broadwaysted every Tuesday as the Brightest Stars of Broadway have a few drinks, play a few games, and share a lot of laughs with host Bryan Plofsky, co-host Kevin Jaeger, and Game Master Kimberly Schmidt.
The recipe is simple. We take a generous pour of Delightful, Delicious, and Delovely featured show segments like "What Have You Seen This Week," "Stage Door Stories," and "Tuesdays in the Corner with Kevin"--mix in a few original games created by our resident Game Master Kimberly--and top it off with a healthy serving of Bryan's Pun-tastic Ponderings. What you get is a podcast filled to the brim with laughs, insight into the NYC Theatre Scene, and a hangover-free cocktail hour with your favorite stars.
Since May of 2016, Broadwaysted has released over 100 episodes and their growing #FriendsoftheShow guest list includes Broadway Legends, Fan Favorites, Fresh Faces, and a whole lot of Newsies,
Follow and Subscribe to Broadwaysted free on iTunes to join the fun every Tuesday!
Twitter: @Broadwaysted
Instagram: @Broadwaysted
Bryan's Twitter: @nuttyplofessor
Kevin's Twitter: @JaegerKev
Kimberly's Twitter: @KimberCoops
Facebook: Join our group Broadwaysted #FansoftheShow to exchange game ideas, share theatre thoughts, or chat with other #FansoftheShow
Related Articles
Broadwaysted: Where we're drunk on Broadway! Literally. This isn't your typical theatre podcast. Come "take a glass together" with us every Tuesday! Join our cocktail (read more...)