Click Here to Visit the College Center

Blogs are the opinions of the authors and do not necessarily reflect the opinions of BroadwayWorld. BroadwayWorld believes in providing a platform for open and constructive conversation.

Student Blog: Week One Back on Stage
The first week of the fall semester is the busiest. Auditions for shows, clubs, and teams took place every night.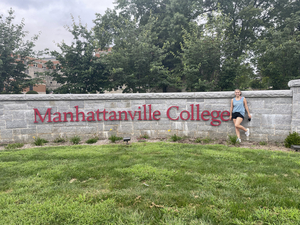 I can't believe I'm finally back on campus. The last time I was here was in March of 2020. The difficulty of a year of online college made my on-campus reunion with my friends that much sweeter. I was greeted with big hugs, and my heart was so full. I moved into my dorm and looked forward to getting the semester started. I couldn't wait to eat with my friends in the dining hall and enjoy movie nights, or late-night milkshake runs. But first, I would have to get through Week One.
The first week of the fall semester is the busiest. Auditions for shows, clubs, and teams took place every night. Department meetings and classroom hunting sent me all over campus.
Here's a peek into my Week One:
Sunday: Go on a run. Voice practice to prepare for auditions. Make sure sheet music and outfit are in order. Musical Theatre department meeting. Meet the incoming class. Get assigned a mentee buddy. Sing. In a mask.
Monday: 10:00 am voice lesson, pulling classical songs from my book that I haven't sung in two years in preparation for December's classical recitals. Massage sore legs on the way to dance class. Take an advanced-level modern dance class with the head of the dance department. Wipe off my sweaty forehead to rush off to my next lecture class. Finish lecture, grab a snack and start hair and makeup for auditions. Head to the music building. Try not to die from the amount I'm sweating. Sing my audition song. In a mask. Some of my classmates were in both musical and dance auditions tonight. Lots of work, very little time. Head to my dorm. Callback lists come out. Called back for two leads. Nice.
Tuesday: Lazy morning. Get up and eat breakfast. Sore from dance class. Get dressed for dance class. Take class and grin the whole time. Eat, relax, hang with a friend. Head to music building to practice callback material. Three songs, and six scenes for sides. Head to stage management class. Back to the dorms. Bedtime.
Wednesday: Another lazy morning. Sore from dance class. Get butterflies in my stomach any time I think about callbacks. Take Senior Seminar in the afternoon. It's starting to drizzle. Sing in class. In a mask. Listen to my classmates sing. Get ready for dance and vocal callbacks. It's starting to rain harder. Dash back to the music building in the rain. Complete the dance call. Read and sing for the leads I'm called for. It's flooding outside. Arrange for a commuter student to stay in my dorm so she doesn't drive home in the rain. Dash through Hurricane Ida to get back to my dorm soaking wet. Hope callbacks went okay.
Thursday: Class is canceled. The storm knocked out people's power. My stomach is in knots over the cast list. I just want to know. Get some homework done. Play cards with friends. Make a grocery store run. Watch a movie.
Friday: Still no cast list. Early morning lighting design class. Lunch. Cleaning, organizing, resetting. Almost late to play rehearsal. Participate in ensemble building exercises. Get to know the cast a little better. Finish rehearsal late. Still no cast list.
Saturday: Full day of rehearsal. Ensemble building work, performance discussions, movement workshopping. Still no cast list. Wash dishes on the lunch break. Still no cast list. Time for dinner. Time for bed. Still no cast list.

Sunday: Another all-day rehearsal. Many acting exercises, terminology refreshers, and skill-building. Still no cast list. Nap during the lunch break. Round out rehearsal with group discussions and trust-building. Seven hours of rehearsal. Still no cast list. Time for dinner. Haven't seen my friends outside the cast all week. Back to the dorms. Time for bed. Lights out. Still no--cast list is out. Sit on the floor to read, call friends, celebrate. Back in bed, time to rest up to do it all again next week.