Student Blog: Staying Safe in Studio
My experiences with mental health practices and staying safe in ETW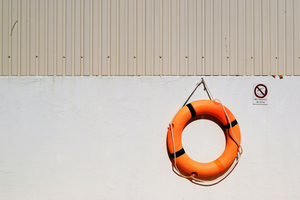 I've seen a discourse on social media in the theatre world lately about the idea of "suffering" as a part of making art. This stereotype of the "tortured artist" is one that I grew up with as well, and it is one that I do not believe in. I do not think it's necessary to harm yourself in order to create something meaningful. Much of the discourse I've been seeing online has to do with trauma and college theatre programs. Students have been made to relive their trauma in settings that don't feel safe. However, I can only talk about my experiences, which is what I'm going to do now.
I am incredibly fortunate to be in a program with teachers I love and admire so much. The acting teachers I have had thus far in my time at Experimental Theatre Wing (ETW) have been incredibly emphatic and supportive. I think they have effectively created safe spaces for their students.
The discussion of creating a safe space in studio is not a new one in ETW. In fact this discussion has been ongoing pretty much throughout my time in studio, and certain events have encouraged even more discussion. This semester, ETW sent the students a new ETW handbook, in which there are new guidelines outlining safety practices, including consent and trigger warnings. The full time ETW faculty, inspired by recent studio events and the Call to Action and Change letter from the ETW POC Affinity Group, took it upon themselves to write this new handbook to keep students safe in class.
Some of our practices that I find to be effective are as follows:
Trigger Warnings
Trigger warnings were important before our new handbook, but the new handbook requires them to be implemented. Trigger warnings are necessary because triggers can be surprise attacks for people. A trigger is something related to a person's previous trauma, and experiencing a trigger, especially without warning, can be detrimental to someone's mental health. In my studio classes this semester, we have (anonymously) compiled a list of everything that needs a trigger warning for us. The list is not exhaustive, as triggers can be unexpected, but it is certainly helpful! We made a list of our monologues for our acting class with content warnings for each. People can choose what they feel comfortable viewing and being a part of.
Safe Words and Gestures
Going hand in hand with trigger warnings, safe words and gestures are implemented to prevent students from being uncomfortable and unsafe in class. We have established with each of our teachers a word and a gesture to use in case we need to tap out. We decided on these within our sections in a discussion with our teachers. It's important to note that a student is never penalized for using a safe word or gesture, nor are they penalized for leaving the room (er, the Zoom?) if they are uncomfortable. We also never have to explain why we are uncomfortable or what triggered us or why we needed to use the safe word/gesture.
Consent
At the beginning of each of our classes this semester, we also discussed consent with our teachers and what that means, especially in the wacky Zoom times. This one makes slightly more sense in person because we can't physically touch each other in Zoom. Again, this existed before the new handbook, but now it's explicitly required and detailed. Consent is of utmost importance.
We do have more protocols than this, but I think these three are very important. We can check in with our teachers and studio staff whenever we need to, and our teachers make themselves very accessible to us.
Even before the handbook, our acting teachers have placed an emphasis on the belief that you don't need to hurt yourself in order to be an artist. Our acting teacher last semester, who taught us Meisner technique, Pandora, was a vocal proponent of this view. She taught us how to experience emotions in our acting without damaging ourselves and using damaging material and memories. She also provided us with a safe space to talk about how we were doing, which was extremely effective. We had check-ins as needed, and one of these was right around the time of a certain election last year. All of us were really not feeling it, and Pandora knew that it would not be productive to force us to work when we were not available. Instead, after our check in, she offered that those who wanted to could stay and those who wanted to leave could leave. For those who stayed, Pandora invited us to share something of "healing," whether it be a song that makes you happy or a poem that you wrote that you're proud of - anything. On a separate occasion, I shared in a check-in that I was not really eating consistently at the time because of stress and anxiety. Pandora asked me if I could stay after class to talk to her about it a little more, and together we brainstormed ways to get me to eat. I will never forget that. It was not intrusive or forced in any way; it was simply a kind, empathetic gesture, and it meant so much to me.
Pandora is one example of a great acting teacher who encourages a safe learning environment. I have stories like this with several more of my ETW teachers. In an acting class last year, with our teacher Catherine, I found myself pushing myself too hard in a dangerous direction in an attempt to connect to a difficult scene, and I was having trouble getting out of it. I approached her about it, and she talked to me and gave me many ways to help make the scene a safer experience. In our current acting class, our teacher Andy does consistent check-ins, and these vary: sometimes we do them alone, sometimes we do them as a class, and sometimes we do them in partnerships or groups. She encourages us often to use the safe word/gesture if we need to, and she also often gives us the chance to work privately.
No program is going to be perfect, especially when it comes to handling mental health. However, I think ETW is headed in the right direction. I am so grateful for the teachers I have had so far and all the knowledge they've imparted, particularly the knowledge of how to take care of yourself and stay safe in the practice. I love that my acting teachers also don't believe in suffering for the sake of art. It is very possible and very beautiful to create art, while also taking care of yourself, mentally and physically.