Click Here to Visit the College Center

Blogs are the opinions of the authors and do not necessarily reflect the opinions of BroadwayWorld. BroadwayWorld believes in providing a platform for open and constructive conversation.

Student Blog: Songs from My First Voice Recital
My first voice recital featured songs from shows like Evita and South Pacific. Majority of them I knew but there was one I didn't know but it became an instant favorite.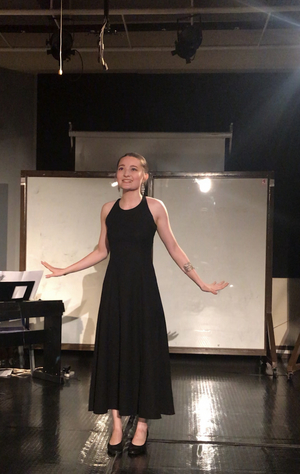 As I was thinking about something to write, I came across something I wrote in preparation for my first ever voice recital. This happened during my sophomore year back in 2019. Looking at it now, it was a wonderful learning experience. I remembered being nervous especially because I wouldn't call myself a singer even if I have the love for songs that were way out of my league. Fortunately with the guidance and unending support from my music professor, we worked hand-in-hand to get me to sing notes I didn't think I was capable of singing. After many rehearsals, me and my fellow classmate performed in front of a small audience consisting mostly of friends and family including our teacher. Even though I may cringe whenever I re-watch videos my father took while I sang, I am still truly grateful to have gone through something not many people would have the opportunity to do.
What really helped make the learning process faster was that my professor's selection of songs for the recital were from either Broadway or West End musicals like The Sound of Music or Jekyll and Hyde. Majority of them were songs I knew since I was a child or I just learned them throughout the years. It meant a lot to me knowing that I was singing songs that held a significant part in what makes me who I am. So, here are just short reflections on the songs I sang solo and what they mean to me:
Some Enchanted Evening
One of the biggest names on Broadway is the famous melodist and composer of Music of the Night and Memory, Andrew Lloyd Webber, named the song Some Enchanted Evening from South Pacific as his favorite song of all time. With that bit of information, you would have realized that this ballad by Richard Rodgers was meant to remain a timeless classic in a world of constantly evolving sound and genres of music. I first heard of the song when I watched the 1958 film and from then on I knew that a song such as that had the power to enrapture the hearts of many, especially that of two lovers. The lyrics by Oscar Hammersmith embodied the true meaning of love at first sight and it glorifies such a moment with the melody accompanying it. Upon reaching the point when the song rises to its culminating point, you can feel as though your heart is exclaiming with great emotion and it is undoubtedly wonderful. The song reconfirms the miracle of falling in love so effortlessly and for once it talks about a kind of love that is destined by fate because it is authentic and it speaks of holding on to it no matter the cost.
I associate this romantic ballad with my dear Lolo and Lola (grandfather and grandmother in Tagalog/Filipino). In some ways, how they met was just as it was told in this song. I find it to be explicitly perfect in which it manifests the emotions that were made between two strangers who happened to feel the same way for each other. Hearing the song makes me conjure up the scene in my head when my grandfather danced with my grandmother and they looked into each other's eyes and magic filled the air around them. It is my wish that I may encounter that special someone or the other way around for then I would fully comprehend the song's true meaning and appreciate it on another level. Without further ado, I dedicate this song to my loving grandparents who are the living proof of true love and happily ever after.
Edelweiss
This song from the all-time classic movie musical: The Sound of Music, contains a sweet melody which serves as a timeless lullaby that was meant to grace the ears of both the young and old for many generations. It is a song dedicated to the Edelweiss which means "noble white" in German. It speaks of the flower's purity and that it is held dearly in the hearts of the Austrian people. When someone beholds its beauty, they are instantly filled with joy and hope. Just to get a hold of one requires a dangerous trip to the mountains and therefore caused the deaths of many for it is a challenging task which was only done to prove a man's devotion to his loved one.
The song was written to serve as a reminder of nationalism for their country in midst of war and the Nazi regime. It was purposely made to symbolize the sacrifice a number of Austrians were willing to make, like the Von Trapps, as though they were risking their lives just to collect one Edelweiss. Sadly, this song served as the last one the iconic musical duo, Rodgers and Hammersmith, made together. It was said that stomach cancer caused Hammersmith to fall ill during that time. Shortly nine months after the opening of The Sound of Music on Broadway, he passed away. Edelweiss shall remain to be the song that immortalized a small and white flower which reminds us that hope will never cease to exist.
Nothing
This song in a nutshell? An aspiring actress who doesn't know how to master the basics of acting which is improvisation. It appeals to someone like me because it shows the struggle of learning how to become a good actor. In the case of Morales, she could not find it in her to use some imagination to picture herself on a snow sled or melt like an ice cream. She is an example of many who see a lesson such as improvisation to be challenging and seemingly not even necessary or in her own opinion, stupid. It contains similar emotional struggles many actors have to face and with it gives confirmation to those that they are not alone in their suffering and frustrations.
Shortly after listening to the song for the first time, I couldn't help but put it on repeat and listen carefully to the lyrics just for memorization purposes. I found it to be a very amusing song and story being told by a fun character: Diana Morales. With her unique spunk, she took control of her situation and made it into her defining moment in life which I admire. She simply took her flaws and flung them against the wall and faced them with her head held high. This would be the song I would suggest my fellow theater enthusiasts listen to when they feel as though their effort on the stage is "nothing". It brings me joy to know that such a song as this could uplift the spirits of aspiring actors and provide self-esteem with just the right lyrics and melody.
Don't Cry for Me Argentina
This magnificent song is a product of both Lloyd Webber and Rice's geniuses coming from the musical Evita which celebrates the life of Eva Péron, First Lady of Argentina in the late 1940s to the early 1950s. This serves as the power-punching song of Evita as she displays to her descamisados her devotion for them and the country despite her challenging past and her newly discovered glory. It carries emotions of hope and desire for what is to come. In the song, she vocally expresses her new found feelings for her fellow country men as a First Lady of Argentina and she wants them to know that she is one of them through a number of emotion driven speeches she made in her lifetime. "The song's lyrics are a "string of meaningless platitudes" according to Rice, who felt that it worked as an emotionally intense but empty speech by a "megalomaniac woman" trying to win the favor of the Argentines."
The movie musical Evita is by far one of my favorites and it shall be named as such until the very end. I was greatly influenced by the 1996 starring Madonna and Antonio Banderas wherein there were times I would act out "Oh What a Circus" in our own kitchen bar or sing Evita's ballad to her people with grace and deep emotion. As a young girl, this was the song that I dreamed of singing without any flaws and perfect vocals. Even though I did not truly internalize the meaning behind the song then, I was able to understand it in my own way because I found the song tragically beautiful. Now, it is with great pleasure to be given the chance to actually sing this song therefore making my wish come true.
Someone Like You
I have loved this song from the Jekyll and Hyde musical for as long as I could remember. From the moment I first discovered it from the filmed stage performance featuring David Hasselhoff and Coleen Sexton as Lucy, I fell instantly in complete ecstasy and still do everytime I hear or watch the scene. The song shows a character who has bottled up her dreams just because her fears were bigger than her. She allowed everyone else to determine her own life not until she discovered kindness and compassion from Henry Jekyll. Suddenly, she felt renewed and she felt determined to live happily in her own world with a true sense of belief in herself and her feelings.
This song displays a kind of love for oneself through the help of that someone who comes into your life just to make you feel anew. It is a breathtaking song and the emotions just simply fly across the room once the first note was played. It is through this song that I may help others accept the thought of being found by someone and allowing hope and love to come into view. This is the one song that provides the listener with the "love to open every door" and to be set free from worry and sorrow. It has been a special dream of mine to sing this song as well and so I am truly privileged to say that I can sing this in front of an audience with great pride and pleasure. May it be that I will be able to inspire others and myself through this beautifully written ballad of dreams and of what is to come.