Click Here to Visit the College Center

Blogs are the opinions of the authors and do not necessarily reflect the opinions of BroadwayWorld. BroadwayWorld believes in providing a platform for open and constructive conversation.

Student Blog: Seven Ways to Stay Creative This Summer
Just because the school year is ending doesn't mean the creativity has to end too!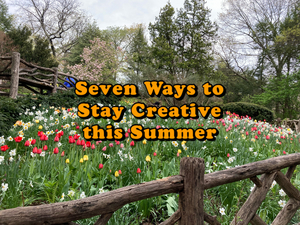 As many of us are winding down the school year, I have compiled a list of things to do to keep your creative juices flowing this summer! I know that I can find myself in a creative rut when I'm on break, so here are some ways to pull yourself out of that rut.
1. Readings
There are so many scripts accessible online! Play scripts, movie scripts, TV show scripts, they're all online. Get a group together on Zoom (or maybe in person if you're safe and vaccinated and all) and read through a script! You could even do a little staging if you wanted to. If it's a script in the public domain, maybe you could even put on the show! Last summer, one of my friends organized a Zoom reading of the script of the Avengers movie, and we've got a reading for Little Women (2019) coming up soon too. I'm lucky that my friends are also writers, which means that I get to do readings of their scripts pretty often, which also brings me to my next point...
2. Writing
Writing, by any means of the word! We do lots of free-writing in studio, and I find that that often helps me to find some creativity. Free-writing can also inspire me to start something new, and it's a great cure for writer's block. Write plays, stories, letters, songs, poetry - anything! You've finally got the free time to write the play you've always wanted to be in! And who cares if it's good, it can just be for fun! If you want to share it, you can do number one on this list and hold a reading with your friends.
3. Learn something new
Have you got some free time on your hands? Maybe it's time to finally learn to play piano or research the "golden age" of Broadway! That choreography to that song from that musical you're obsessed with? Why not learn it! The internet again comes in handy with this one. You can easily find Youtube tutorials for almost anything you want to learn. Tik Tok is great for this too! Hold a Powerpoint night with your friends to share what you've learned, silly or serious! You can also find some classes (even some free classes!) online to help you learn, as well. The world (or the internet?) is your oyster!
4. Build your book/rep
This can sound like a chore to some, but I think this is a fun activity! I love a good Spotify/Youtube deep dive into some new musicals. On Spotify, I like to click on the names of actors listed on cast recordings and see what else they've sung on. On Youtube, the recommended videos may lead you somewhere new! Building your book is not just limited to MT songs, though. One of my favorite activities is finding new pop/rock songs to turn into audition songs. If you like to sing it for karaoke, it might just be a great new audition song! Also, excuse my nerdiness, but Glee covers are also a great place to look, especially for songs that may not be in your range in their original keys. Summer is also a great time to read a bunch of new plays and find new monologues and scenes you want to work on, either now or in the future!
5. Watch/Read New Things
Sometimes the way to inspire creativity in yourself is to interact with the creativity of others! Oftentimes I'll watch a really great movie or read a really good book, and it will inspire me to go write a song about it. You can also watch movies or read plays to help you figure out what kind of work you want to make someday! Another thing you can do with this is write about the things you watch afterwards, like a review. Again Youtube is a great place to find new things to watch (including musicals, shhhh), but other free streaming services: Crackle, IMDB, Kanopy, Peacock, etc. You may also be able to find some proshot recordings of shows online, too! You can find plays to read through the library, playscripts.com, lazybeescripts.co.uk, simply scripts, and more. A good Google search often works for me if I'm looking for something specific, especially if it's a movie script.
6. Observe
I am a big fan of people-watching. I love sitting in a NYC park and just observing the life around me. Especially since the weather is getting warmer, and people are getting vaccinated, it feels like the world is waking up again, and people are outside again. Enjoy the fresh air, and enjoy the presence and quirkiness of other people. People-watching (or even just observing nature) can inspire writing, or character quirks, or so much more. One of the first exercises I did in one of my acting classes freshman year was to go to Washington Square Park, observe someone interesting and the way they walk, and come back to class and physicalize the observations. We also did a similar activity with animals.
7. Go See Art
Go to a museum! Go to an art installation! Go to an (outdoor) concert! But go safely and adhere to COVID-19 precautions! Like I said, the world feels like it's opening up again, and art is no exception. There are more and more in-person art exhibits happening, and there are even some concerts beginning again. Outdoor theatre is also making a return this summer, and some indoor theatre might as well! Of course, please be COVID safe, but go interact with other art if you can/want to. Seeing other artists' art can inspire your own!
These are just a few ways to stay creative this summer! Really anything can inspire creativity, if you let it. A solo dance party can turn into some cool choreography! An Instagram food tutorial could cause you to come up with a new recipe! Even just talking to your friends or walking around your neighborhood can inspire you to make something beautiful! Happy end of the school year, and happy making art!