Click Here to Visit the College Center

Blogs are the opinions of the authors and do not necessarily reflect the opinions of BroadwayWorld. BroadwayWorld believes in providing a platform for open and constructive conversation.

Student Blog: I Never Want To Dance Ever Again!
Fatigue from school and 5 movement classes a week, I was on the verge of quitting school. Why did I even choose musical theatre?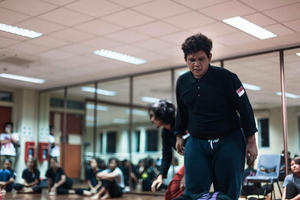 If you're in a musical theatre program, be it university, conservatoire or summer camps, dance is always a big part of it. Jazz, Ballet, Tap, Pas De Deux and Song & Dance, these are the essentials of musical theatre. My program leader came into class one day and told us that musical theatre is like a sport and we have to take care of our bodies like athletes. And it dawned on me that I may not be fit for this.
It's not as if I just started dancing, I've been dancing for 16 years (on and off). It's not that I'm a bad dancer either, my grades don't reflect that at least. So what's the issue? It's the long hours of dance classes for me. I love dancing, don't get me wrong. Sometimes, when you do something too much, you start to hate it. Also being on a plus size side, it's not easy.
During my audition to enter the course, the auditioner asked me if I could lose a bit of weight. It's out of concern, to prevent injury and to ensure I have the stamina to dance. Please don't come at him, I appreciate his concern and I still got accepted to the course despite that. So during the dance call, I danced my best to prove to him that I am capable of dancing. Little did I know that the first year timetable is filled with so many movement classes, 5 times a week. 3 hours each of Jazz Technique class and Choreography class on top of our 1.5 hours each of Body Conditioning class, Jazz class and Ballet class. The one good thing that came from the pandemic was during the first term, our class was separated into two, therefore we only danced half the duration. When the class combined, that was when I realized... Oh no!
The struggles I had in the beginning of school was stamina, core strength and flexibility. By the end of the first year, my flexibility improved tremendously (got my side splits!), whereas my stamina and core strength only had slight improvement. On top of that, as a plus size person, a movement is harder to execute beautifully compared to a slimmer person. I had a fair share of dancing experience on both spectrums. To give a better comparison, I'm standing at 173cm (5'8) and at my prime I was 65kg (144 lbs) and currently I'm 105kg (232 ibs). The effort I have to put in to execute the same movement is higher when I'm plus size. On top of that, my stamina and core strength depleted as I gained weight.
The breaking point was in the second semester when we did a choreo for Two Darn Hot and you know there's a dance break in there. It was difficult for me to keep repeating the dance to clean them and also run through it so many times. I was exhausted. Never would I have thought of quitting something I love the most, musical theatre, but that experience pushed me to think that way. I wanted to quit school and never dance ever again. How do all the Broadway performers do it? 8 shows a week? This is only 5 movement classes a week.
Thankfully I had classmates that were supportive and encouraging. We were all in it together. I can't compare myself to other people, let alone Broadway performers. They had their fair share of struggles, and now it's mine. I pushed through just like anyone would. When we were done with assessment, we had a very long break from dance. Since we were putting up a song cycle show, movement classes were cut to 3 classes a week. I have to admit, when a few weeks passed, I missed dancing. I missed all the intensive training.
Training to be a musical theatre performer is not easy. It takes a lot of passion, patience and dedication to strive. I'm glad that I did not give up on it. I'm glad that I pushed through it. And I'm glad that I still enjoy dancing. It's hard, but I believe that every blood, sweat and tears is worth it to be one step closer to my dreams. So for all of you who are struggling with dance, take one step at a time and know that your body is doing their best.