Click Here to Visit the College Center

Blogs are the opinions of the authors and do not necessarily reflect the opinions of BroadwayWorld. BroadwayWorld believes in providing a platform for open and constructive conversation.

Student Blog: How My College Adapted to COVID-19
Here is a reflection on my experience finishing up my junior and senior years online due to COVID-19.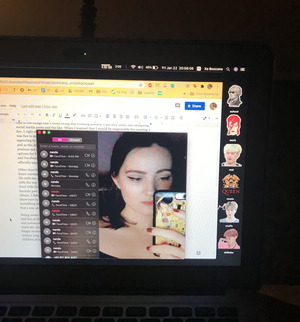 As the saying goes, "desperate times call for desperate measures", we were all quite taken by surprise with how this year turned out to be. We honestly didn't think we would be made to stay in our homes in fear of contracting and spreading the virus. Luckily, with the help of the internet Assumption was able to finish off the last remainder of the second semester of SY 2019-2020 through the use of online platforms mostly found in GSuite. It was a challenge for some but we managed. Thankfully the school decided to make adjustments given that not everyone has strong WiFi connection and therefore has tweaked a few policies accordingly. Learning online is nothing like having an actual class in a proper classroom. It lacks the "human connection" if you could put it that way. However, this does not mean that it ceased to exist given everything is online. We are fortunate to be living in a time of advanced technology and therefore we are still connected but electronically.
Nothing beats having classes in person. However, given the "new normal" we are expected to adjust accordingly. Assumption College was quick to adapt to the online learning scheme with the creation of a new handbook, policies, lesson plans, school year schedule, and others. As for the students taking up performing arts, it was definitely a disappointment to hear that all future school productions have been put on a pause which would make you think that it defeats the purpose of learning a course that is meant to be on a stage with an audience and the whole lot of it. That was the initial reaction but learning online may have its short-comings but it also has its advantages.
E-Classroom versus On-site setup
I personally prefer being in school rather than learning from home. When you're at home, you end up being in a lax mode rather than being focused like in a school setting. You get distracted by numerous things like chores, family, errands, and more. That is why homes and schools were meant to be separate, unless you grew up being homeschooled. Well, there are times when I manage to be more productive when I get home from a long day at school. In the end, it really depends on what you think is the most conducive place for learning and getting requirements done. There is just something about discussing with your classmates and listening to your teacher that makes the learning process easier and faster. Unfortunately, we do not know how long this will keep up as long as the pandemic still exists.
Online Classes: How was it like?
What is comforting to know about online classes in Assumption is that the school in general is very understanding given the current situation we are all facing together. This means that they can make adjustments for deadlines and the workload. On top of that, with the updated handbook the students were given until the next semester to catch up on requirements as long as you inform your professor that you need time to finish up everything. It is good knowing that we don't have to worry much especially when the Wifi is down or you run out of load. What's important is that we all attend the synchronous classes and if not we just inform our teacher or classmates who are just an email or message away.
An Overview of Online Learning for Theatre Students of AC
From what I have gathered, online learning can be quite stressful according to some fellow PA students but it has given them the chance to grow and become well-adjusted to the "new normal". I have to agree with them on that but nevertheless there are still different ways of looking at the situation, especially since it is not in our control.
Thesis from Home
What is great about learning online is that we students don't need to worry about waking up early to go to school, getting baon (lunch or food to bring to school/work in Filipino or Tagalog), coming home late because of the Makati traffic, among other things. It is definitely a more convenient way of learning and in my case, just working to finish up my degree. One thing I find advantageous given that we are doing everything online is the thesis. I was told by previous students that they had to physically visit the interviewees, unlike now I just had Zoom video/audio calls for all of my interviews. Completing my Review of Related Literature was initially a major concern for me given that I do not have access to the school's library. But fortunately with the help of EBSCOHost and of course the internet, I was able to produce a cohesive RRL all in the comforts of my own home.
So, as you can see it is not as bad as it was thought out to be. We just all needed to adjust to the times and reprogram ourselves to make things work out for both the students and professors. What is important after living in unprecedented times is that we have to look at things in different perspectives. Though it may be preferable to have actual classes in school, we are given the opportunity to spend more time with our loved ones. On the bright side, we are also helping out the earth but staying home since there is no need for transportation which means less CO2 being released into our atmosphere. All in all, we just need to find the good out of the bad which right now is COVID-19. We just have to continue to try and keep our focus on the hope and positive thinking that schools here are all online-based, at least we are safe.
Practicum/OJT from home
Doing your OJT online is a different story. Yes, it is much better than having to visit the actual site and work there but there will always be a flipside to it. I for one find it quite a challenge especially because my course is meant to happen not at home but rather in the theatre as a performing arts student. One thing that I would recommend is for you to get a head start of knowing what internships, preferably remote ones, are out there and what their requirements are. You would not like to worry about not reaching that 200 hour mark just because the one company you are working for can't give you any more tasks. It is always good to have a back-up and what I mean back-up is to have other places to work as an intern especially during a pandemic. Hopefully you will not have to go through what we went through by the time it is your practicum! Just keep in mind that the school is more than welcome to help you out if you are having difficulties getting more hours done. You just have to make it known to your practicum professor and/or your department head of your situation and they will definitely be of any help to you. Don't worry! Just look at the bright side: you are getting the WFH (work from home) experience that you may need when the time comes, especially after this pandemic.
To be, or not to be (online), that is the question.
While we are hoping that things will turn out for the better, we just need to keep in mind that despite the quarantine we must look at the positive side of the pandemic. It is more certain that companies and schools will be focusing on having the work from home option more than ever after what we have gone through with COVID-19. We students are privileged to go through this and to gain enough knowledge and experience from it to be applied in the near future. Who knows when another pandemic will occur? We must then be ready to make the necessary changes to adjust to the times and to effectively equip ourselves with the tools we have to work to our advantage.
Easier said than done, being online has its pros and cons. However, we must not ignore the fact that our Assumption community among many others is still holding on and being as active as possible even during a national lockdown. We are getting by even if it is preferable to some to have in-person classes. Hopefully things will be better for the next school year but in the meantime it is good to see how "electronically involved" Assumption is. This just shows that despite the worse, Assumption will be sure to see it through. Knowing this lifts my spirit and it encourages me to inspire others to feel the same. In the end, it is not about just staying connected online, what matters the most is that we see beyond the darkness and grab on to the sliver of hope that is still there.
Looking Back as a College Graduate
What truly helped was that professors have been more understanding given the sudden drastic changes. For the most part, things have been quite flexible and the fun of learning is still there. Doing some theatre workshop exercises as warm-ups in the comfort of my bedroom was nothing I thought it would be. Though I did feel conscious as to try and not make too much noise, I still found the joy in acting silly and letting out the stress by the physical activities my professor assigned me to work on. Acting was just as fun. Though it would be better to be with the teacher in a face-to-face setting, using Google Meet was able to achieve the same thing. Submissions were mostly of videos, reflections, scripts, and an online journal. It didn't turn out to be so bad after all. One thing's for sure, it doesn't beat having to go to school early in the day and facing traffic on the way back home. Though I was quick to judge online learning, it is still an enlightening experience for me and everyone else going through the same thing. What is important is that the intent to learn is there and everything else will take its course.
Light at the End of the Tunnel
As we continue on believing that this pandemic will last much longer than we have hoped for, learning online is not necessarily the end of the world but rather the start of a new one. With access to online productions and streaming of previously recorded shows, I have the ability to expose myself to things I would not have had access to before. Live Facebook videos and the like have allowed the likes of me to become more aware and more knowledgeable of theatre locally and internationally. It just reminds us that though we are made to stay in our homes, theatre will thrive through the help of social media and the internet.