Click Here to Visit the College Center

Blogs are the opinions of the authors and do not necessarily reflect the opinions of BroadwayWorld. BroadwayWorld believes in providing a platform for open and constructive conversation.

Student Blog: Happy Trails to You, Until We Meet Again
Thank you, BroadwayWorld!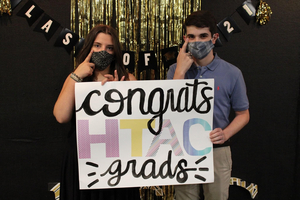 Lately it seems like I've been closing doors just as often as I've been opening new ones. In the past few months, I've left my college town and home of four years, said goodbye to friends who have moved on to new adventures, and transitioned from life as a student to life working full-time. Now, I'm saying farewell to this chapter as well - writing for this blog. Little did I know a year ago that I'd be starting something new this late into my college career, but now I know this opportunity could not have come at a better time.
As a then-rising second-semester senior who was still coming to terms with the pandemic taking anticipated milestones away, I longed to bring theatre back into my life in any way, shape, or form. Before March 2020, theatre was easily the largest part of my experience at college - it's how I spent most of my time (either at rehearsal, performing, or at meetings) and how I met some of my dearest friends. Having that sense of constant community get stripped away was one of the most difficult trials I've faced past year and a half. Therefore, when I saw the opportunity to write for this BroadwayWorld blog, I jumped at the chance. Plus, I love to express myself creatively not just as a performer, but also as a writer. Any hesitation that I might have had surrounding the fact that I only minored in theatre or I was too late in my college career to take on something new did not matter.
Not only has writing for this blog given me valuable writing experience, but it's also given me the necessary pauses for reflection on how this art form and community have shaped my life. Submitting a few posts per month and planning out each topic gave me structure and creative release when many other things seemed to be in disarray. And finally, it taught me that I don't need to be in a show to be happily involved in theatre. While I miss performing and cannot believe it's been nearly two years since I've been on stage, I've learned that theatre is something I can draw inspiration from and can find ways to nurture that passion outside the walls of an auditorium. Whether it's writing some more, re-starting voice lessons, doing marketing for a show, connecting with my friends from theatre, or eventually finding myself in a live production again, I know I can keep theatre in my life (with some work-life readjustments, of course). So, thank you, BroadwayWorld, and happy trails to you - until we meet again.