Click Here to Visit the College Center

Blogs are the opinions of the authors and do not necessarily reflect the opinions of BroadwayWorld. BroadwayWorld believes in providing a platform for open and constructive conversation.

Student Blog: Dear Trans and Non-Binary Theatre Artists: PLEASE Don't Stop Working
Theatre is for everyone. Everyone deserves to be heard.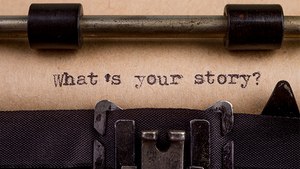 Let's face it- theatre can be hard. It's hard when you're a writer, it's hard when you're an actor, it's hard when you're a director, it's hard when you're a designer, and everything in between. When you're an artist, you're constantly working emotionally, mentally, and physically, and the work doesn't always feel rewarding. After all, we create to make ourselves heard and seen, and how does it feel when the art we create is glossed over, dismissed, and ignored? How does it feel when the art that is being put forward doesn't reflect us?
Theatre truly is for everybody, so why is it so hard for trans and non-binary theatre artists (even today!) to find their place? The reality of it is, there's no excuse for why the works of trans and non-binary theatre artists are not given enough recognition. The best way to get that work out there, in all honesty, is to just keep going.

We all have heard the "just wear 'em down" expressions, and they become pretty cliche after awhile, but they're not entirely wrong. By continuing to work and create, eventually, genderqueer and trans artists will have given the theatre industry no choice but to start giving them the spaces they deserve. More and more actors have been cast in mainstream productions, both in cisgender and non-cisgender roles, such as Mars Rucker as Alline/Ikette in Tina: the Tina Turner Musical (Broadway), MJ Rodriguez as Audrey in Little Shop of Horrors (Pasadena Playhouse), Arun Blair-Mangat as May in & Juliet (West End), or Kaden Kearney as Emma in The Prom (national tour). These actors are just a handful of the many trans and non-binary actors in this industry, and their presence in the theatre community is what allows for the rest of those actors to want to keep trying, thinking "if they can claim their place here in theatre, then so can I."
Playwrights Nick Hadikwa Mwaluko (Waafrika 1-2-3) and MJ Kaufman (Sagittarius Ponderosa) have gained national recognition and won several awards for their writing, and director Regina Victor has helped develop world premieres of several plays around the world as well as co-founded an arts journalism platform.

The point is, the theatre industry has plenty of space for the work of trans and non-binary artists- artists with voices who deserve to be heard. Yes, it is so difficult to constantly be dismissed, but at this point, there is no reason to stop working. Theatre truly is for everybody, and everybody deserves to be able to see themselves reflected onstage. Take the message that you are not alone in this as your sign to just keep working, keep creating, and keep lifting your voice.