St. George Theatre Announces First-Ever Classic Movie Series To Commemorate 90th Anniversary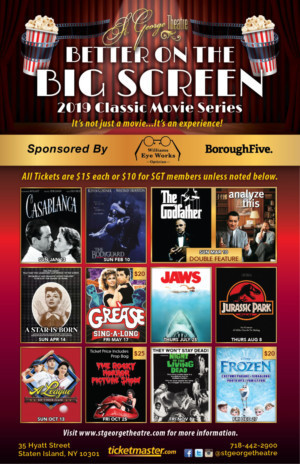 The St. George Theatre announces its first-ever classic movie series for 2019 entitled "Better on the Big Screen". Sponsored by Williams Eye Works and Borough Five Pictures, the series will present twelve iconic films on the theatre's "big screen" over the course of the year to commemorate the 90th anniversary of the historic former movie palace which opened in 1929.
"We are very excited to bring movies back to the big screen at the St. George Theatre", says Doreen Cugno, President, CEO, and Co-Founder of the non-profit theatre. "Many people have fond memories of seeing movies here at the St. George, and with the help of our sponsors Williams Eye Works and Borough Five Pictures we are very proud to be returning to the theatre's original tradition."
The "Better on the Big Screen" series will feature classic films, sing-a-longs, double features, and cult favorites while also spotlighting local filmmakers at select screenings. Each event will have a theme to make the overall experience of seeing a movie at the St. George Theatre that more memorable.
"It's a pleasure to be bringing these classics to the big screen" says filmmaker Julio Vincent Gambuto, who heads up Borough Five Pictures. "The St. George Theatre represents the Island's rich history and has been instrumental in the north shore's creative renaissance. Borough Five is proud to be making movies right here at home and looks forward to watching these classics in such an incredible space."
"Williams Eye Works is proud to partner with the St George Theatre to bring the movie experience back to Staten Island's grandest theater" adds Chris Williams, owner of Williams Eye Works. "We look forward to joining many of our friends and neighbors seeing some of the greatest movies ever made back on the big screen."
The St. George Theatre first opened on December 4, 1929 with a movie premier of So This is College starring Robert Montgomery. In its heyday, the theatre was the grandest of all the movie theaters on Staten Island and screened thousands of first-run movies until 1977.
Tickets to attend the movie screenings are $15 each ($10 for SGT members), $20 for the sing-a-longs (Grease and Frozen) and $25 for Rocky Horror Picture Show. Tickets for January-August movies go on sale on Tuesday, November 20 at 12pm, more information is available at www.stgeorgetheatre.com or via the box office 718-442-2900.
Individual movie sponsorship opportunities are available for individuals and businesses which include tickets, name recognition, and more. For more information contact Vincent Innocente at vinnocente@sgtr.org or 718-442-2900 x 505.
THE 2019 "BETTER ON THE BIG SCREEN" CLASSIC MOVIE SERIES:
All tickets are $15 each or $10 for SGT members, unless noted below.
Casablanca (1942)
Sunday, January 13 at 6pm
Sponsored by The Law Firm of Connors & Connor, P.C.
The Bodyguard (1992)
Sunday, February 10 at 6pm
**DOUBLE FEATURE**
The Godfather (1972) and Analyze This (1999)
Sunday, March 10 at 3pm & 7pm (One ticket good for both events)
Sponsored by ThinkDesign Architecture
A Star is Born (1954)
Sunday, April 14 at 6pm
GREASE Sing-A-Long (1978)
Friday, May 17 at 8pm
All Tickets $20
Sponsored by Stop & Stor
Jaws (1975)
Thursday, July 25 at 7pm
Jurassic Park (1993)
Thursday, August 8 at 7pm
A League of Their Own (1992)
Sunday, October 13 at 6pm
The Rocky Horror Picture Show (1975)
Friday, October 25 at 10:30pm (Doors 9pm)
All Tickets $25 includes prop bag
Night of the Living Dead (1968)
Friday, November 8 at 8pm
Frozen Sing-A-Long (2013)
Friday, December 27 at 7pm
All Tickets $20
Related Articles
More Hot Stories For You
Voting Now Open For The 2019 BroadwayWorld Cabaret Awards, Presented by TodayTix!
Voting is NOW OPEN for the 2019 BroadwayWorld Cabaret Awards, brought to you by TodayTix! The BWW Cabaret Awards honor exemplary performers and produc... (read more)

Kerry Butler, Will Swenson & More Will Star in BROADWAY VACATION Reading
They've been to Wally World, Europe, and Vegas . . . and now The Griswolds are coming to Broadway!... (read more)

Voting Now Open For The 2019 BroadwayWorld Los Angeles Awards, Presented by TodayTix!
Voting is NOW OPEN for the 2019 BroadwayWorld Los Angeles Awards, brought to you by TodayTix! The nominees are set, and now you can vote to make sure ... (read more)

Photo Flash: First Look at the Cast of BABY
Out of the Box Theatrics has released "First Look" photos of the cast of their upcoming limited engagement production of BABY. Featuring a book by Syb... (read more)

Photo Flash: Get A First Look At DEAR EVAN HANSEN In The West End
BroadwayWorld has a first look at the West End production of Dear Evan Hansen, now playing at the Noël Coward Theatre, currently booking to 2 May 2020... (read more)

Voting Now Open For The 2019 BroadwayWorld Chicago Awards, Presented by TodayTix!
Voting is NOW OPEN for the 2019 BroadwayWorld Chicago Awards, brought to you by TodayTix! The nominees are set, and now you can vote to make sure your... (read more)