Spit&vigor Brings THE BRUTES to The New Ohio Theatre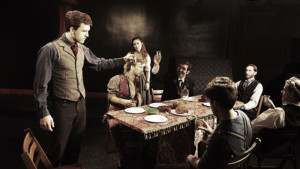 spit&vigor brings THE BRUTES to The New Ohio Theatre.
A feuding family's ideologies set the stage for a national tragedy.
Critically-acclaimed and nominated for seven Planet Awards, spit&vigor presents a story of three brothers ... Junius, Edwin, and John ... Wilkes Booth
After a powerful run at Planet Connections 2018 Theatre Festivity, spit&vigor revives THE BRUTES, written by Casey Wimpee (2x Samuel French Short Play Finalist; NYIT Outstanding Original Short Script) for a longer run at the New Ohio Theatre, 154 Christopher Street. Sara Fellini returns as director bringing Adam Belvo, and other members of the original cast. Performances are November 23 -- December 9 (Thursdays and Fridays at 8 pm and Sundays at 3 pm). Tickets are $30. For reservations, please visit https://web.ovationtix.com/trs/pr/999133.
Casey Wimpee takes you backstage of an historic performance of Shakespeare's Julius Caesar featuring the renowned Booth theatrical family - brothers, Edwin, Junius Jr. and John Wilkes, Booth. This was the first and only time the three brothers shared a stage together. The backstage drama becomes the focus of this portrait of a tempestuous relationship fraught with political conflict ending in an American tragedy.
THE BRUTES is an intimate portrait of a family divided. The piece is staged In-the-round with a minimalist set pieces that transforms into a theatre, a dinner table, and a nation on the brink of sweeping change. Civil strife, family devolution, and a country sharply divided - 150 years ago or right now - the parable of this drama remains strong.
The cast features Adam Belvo, Sara Fellini, Colt W. Keeney, Morgan Zipf-Meister, Eamon Murphy, Becca Musser, Pete Oliver, Xandra Leigh Parker, Harlan Short, Nicholas Thomas, and Perri Yaniv.
Lighting by Chelsie McPhilimy and Ms. Fellini handling costume design. For more information please visit www.spitnvigor.com/the-brutes.
Related Articles
More Hot Stories For You