Sienna Miller Joins THE CHILDREN'S MONOLOGUES Benefit for Dramatic Need & Carnegie Hall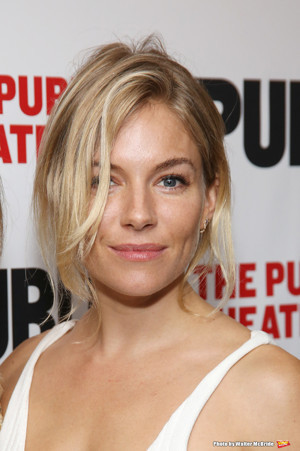 The African-based creative arts charity Dramatic Need will collaborate with Carnegie Hall to present The Children's Monologues in a one-night-only benefit performance on Monday, November 13, 2017 at 7:30 p.m. in Stern Auditorium/Perelman Stage.
This special theatrical performance-presented in New York for the first time-brings together an extraordinary line-up of acting talent with an all-star cast to include Charlize Theron, Trevor Noah, James McAvoy, Audra McDonald, Daniel Kaluuya, Daveed Diggs, Susan Sarandon, Ewan McGregor, Javier Muñoz, plus Sienna Miller who has just been added to the production.
Directed by the Academy Award-winning Danny Boyle, The Children's Monologues are based on the stories of children growing up in Rammulotsi, a small rural township in the Free State province of South Africa. Invited to describe a day that they will never forget, the work recounts the personal experiences of these young people expressed in their own words-sometimes harrowing, sometimes uplifting, and always moving.
Adapted for the stage by an impressive list of Academy Award, Pulitzer Prize, Tony Award, and BAFTA-winning writers, including Lynn Nottage (Ruined, Sweat); Neil LaBute (Reasons to be Pretty, The Shape of Things); David Hare (The Blue Room, The Hours, The Reader); Tom Stoppard (The Coast of Utopia, Arcadia); Jack Thorne (Harry Potter and The Cursed Child); Laura Wade (The Riot Club, Posh), and others, the production gives audience members a powerful glimpse into a world in which young people are forced to grapple with astonishing challenges as each cast member steps forward to give the voiceless a voice, performing their stories.
It was these compelling personal stories that inspired award-winning filmmaker and Dramatic Need trustee Danny Boyle to bring The Children's Monologues to the stage. Boyle comments: "These stories capture some extraordinary moments in the lives of these kids. There is something so powerful about their words-the simple humanity of them-that creates an intimate connection between each actor and the audience, across thousands of miles, across continents, race, age, income, and gender. The effect is to transport all of us in the theater to the townships and into these children's shoes. It is exactly what great theater should do: move you to see something so far away from your own experience as if it's right up close."
Bringing his signature dynamic style of intertwining sound, video, dance, visual art and performance to New York for the first time, Boyle will demonstrate why his 2012 London Olympics opening ceremony so captured the world's imagination. Interwoven among the monologues will be musical performances by leading artists, including Grammy Award-winning vocalist and double bassist Esperanza Spalding, and British rapper Little Simz. Additional performers for the production are still to be announced.
The Children's Monologues comes to New York City this November, following two successful productions in London in recent years, both directed by Danny Boyle and produced by Dramatic Need founder Amber Sainsbury. The Monologues debuted in November 2010 to a sold-out audience in The Old Vic Theater, and simultaneously the same evening in the South African township of Rammulotsi. A new set of monologues were performed in October 2015 at the Royal Court Theater in London's famed West End, featuring a stellar cast of actors including Benedict Cumberbatch, Nicole Kidman, Kit Harington, James McAvoy, Chiwetel Ejiofor, and more.
As with the London productions, the upcoming New York event will incorporate elements of music, dance, and the visual arts. It will open with Via Vyndal, a group of young dancers personally selected by Boyle, who will leave South Africa for the first time to perform pantsula, an energetic form of street dance that originated in the Johannesburg region during the Apartheid era, at Carnegie Hall. The performance will also feature teens from across New York City invited by Carnegie Hall's Weill Music Institute to take part in this special program. These young New Yorkers will rehearse with Boyle in the two weeks leading up to the production, preparing for the inspirational experience to take to the Carnegie Hall alongside the cast. Contributing to the visual design on the Carnegie Hall stage will be three of today's most sought after visual artists: Abe Odedina (England), Tschabalala Self (United States), and Lady Skollie (South Africa), extending the circle of actors, writers, and creative talent from all three countries, collaborating on this project.
Similar to Dramatic Need productions in previous years, the monologues will also be performed in Africa on November 13, presented at the world-famous Market Theater in Johannesburg featuring an all-female cast of acclaimed actors from across the African continent as well as by children onstage in their local township in rural South Africa.
Tickets for The Children's Monologues in New York, starting at $150, are available at the Carnegie Hall Box Office, by calling CarnegieCharge at 212-247-7800, or online at carnegiehall.org. A limited number of discounted tickets will be made available to the general public on the day of the November 13 performance.
Gala packages-to include prime seating in Carnegie Hall and pre- or post-performance events-are currently available. Clarissa and Edgar Bronfman, Jr. will co-chair this special event alongside Valentino Carlotti, Kirkland & Ellis LLP, Kirsh Foundation, Aisha and Gbenga Oyebode, Sana H. Sabbagh, Hope and RoBert Smith, and Catherine Zeta-Jones and Michael Douglas. Support for this event is provided by Blavatnik Family Foundation. Gala packages are available by calling Carnegie Hall's Special Events office at 212-903-9679 or visiting online at carnegiehall.org/childrensmonologues.
All tickets to The Children's Monologues include a tax deductible donation. The net proceeds from this gala evening will jointly benefit the creative arts programs of Dramatic Need and Carnegie Hall's artistic, education, and social impact programs.
Dramatic Need is a creative arts charity helping vulnerable children in Africa to build hope and self-belief in the face of conflict, trauma, and hardship. The charity uses the creative arts as a non-threatening way of addressing development issues and trauma in children. Working in some of the most deprived South African and Rwandan rural communities, Dramatic Need volunteers use tools such as drama, art, and film-making to encourage dialogue within the community on 'taboo' subjects such as HIV awareness, ethnic violence, and gender disparity, as well as fostering long term creative partnerships between local schools and the visiting volunteers. As well, through permanent programming at its three community art centers in South Africa, Dramatic Need works with primary and high schools across Sub-Saharan Africa and Rwanda, providing volunteer teachers, training, and equipment to over 5,000 school-aged children.
As part of Dramatic Need's Monologues program, children and young people are invited to write or tell a story about "a day they will never forget"-either in English or in their mother tongue. Participants are aware that their testimonies may be given to playwrights to be used in a piece performed on stages around the world, and are given the option of either putting their name to their story or remaining anonymous. Since 2009, Dramatic Need has collected testimonies from over 450 children and young people from Rwanda and from the Free State, North West and Kwa-Zulu Natal Provinces of South Africa. In May 2016, three of the children who contributed testimony to the 2015 monologues in London, volunteered to deliver their own monologues on stage at the Market Theater in Johannesburg, making a moving professional debut, reducing the South African audience to tears. For more information, visit dramaticneed.org.
Since 1891, Carnegie Hall has set the international standard for excellence in performance. Its walls have echoed with applause for the world's outstanding classical music artists as they have for the greatest popular musicians and many prominent dancers, authors, comedians, social crusaders, and world figures who have appeared on its stages.
Carnegie Hall presents a wide range of performances each season on its three stages-the renownEd Stern Auditorium / Perelman Stage, intimate Weill Recital Hall, and innovative Zankel Hall-including concert series curated by acclaimed artists and composers; citywide arts festivals featuring collaborations with leading New York City cultural institutions; orchestral performances, chamber music, new music concerts, and recitals; and the best in jazz, world, and popular music. Complementing these performance activities, Carnegie Hall's Weill Music Institute creates extensive music education and social impact programs that annually serve more than 500,000 people in the New York City area, nationally, and internationally, playing a central role in Carnegie Hall's commitment to making great music accessible to as many people as possible. For more information, visit carnegiehall.org.
---
PROGRAM INFORMATION:
Monday, November 13, 2017 at 7:30 p.m.
Stern Auditorium / Perelman Stage
Dramatic Need in collaboration with Carnegie Hall
THE CHILDREN'S MONOLOGUES
Danny Boyle, Director
Cast to Include*:
Daveed Diggs
Daniel Kaluuya
James McAvoy
Audra McDonald
Ewan McGregor
Sienna Miller
Javier Muñoz
Trevor Noah
Susan Sarandon
Charlize Theron
*Please note that Lena Dunham, a previously announced cast member, must regrettably withdraw from this production due to health reasons.
Musical Performances by:
Little Simz, Vocals
Esperanza Spalding, Vocals and Double Bass
Monologues to be adapted by Ngozi Anyanwu, Yaël Farber, James Graham, David Hare, Joel Horwood, Amy Jephta, Dennis Kelly, Neil LaBute, Jamie Minoprio, Mongiwekhaya, Dominique Morisseau, Lynn Nottage, Tom Stoppard, Jack Thorne, and Laura Wade.
Visual art by Lady Skollie, Tschabalala Self, and Abe Odedina
Tickets for The Children's Monologues at Carnegie Hall, priced at $150-$500 are available at the Carnegie Hall Box Office, 154 West 57th Street, as well as through calling CarnegieCharge at 212-247-7800 or by visiting the Carnegie Hall website, carnegiehall.org. A limited number of discounted tickets will be made available to the general public on the day of the November 13 performance.
Gala benefit packages, including prime seating in Carnegie Hall and pre- and post-performance events, start at $1,000. For more information, please call Carnegie Hall's Special Events office at 212-903-9679 or visit online at carnegiehall.org/specialevents.
All tickets to The Children's Monologues include a tax deductible donation, and the net proceeds from this gala evening will jointly benefit the creative arts programs of Dramatic Need and Carnegie Hall's artistic, education, and social impact programs.
Photo Credit: Walter McBride
Related Articles
More Hot Stories For You
VIDEO: Watch 30 Broadway Stars Make Music with Muppets!
Since Jim Henson first burst onto the scene over six decades ago, Muppets have taken center stage in pop culture, appearing on film, television, and b...

10 BRIDGERTON The Musical TikToks That We're Obsessed With
This idea started by songwriter Abigail Barlow who asked the question, 'Okay, but what if Bridgerton was a musical?'...

VIDEO: HAMILTON Cast Members Reunite For the SAG Nominating Committee
Original cast members from Hamilton reunited on Zoom for a Screen Actors Guild Q&A this weekend. The Zoom call featured Lin-Manuel Miranda, Daveed Dig...

VIDEO: On This Day, January 18- RAGTIME Opens on Broadway!
Today we celebrate Ragtime the Musical, which opened on Broadway on this day in 1998. ...

Throwback Video: Lin-Manuel Miranda Gathers Old Classmates For Performance of Martin Luther King Song
Hamilton is celebrating Dr. Martin Luther King Jr. with a throwback video!...

Exclusive: Sneak Peek at Kelli O'Hara's Concert With Seth Rudetsky; Re-Airs Today!
Kelli O'Hara's concert with Seth Rudetsky, as part of The Seth Concert Series, premieres tonight, January 17, at 8pm EST. The concert will then re-air...