Short Dance Film To Have World Premiere At Festival In NYC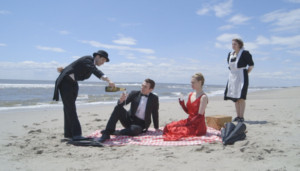 The new short film "Ode to the Singing Butler" will have its world premiere screening at the New York No Limits Film Series on Thursday, June 7th at 7pm at Caveat.
"Ode to the Singing Butler" brings the characters of Jack Vettriano's iconic painting, "The Singing Butler" to life. With an award-winning orchestral score by Jake Weinstein, the film explores the moments before the man and woman find themselves waltzing on the beach.
Directed & Choreographed by Maddy Apple and Jake Weinstein, the cast features Broadway's Max Clayton (Hello, Dolly!, Bandstand, Something Rotten!, Gigi, On The Town) as the Man and Christine Cornish Smith (My Fair Lady, Cats) as the Woman with Maddy Apple (White Christmas Tour) as the Maid and Jake Weinstein (A Chorus Line Tour) as the Butler.
The film features orchestrations by Will Curry (LES MISERABLES, Miss Saigon, My Fair Lady). Eric Mann (Unreel Films) serves as the Director of Photography with Costume Design by Mikita Thompson (The Americans).
New York No Limits Film Series (NYNL) is an ongoing collection of screenings that presents the best films from around the world in the most unique and dynamic arts city in the world. NYNL provides filmmakers the opportunity and support to explore innovative, taboo and diverse subjects. The goal of NYNL is multilayered and broad; to create a film program of the most genre diverse, multicultural and visionary independent films from around the world.
Caveat is located at 21A Clinton St. in Manhattan. Tickets to the festival can be purchased at the following link for $10 in advance, $14 at the door (21+).
https://www.eventbrite.com/e/new-york-no-limits-film-series-art-of-the-short-tickets-45919691032?aff=efbeventtix