Shanice Williams And Alex Joseph Grayson Star In DAYS OF RAGE, A New Musical At Town Stages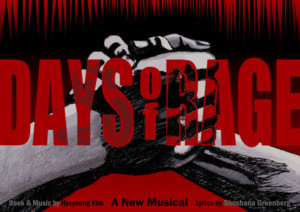 Shoshana Greenberg and Hyeyoung Kim announce two mini-workshop presentations of DAYS OF RAGE on Wednesday, October 17, 2018, at 7pm, and Thursday, October 18, 2018, at 4pm at Town Stages, 221 West Broadway, NYC. The presentations feature Shanice Williams (Dorothy in The Wiz Live) and Alex Joseph Grayson (A Bronx Tale) and will comprise the first act of the show.
Who is responsible for violence and how do you break the cycle? DAYS OF RAGE, inspired by the activities of The Weathermen/Weather Underground Organization and The Black Panther Party in the late 1960s and early 1970s, tells the story of Jean Avery, who leads the militant protest group The Weathermen after her brother leaves for Vietnam, and Fred Hayward, the leader of the Chicago chapter of The Black Panther Party, who tries to keep his fellow Party members from descending into violence. As Fred and Jean's paths intertwine, they grow closer and apart in a turbulent time of war, civil rights, and rage.
The cast also includes Taylor Pearlstein, Zachary Schanne, Ian Ward (Gettin' the Band Back Together), Keith White (A Bronx Tale), Michael Mahany (Wicked National Tour), Aaron Ramey (The Visit), Forest van Dyke, Amelia DeMilo, Glenn DeVar, Samantha Duval, Jarred Bedgood, Avery Royal, and Corinne Scott.
DAYS OF RAGE features Book and Music by Hyeyoung Kim and Lyrics and Additional Material by Shoshana Greenberg. It was developed, in part, at a writing retreat at Two River Theater Company in Red Bank, New Jersey, and with New York Theatre Barn in their New Works Series, Choreography Lab, and their presentation of a special reading of the entire show.
This workshop is directed by Jaclyn Biskup (assistant director of Straight White Men on Broadway) and choreographed by Glenn Giron (Ragtime National Tour). Music direction is by Hyeyoung Kim. It also features sound design by Sun Hee Kil (2018 Pungchang Olympics Opening and Closing Ceremonies), projection design by Hyunsoo Woo, and lighting design by Ethan Olsen. Casting by Eisenberg/Beans Casting (Daryl Eisenberg, CSA; Ally Beans, CSA).
Space for this event was sponsored in part by Sokoloff Arts. Shoshana Greenberg and Hyeyoung Kim are recipients of a 2018 Sokoloff Arts Fellowship.
Hyeyoung Kim is a Jonathan Larson Award Winner, Sokoloff Arts Fellow, and a former participant in NAMT, the ASCAP/Disney Workshop, TRU, the Composer/Librettist lab at New Dramatists, and the Johnny Mercer Songwriting Project. NYU GMTWP.Sunfish (Co-Book/Music)- Daegu International Musical Theatre Festival (Top Jury Honor), Stoneham Theater (BWW Boston Best musical in a mid-size theater); Falling (Music)- Songwriters Showcase at NAMT, Creative Factory, Korea; Cafe-In (Music)- Live theater, Korea. Toured to Tokyo and Osaka, Japan; Luna Park (Co-Book/Music)- MTF's 4@15 in NYC, Oregon Performance Lab, From Page to Stage in London; Vampire In A Box (Co-Lyrics/Music)- SHArthall, Korea; Days Of Rage (Book/Music)- NYTB's New Works Pre-Premiere Series, NYTB's Choreography Lab; A Story No One Knows (Book/Music)- NYTB's New Works Pre-Premiere Series. Hyeyoungkimmusic.com
Shoshana Greenberg is a lyricist, librettist, playwright, singer, and theater journalist. She was recently named a Sokoloff Arts Fellow with Town Stages and Sokoloff Arts. Musicals: Days of Rage (reading with New York Theatre Barn) and A Story No One Knows with composer and bookwriter Hyeyoung Kim, and Lightning Man (Ars Nova ANT Fest) with composer Jeffrey Dennis Smith. Plays: Lost Girl in Florida Swamp (Fresh Produce'd) and The Rapture of Our Teeth (ESPA Detention Series). Her songs have been performed at Lincoln Center, The York Theatre, TriArts Sharon Playhouse, the Laurie Beechman, and The Duplex Cabaret Theater, where she performed her cabaret show Finding My Own Damn Way. As a journalist she has contributed toAmerican Theatre Magazine, The Interval, Women and Hollywood, The Huffington Post, and Culturadar and she is a contributing editor of the journal Musical Theater Today. MFA: Graduate Musical Theatre Writing Program at NYU. BA: Barnard College.
Town Stages is a female-driven, state-of-the-art, cultural arts institution and event space that supports the entire lifecycle of New York's hallmark industries. With a stunning 10,000 square foot storefront facility, TOWN provides world-class cultural experiences and opportunities for all: from civic to corporate, tech to theater. With a Mainstage, a Cocktail Lounge, and a multi-use event space with a capacity of 299, Town Stages offers much-needed space and production resources for businesses, arts organizations, and families. TOWN boasts ticketed performances and curated community programming, from performance art to dance to theater, and is also available for fashion shows, film shoots, weddings, and beyond. TOWN is also home to a Fellowship Program for artists, entrepreneurs, writers, content creators, movers, shakers, and makers of all kinds. In partnership with Sokoloff Arts (501c3), the program is part residency, part incubator, and part home base, and offers the ultimate creative freedom to grow by providing shared spaces, rehearsal/performance/event subsidies, and an opportunity to be a part of a shared creative community, working together under one roof. To learn more, visit www.townstages.com.
Sokoloff Arts (501c3) is an emerging cultural institution providing inspired space, perspective, and opportunity for cutting edge events in all sectors of The Arts, Corporate, Civic, and Cultural Life in New York City. Led by a team of women from diverse backgrounds and artistic expressions, Sokoloff Arts works to provide viable and safe space to congregate, strives to promote cross-cultural community engagement, and blends the arts and business to create sustainable solutions to social and financial inequalities. The organization assists young creators with not only space, but resource generation, production, and community. To address the overwhelming demand for hi-tech, flexible, and affordable performance and event space in New York City, Sokoloff Arts has built Town Stages. To learn more, visit www.sokoloffarts.org.