Latest News on Avery Royal
Avery Royal News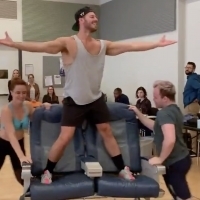 VIDEO: Watch Dancers Strip Down in Rehearsal for Broadway Bares: Take Off!
by Nicole Rosky - Jun 13, 2019
Travel the world and check out the sights - including NYC's hottest dancers - when you board this year's globetrotting edition of Broadway Bares. This year's show, Broadway Bares: Take Off, will offer a spectacular evening of sky-high striptease with international flair on Sunday, June 16.

Ashley Park, Christopher Sieber, and More Announced as Special Guests For BROADWAY BARES: TAKE OFF
by Stephi Wild - May 22, 2019
A star-studded lineup is set to join the worldly travels of Broadway Bares: Take Off, this year's wanderlust-inducing edition of spectacular striptease. The special evening on Sunday, June 16, 2019, with performances at 9:30 pm and midnight is produced by and benefits Broadway Cares/Equity Fights AIDS.

Shanice Williams And Alex Joseph Grayson Star In DAYS OF RAGE, A New Musical At Town Stages
by A.A. Cristi - Oct 10, 2018
Shoshana Greenberg and Hyeyoung Kim announce two mini-workshop presentations of DAYS OF RAGE on Wednesday, October 17, 2018, at 7pm, and Thursday, October 18, 2018, at 4pm at Town Stages, 221 West Broadway, NYC. The presentations feature Shanice Williams (Dorothy in The Wiz Live) and Alex Joseph Grayson (A Bronx Tale) and will comprise the first act of the show.

ON KENTUCKY AVENUE Returns To CCCA With Showcase Of Black Nightlife And Entertainment In 1960s America
by A.A. Cristi - Jun 25, 2018
Historic Club Harlem will roar back to life as City College Center for the Arts (CCCA) presents a special three-week return engagement of On Kentucky Avenue: A Celebration of Atlantic City's Famed Club Harlem at Aaron Davis Hall in New York beginning on Thursday, July 12. The show, which thrilled audiences when it premiered at Aaron Davis Hall in 2016, offers viewers a glimpse inside the celebrated nightclub that was the center of nightlife in Atlantic City's segregated Northside beginning in the 1930s. On Kentucky Avenue: A Celebration of Atlantic City's Famed Club Harlem was created by Jeree Wade, written by Adam Wade and Ty Stephens, and directed by Lee Summers.
Avery Royal Videos
VIDEO: Jeremy Kushnier Gears Up for Un-Ironically Enthusiastic Concert, Featuring Drew Aber and Beth Kirkpatrick
by Stage Tube - Apr 26, 2014
Jeremy Kushnier, Beth Kirkpatrick, & Drew Aber rehearse with Josh Freilich for the upcoming concert of brand-new nerd songs by the geekiest new writers. They're all getting ready for serious fan-dom and nerdtastic jubilation at 'Un-Ironically Enthusiastic' on Saturday May 3 at 7pm, at the Laurie Beechman Theatre on 42nd and 9th Ave in Times Square. Showcasing the talent of geeky writers from the new-composer cliques, hosted by fangirl Dana Aber (Big Thunder Productions), and featuring rad performers of the famous variety: Broadway's Jeremy Kushnier (Footloose, Next to Normal, Jesus Christ Super Star) as badboy Tony Stark, Leenya Rideout (War Horse, Cyrano de Bergerac, Company) as comicbook-nerd grown-up, and Drew Aber (Tale of Two Cities) as a Pikachu devotee, VH1's Jarvis Derrell (#shehashadit), youtube sensation BrentalFloss's Brent Black, NYMF's Next Broadway Sensation Erica Lustig (Hair nat'l tour), Beth Kirkpatrick (Les Mis nat'l tour), Verse Academy's Frantz Jerome, Blackie O-Nasty, Joseph Spitale, Drew Cotton, JP Moraga, Avery Royal, Jennifer Simpson, and Long-Island Wookiee Louis Nunez. Keep your gamer headsets tuned to the common channel, they're queueing up for a MEGABLITZ Saturday May 3 at 7pm!