Click Here for More Articles on STUDENT CENTER - COLLEGE EDITION

Schimmel Center at Pace University Presents 'Ireland And America'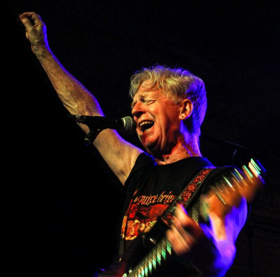 Schimmel Center at Pace University continues its 2018-19 series of World Music and Dance with Ireland and America, a musical retrospective of Irish American history performed by Larry Kirwan, co-founder and frontman of the New York City-based Celtic rock band Black 47, on Friday, February 22, 2019 at 7:30pm. Tickets start at $29 and can be purchased at SchimmelCenter.org, by phone at 212-346-1715, or by visiting the Schimmel Center Box Office at 3 Spruce Street, Manhattan. Box office hours are Tuesday-Saturday, Noon-5pm, and then beginning three hours prior to each performance, through intermission.
Named for the summer of 1847, the worst year of Ireland's Great Famine, rock band Black 47 combined Celtic rock with urban and hip-hop influences, promoting a brand of political and social activism through its music that was both uniquely Irish and universal. Though the band played its final concert in 2014, co-founder Larry Kirwan continues to honor his roots through music and storytelling with Ireland and America - A History in Song.
Drawing from Black 47's extensive catalogue of recordings, Kirwan celebrates the vast tapestry of the Irish American experience, from the history of the Irish/British conflict to emigration to the USA and life in New York City's Five Points neighborhood. Fans of the band will recognize songs including "James Connolly," "The Big Fellah," "Funky Ceili," "40 Shades of Blue," and others.
Kirwan will also perform songs from his brand new album, Heroes/Belfast EP , being released on Black 47 Records on February 19, 2019. The idea for the title track came from a conversation that Kirwan had with David Bowie, who said that his song "Heroes" could just as easily have been written about Belfast as Berlin, since both cities were divided by walls. Also included is "Second Coming Blues," which is Kirwan's attempt to make sense of the Trump presidency through the prism of William Butler Yeats. Pre-orders of the album are currently being taken at www.black47.com.
Praised by multiple Grammy Award winner Rosanne Cash as "a rock and roll poet with a deep appreciation for his roots," Mr. Kirwan will be joined on stage at the Schimmel Center by Deni Bonet (violin, vocals), Jonathan Smith (keyboards, vocals), Thomas Hamlin (drums), Rene Hart (double bass), and Andrew Sharp (uilleann pipes, flute, vocals).
Larry Kirwan was co-founder and leader of the political rock band Black 47. Over a 25-year period the band and Kirwan released 20 albums, including Green Suede Shoes, Fire of Freedom. He has written 15 plays and musicals, five of which were published in the book, Mad Angels. His musical Hard Times ran twice off Broadway at the Cell Theatre. Hard Times has since been reimagined as Paradise Square and is currently gaining national attention in an extended, sold-out world premiere run at Berkeley Repertory Theatre. He collaborated with novelist Thomas Keneally on Transport, a musical that premiered at the Irish Repertory Theatre in New York City. His political drama, Rebel in the Soul, was recently performed at the Irish Rep. He has written three novels, a memoir, Green Suede Shoes, and A History of Irish Music. His latest novel, A Raving Autumn, will be published by Cornell University Press in 2020. He writes a bi-weekly column for the Irish Echo and is host of Celtic Crush on SiriusXM Satellite Radio. He is a former president of Irish American Writers & Artists.
Photo Credit: StaceyMcCarthy