Savion Glover and Leonardo Suarez Paz Join For TANGO, TAP and FIRE at Feinstein's/54 Below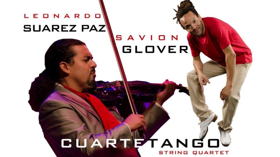 FEINSTEIN'S/54 BELOW, Broadway's Supper Club, presents Tony Award winning dancer, choreographer and director Savion Glover (Bring in 'Da Noise, Bring in 'Da Funk, Shuffle Along) and Grammy Award nominated, multi-talented tanguero Leonardo Suarez Paz (Forever Tango, Tango Argentino) bring years of friendship and collaboration to the stage of Feinstein's/54 Below with the best in Tango and Tap from Broadway and beyond. Savion's "young and funk" style and Suarez Paz's "daring and new" sound is a tour de force when combined with Latin Grammy Award nominated Cuartetango string quartet, bandoneon, tango dance and song that is sure to inspire passion and fire.
The two artists first met in the late 90's in New York while performing on Broadway and began to frequent jams in Harlem together. Later, Leonardo became the concert master for Savion's acclaimed show Classical Savion. They began to explore Tango rhythms together with Escualo, a candombe dedicated to Leonardo's father by its revolutionary composer, Astor Piazzolla. It became clear that Glover's "rhythmic innovation" (NY Times) and Suarez Paz's "ingenious musical concept," (The Day, CT) Cuartetango, which continues the legacy of his mentor, Piazzolla, can demonstrate that Tango and Jazz share the same roots and can be combined to form a new, contemporary sound.
Tango and Tap are related at the roots, going back to the time when tango did not have its name yet, when the tango was called candombe, prior to the birth of milonga with the 2x4 rhythm and the 6-8 subdivision. This show is going back to these roots, elevating them with contemporary harmonies and nuances to create a new sound. The result is an exhilarating and uplifting musical experience with "dance, poetry, and visuals - the whole thing is a Force 5 sensorial explosion." (The Day, CT). www.suarezpaztango.com
Savion Glover & Leonardo Suarez Paz: Tango, Tap and Fire plays Feinstein's/54 Below (254 West 54th Street) February 15th, 2018 at 9:30 pm. There is a $50-$95 cover charge and $25 food and beverage minimum. Tickets and information are available at www.54Below.com. Tickets on the day of performance after 4:00 are only available by calling (646) 476-3551.
Feinstein's/54 Below, Broadway's Supper Club & Private Event Destination, is a performance venue in the grand tradition of New York City nightlife. A few blocks from the heart of Times Square and just below the legendary Studio 54, Feinstein's/54 Below is a classically designed state-of-the art nightclub in the theatre district that hosts audiences with warmth and style. Feinstein's/54 Below presents iconic and rising stars from the worlds of Broadway and popular music and has set a new standard for culinary excellence worthy of the world-class entertainment on the stage.
In their description of the venue, The New York Times writes, "Feinstein's/54 Below has the intimacy of a large living room with unimpeded views and impeccable sound; there is not a bad seat in the house. Its sultry after-hours ambience is enhanced by brocade-patterned wall panels planted with orange-shaded lanterns. And the atmosphere is warmer and sexier than in Manhattan's other major supper clubs."
Located at 254 West 54th Street, Feinstein's/54 Below features up to three shows nightly with cover charges ranging from $5-$105. 54Below.com/Feinsteins