Click Here for More Articles on WAR PAINT
VIDEO: Patti LuPone and Christine Ebersole Chat, Preview WAR PAINT at the Times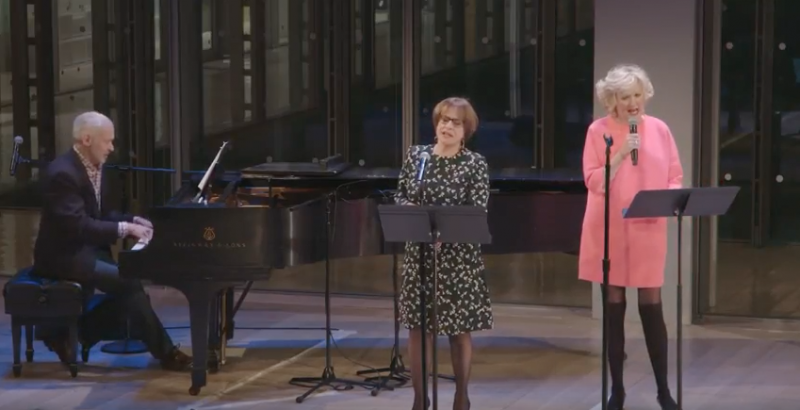 Two-time Tony Award winners Patti LuPone and Christine Ebersole, returning to Broadway this spring in the acclaimed new musical War Paint, were featured guests at this week's New York Times "War Paint Times Talk," hosted at the Times Center. They were joined by Tony-nominated composer Scott Frankel and moderator Alexandra Jacobs. Below, watch their discussion, plus see them sing songs from the show!
WAR PAINT begins previews March 7, 2017 and opens April 6, 2017 at the Nederlander Theatre (208 West 41st Street). The musical played a sold-out run in Chicago this summer where it became the most successful show in Goodman Theatre's history. War Paint charts the legendary lives of two trailblazing women - cosmetics entrepreneurs Helena Rubinstein (LuPone) and Elizabeth Arden (Ebersole).
WAR PAINT will also feature Tony Award nominees John Dossett and Douglas Sills, who are reprising their roles from the Chicago world premiere production. Dossett will portray Tommy Lewis, Miss Arden's husband and chief marketing officer, and Sills will portray the ambitious Harry Fleming, Madame Rubinstein's clubby confidante and faithful ally.
Directed by Michael Greif (Rent, Next to Normal, Grey Gardens), War Paint reunites Scott Frankel and Michael Korie-the acclaimed composer and lyricist team of Grey Gardens and Far From Heaven-with Tony Award and Pulitzer Prize-winning playwright Doug Wright (Grey Gardens, I Am My Own Wife). Choreography is by Tony Award-winner Christopher Gattelli.
The musical is inspired by the book, War Paint, by Lindy Woodhead and the documentary film, The Powder & the Glory, by Ann Carol Grossman and Arnie Reisman.
WAR PAINT tells the remarkable story of cosmetics titans Helena Rubinstein (LuPone) and Elizabeth Arden (Ebersole), who defined beauty standards for the first half of the 20th Century. Brilliant innovators with humble roots, both women were masters of self-invention who sacrificed everything to become the country's first major female entrepreneurs. They were also fierce competitors, whose 50-year tug-of-war would give birth to an industry that would forever change the face of America. From Fifth Avenue society to the halls of Congress, their intense rivalry was ruthless, relentless and legendary-pushing both women to build international empires in a world dominated by men.