SCHOOL OF ROCK to Welcome New Class of Rockers This Summer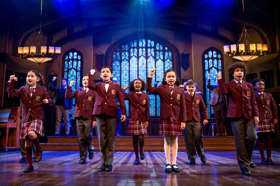 Andrew Lloyd Webber's smash hit musical School of Rock - The Musical will welcome five new cast members to the class on Monday, July 31, 2017. Rocking their way to Broadway will be Zachary Zwelling as "Zack" the guitarist, Levi Buksbazen as "Freddy" the drummer, John Allyn as "Billy" the stylist, Gabrielle Greene as "Shonelle" the back-up singer, and Cory Leventhal as "James."
On Sunday, July 30, 2017, "guitar hero" and original cast member Brandon Niederauer, Raghav Mehrotra, Jersey Sullivan, Gianna Harris, and Sammy Ramirezwill all graduate from Horace Green.
Now in performances at Broadway's Winter Garden Theatre (1634 Broadway), School of Rock - The Musical currently stars Eric Petersen as "Dewey Finn," Jenn Gambatese as "Rosalie Mullins," Steven Booth as "Ned," Becky Gulsvig as "Patty," Brandon Niederauer as "Zach," Raghav Mehrotra as "Freddy," Rachel Katzkeas "Katie," Walden Sullivan as "Lawrence," Olivia Chun as "Summer," Sammy Ramirez as "Billy," and Amadi Chapata as "Tomika." The adult ensemble includesJustin Collette, Emily Cramer, Natalie Charle Ellis, John Arthur Greene, Nehal Joshi, Lulu Lloyd, Jaygee Macapugay, Cassie Okena, Patrick O'Neill, Jesse Swimm, Josh Tower, Joel Waggoner, Jonathan Wagner, and J. Michael Zygo. The kids' ensemble includes Troy Bell, Chloe Bryan, Luke Bonenfant, Michael Cascetta, Gianna Harris, Sophia Kekllas, Ellie Kim, Ruth Righi, Demi Singleton, and Jersey Sullivan.
School of Rock - The Musical is based on the smash hit 2003 film of the same, featuring music from the movie, as well as an original score by Andrew Lloyd Webber, lyrics by Glenn Slater, a book by Julian Fellowes and direction by Laurence Connor. School of Rock - The Musical opened to rave reviews on Sunday, December 6, 2015. This Ben Brantley New York Times 'Critics' Pick' "is an inspiring jolt of energy and mad skillz," raves Jesse Oxfeld of Entertainment Weekly. And in his four-star Critics' Pick review, Time Out's David Cote proclaimed, "School's IN - forever!" School of Rock - The Musical was nominated for four 2016 Tony Awards, including Best Musical, Best Score (Lloyd Webber and Slater), Best Book (Fellowes), and Best Leading Actor in a Musical (Alex Brightman).
Based on the hit film, School of Rock - The Musical is a hilarious new musical that follows Dewey Finn, a failed, wannabe rock star who decides to earn a few extra bucks by posing as a substitute teacher at a prestigious prep school. There he turns a class of straight-A students into a guitar-shredding, bass-slapping, mind-blowing rock band. While teaching these pint-sized prodigies what it means to truly rock, Dewey falls for the school's beautiful, but uptight headmistress, helping her rediscover the wild child within.
School of Rock features choreography by JoAnn M. Hunter, scenic and costume design by Anna Louizos, lighting design by Natasha Katz, sound design by Mick Potter and music supervision by Ethan Popp.
School of Rock - The Musical opened in London's West End, also to rave reviews, on November 14, 2016, breaking all house records at the New London Theatre (a record previously held by War Horse). The Daily Telegraph called the musical "The most enjoyable two hours money can buy," and the Daily Mirror considers it "a triumph for Andrew Lloyd Webber as the king of hit musicals." School of Rock was nominated for three 2017 Olivier Awards, including Best New Musical, Best Actor in a Musical (David Fynn) and Outstanding Achievement in Music, which it won. The production, which also recently won Best New Musical at the 2017 Whatsonstage Awards, is expected to recoup this July.
School of Rock - The Musical will kick off a U.S. National Tour in Rochester, NY at RBTL's Auditorium Theatre in September 2017. Additional information and dates can be found here.
School of Rock - The Musical is produced on Broadway by Andrew Lloyd Webber for The Really Useful Group, Warner Music Group & Access Industries, The Shubert Organization, and The Nederlander Organization. Nina Lannan and Madeleine Lloyd Webber serve as Executive Producers.
Photo Credit: Matthew Murphy