Robert Mealy Directs Juilliard415 In CHAOS AND ORDER: THE DANCE MUSIC OF RAMEAU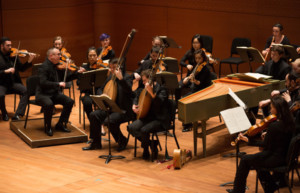 On Thursday, October 25, 2018, at 7:30pm in Alice Tully Hall, violinist Robert Mealy directs Juilliard415 in "Chaos and Order: The Dance Music of Jean-Philippe Rameau" with new choreography created by Juilliard dance students Ethan Colangelo, Maddie Hanson, and Moscelyn ParkeHarrison. Building on the success of last season's production of Hippolyte et Aricie, this program celebrates the kinetic energy and musical invention of Rameau's dance music and includes his striking overtures to Naïs, Les fêtes de Polymnie, and Zoroastre.

The program includes the Overture from Zaïs; Dances from Les fêtes d'Hébé; Overture and Dances from Zoroastre; Chaconne from Castor et Pollux; Overture and Dances from Naïs; Entrée des Lutteurs - Chaconne - Air de Triomphe; Overture from Les fêtes de Polymnie; Dances and Chaconne from Dardanus.

Tickets at $20 are available at juilliard.edu/calendar, through CenterCharge at (212) 721-6500, or at the Alice Tully Hall Box Office. Full-time students with a valid ID may purchase tickets for $10, only at the Alice Tully Hall Box Office.

Juilliard's full-scholarship Historical Performance program was established and endowed in 2009 by the generous support of Bruce and Suzie Kovner. About Robert Mealy
Robert Mealy began exploring early music in high school, first with the collegium of UC Berkeley and then at the Royal College of Music in London, where he studied harpsichord and baroque violin. While still an undergraduate at Harvard College, he was asked to join the Canadian baroque orchestra Tafelmusik. Since then, he has recorded and toured with a wide range of distinguished early music ensembles both here and in Europe, and led orchestras for Masaaki Suzuki, William Christie, Andrew Parrott, Paul Agnew, and Helmuth Rilling, among many others. Recent projects have included performing the complete works by J.S. Bach for violin and harpsichord at the Smithsonian, and curating a series of medieval music for New York's TENET ensemble.

A frequent leader and soloist, Mealy is principal concertmaster at Trinity Wall Street, which recently completed a multi-year survey of the complete Bach cantatas. Mr. Mealy is Orchestra Director of the Boston Early Music Festival Orchestra, which he has led in many festival performances, tours, and Grammy Award-winning recordings. He regularly appears at international music festivals from Berkeley to Belgrade, and from Melbourne to Edinburgh; his most recent international performances were in France at the Dans les Jardins de William Christie festival.

A devoted chamber musician, Mealy directs the seventeenth-century ensemble Quicksilver, whose debut recording is titled, Stile Moderno, He has been director of Juilliard's Historical Performance Program since 2012. From 2003 to 2015, he taught at Yale, directing the postgraduate Yale Baroque Ensemble and the Yale Collegium Musicum. Prior to that, he taught at Harvard for more than a decade, where he founded the Harvard Baroque Chamber Orchestra. In 2004, he received Early Music America's Binkley Award for outstanding teaching and scholarship. He has recorded more than 80 CDs on most major labels.

About Ethan Colangelo
A native of Toronto, Ethan Colandelo is in his fourth year at Juilliard. In 2016, three of his student choreographic workshop pieces were selected to be performed at the Choreographic Honors Showcase at the end of the year. In the summer of 2016 he was one of three selected for a choreographic residency at the San Francisco Conservatory of Dance Gaga Summer Intensive where he created a work for six women. In early November Colangelo was one of ten selected to present work at Reverb Dance Festival NYC where a fellow classmate performed a solo work. In 2017 Guillaume Cote (associate choreographer of the National Ballet of Canada) invited Colangelo to create work at his Montreal festival, Festival des Arts de Saint-Sauveur, where he presented two separate pieces. In early 2018 he presented work at the Peridance 2018 APAP showcases and recently was one of nine choreographers selected to present work at the Copenhagen International Choreography Competition in Denmark.

About Maddie Hanson
Canadian dance artist Maddie Hanson is a full-time student in her senior year at Juilliard, accepted as an early admission student at the age of 16. Her choreographic work has been presented in Juilliard's Choreographic Workshops, and have been selected for the Choreographic Honors Performances in 2016, 2017, and 2018. She was one of four selected to create a new work as part of the San Francisco Conservatory of Dance Summer Choreographic Residency 2017, which was also performed at the APAP 2018 Conference New York City. Hanson presented two pieces as part of the 2017 DUMBO Dance Festival, where she was awarded the 2017 DDF Award to present work at the 2018 Detroit City Dance Festival as well as choreographed for the Composers and Choreographers Concert in fall 2017 at Juilliard. Recently, she was selected to choreograph for Juilliard's Senior Production Concert in 2019, as well as for this Historical Performance concert at Alice Tully Hall.

About Moscelyne ParkeHarrison
Moscelyne ParkeHarrison is a senior dance major who began her dance training in Berkshires. At Juilliard, she has had performed new works by Helen Simoneau, Katarzyna Skarpetowska, and Roy Assaf as well as the repertoire of José Limón, Nacho Duato, and Crystal Pite. In addition to main stage performances she participates in outreach programs. She is a Gluck Community Fellow, and a volunteer for dance for Parkinson's disease. During her summers ParkeHarrison has trained and performed with the Jacob's Pillow Contemporary Ensemble as well as the composing principles of Iztok Kovac at Dock 11 in Berlin. In addition to performing, she enjoys choreographing and collaborating with other artists. Two of her workshop creations have been selected for the Juilliard Choreographic Honors concert. This past summer she attended the creative composition lab for music and dance as a part of the creative gesture program at Banff. She also choreographed and performed in the play He & She at the New York Theater Summerfest Festival. Her creation, Tour of a Reverie, originally choreographed for Juilliard's ChoreoComp, will be performed in the Triskelion Arts CollabFest this fall.

About Juilliard415
Since its founding in 2009, Juilliard415, the school's principal period-instrument ensemble, has made significant contributions to musical life in New York and beyond, bringing major figures in the field of early music to lead performances of both rare and canonical works of the 17th and 18th centuries. The many distinguished guests who have led Juilliard415 include Harry Bicket, William Christie, Monica Huggett, Ton Koopman, Nicholas McGegan, Rachel Podger, Jordi Savall, and Masaaki Suzuki. Juilliard415 tours extensively in the U.S. and abroad, having performed on five continents with notable appearances at the Boston Early Music Festival, Leipzig Bachfest, and Utrecht Early Music Festival (where Juilliard was the first-ever conservatory in residence), and on a 10-concert tour of New Zealand. With its frequent musical collaborator, the Yale Institute of Sacred Music, the ensemble has played throughout Italy, Japan, Southeast Asia, the U.K., and India. Juilliard415, which takes its name from the pitch commonly associated with the performance of Baroque music, A=415, has performed major oratorios and fully staged productions: Handel's Agrippina and Radamisto; Bach's Matthew and John Passions; Cavalli's La Calisto; and performances in the U.S. and Holland of Bach's Mass in B Minor conducted by Ton Koopman. The ensemble recently performed in Bolivia, in a tour sponsored by the U.S. Department of State that marked the ensemble's South America debut. The 2017-18 season was notable for the Juilliard debuts of the rising conductor Jonathan Cohen and the Belgian vocal ensemble Vox Luminis, a side-by-side collaboration with Philharmonia Baroque in San Francisco, as well as return visits by Rachel Podger, William Christie, an all-Bach concert with Maestro Suzuki, and the rare opportunity to see a fully-staged production of Rameau's Hippolyte et Aricie. This season's international schedule includes performances in Canada, London, Athens, Versailles, and throughout Scandinavia. In New York, Juilliard415 welcomes Paul Agnew and Alfredo Bernardini for their Juilliard debuts.