Review Roundup: See What Critics Thought of Tyne Daly and Tim Daly in Theresa Rebeck's DOWNSTAIRS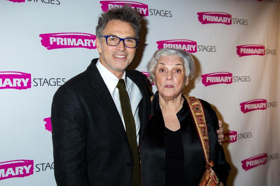 Primary Stages presents Downstairs by Theresa Rebeck ("Smash," Bernhardt/Hamlet, Poor Behavior at Primary Stages), directed by Adrienne Campbell-Holt (What We're Up Against). Performances began at the Cherry Lane Theatre (38 Commerce St, New York, NY, 10014) on November 7, 2018, opened last night, November 18, and runs through December 22, 2018. The cast includes Tony and Emmy Award winner Tyne Daly (Gypsy, "Cagney and Lacey") as "Irene," Emmy Award nominee Tim Daly ("Wings," "Madam Secretary") as "Teddy," and John Procaccino (Our Lady of 121st Street, Our Mother's Brief Affair) as "Gerry."
Theresa Rebeck, one of the country's most acclaimed and widely-produced playwrights, returns to Primary Stages with the gripping new family drama, Downstairs. This thrilling production will star real-life siblings Tyne and Tim Daly, who will be appearing together for the first time on the New York stage. In Downstairs, Teddy is a bit lost and has found himself staying in his older sister Irene's unfinished basement, which has infuriated her husband Gerry. As Irene and Teddy struggle with this less-than-ideal living arrangement, they quickly find themselves grappling with the burden of their family's troublesome history. While trying to mend the past, the pair unearths a foreboding danger threatening to break the perilously thin bonds holding them together.
Let's see what the critics had to say...
---
Laura Collins-Hughes, The New York Times: Directed with striking clarity and command by Adrienne Campbell-Holt, "Downstairs" is a well-constructed play of whipsaw moods that have much to do with Teddy's instability - a restless volatility that Mr. Daly struggles to embody in a performance that is the production's most amusing yet least convincing. But this is ultimately a kind of horror story, and in its second half we understand that the danger has been lurking in the house all along.
Frank Scheck, The Hollywood Reporter: Just because a play can keep you guessing doesn't necessarily mean it should. Theresa Rebeck's new thriller receiving its New York premiere at off-Broadway's Primary Stages is a prime example. A quasi-Hitchcockian tale about two adult siblings whose relationship is threatened by forces both internal and external, Downstairs stretches credulity to the breaking point. Although the production offers the welcome opportunity for real-life brother and sister Tyne Daly and Tim Daly to make their first joint appearance on a New York stage, it provides them with little more than a gimmicky acting vehicle.
Tim Teeman, The Daily Beast: We are not, finally, shown things we expect to be shown, nor necessarily hear things we expect to hear. But Downstairs is a thriller and convincing marital and family drama that says a lot in its silences, and with excellent performances from its three actors that make this particular basement somewhere you never want to be again.
Robert Hofler, The Wrap: Presented by Primary Stages, Theresa Rebeck's new play "Downstairs" opened Sunday at the Cherry Lane Theatre, and it's a very exceptional thriller - one that's distinguished, in part, because you don't know it's a thriller until Rebeck and director Adrienne Campbell-Holt send out their first shock wave a good hour into this 105-minute drama. The very gentle battle between Teddy and Irene is an extremely shaggy dog, and may leave you wondering where the story is going.
Michael Sommers, The New York Stage Review: Downstairs is not an entirely satisfying drama. Before the story twists into suspenseful mode, it gets downright sleepy. Adrienne Campbell-Holt, the director, somehow should have punched up that soft spot in her otherwise solid staging of the play. Still, some distinctive charm and subtle comedy arises amid Rebeck's chitchat between Teddy and Irene as they fondly reminisce about growing up with their batty parents. (As one who survived just such a childhood, I appreciate the rueful truth in their recollections and affectionate bond.)
Melissa Rose Bernardo, The New York Stage Review: Despite the Dalys' best efforts, Downstairs is almost as adrift as poor Teddy. It starts as a quietly intriguing dysfunctional-family drama-Irene and Teddy's mom had issues as well (Teddy calls her "mean and crazy," while Irene, more forgiving, describes her as "very fragile"), takes a whiplash-inducing turn into thriller territory (an ancient computer with a suitcase-size hard drive stands in for the smoking gun), then settles back very briefly into the brother-sister story.
Photo Credit: Jennifer Broski