Click Here for More Articles on TV/Movies - TV Reviews
Review Roundup: Did YOUNG SHELDON Make a Big Bang with the Critics?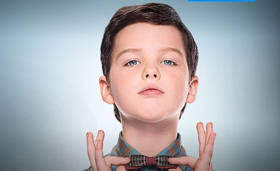 For 9-year-old Sheldon Cooper (Iain Armitage), it isn't easy growing up in East Texas. Being a once-in-a-generation mind capable of advanced mathematics and Science isn't always helpful in a land where church and football are king. And while the vulnerable, gifted and somewhat naïve Sheldon deals with the world, his very normal family must find a way to deal with him. THE BIG BANG THEORY's multiple Emmy Award winner Jim Parsons narrates as Adult Sheldon. This single-camera, half-hour comedy gives us the chance to meet Sheldon in childhood, as he embarks on his innocent, awkward and hopeful journey toward the man he will become. Chuck Lorre and Steve Molaro created the series and executive produce along with Jim Parsons and Todd Spiewak for Warner Bros. Television. Jon Favreau directed the pilot.
YOUNG SHELDON stars
Iain Armitage
as Sheldon,
Zoe Perry
as Mary,
Lance Barber
as George Sr., Raegan Revord as Missy and Montana Jordan as Georgie Jr. THE BIG BANG THEORY's multiple Emmy Award winner
Jim Parsons
narrates the comedy as Adult Sheldon.
Eight-year-old Iain recently starred in HBO's BIG LITTLE LIES and has appeared on NBC's LAW & ORDER: SPECIAL VICTIMS UNIT and the Steve Harvey-hosted kids competition show LITTLE BIG SHOTS. Of course theater fans know him best for his adorable reviews of Broadway shows.
Parsons most recently appeared on Broadway in 2015's AN ACT OF GOD. His other Broadway credits include HARVEY and THE NORMAL HEART.
What did the critics think of the new spin-off? Take a look at what some of them have to say below! And make sure to check out the trailer for the new comedy which premieres this Monday, September 25 at 8:30 on CBS below.
Dominic Patten, Deadline: Besides a strong Zoe Perry as the East Texas matriarch, there are two great opportunities for success in a spirited Raegan Revord as Sheldon's twin sister, and in versatile BIG LITTLE LIES alum Iain Armitage as the socially stumbling 9-year-old genius. Yet, lacking the cynical wit at which BIG BANG and the Jim Parsons-portrayed grown-up Sheldon excels, this single-camera 1989-set comedy doesn't play to it obvious strengths. In fact, in seemingly hoping to appeal just as much to the scant few who've never seen BBT, the Parsons-narrated YOUNG SHELDON ends up trying too hard to fit in with everything else on TV.
Kelly Lawler, USA TODAY: Armitage, who was a standout in HBO's BIG LITTLE LIES earlier this year, is a remarkably articulate and engaging young actor. Had the producers not been able to find someone nearly as precocious as Sheldon, the series wouldn't work. Armitage manages to be cute but not cloying, and just blunt and annoying enough to see hints of Parsons' version of the character nearly three decades older. Zoe Perry, as Sheldon's religious and protective mother, Mary, is also a strong addition to the series. Mary's character contains various familiar "sitcom mom" aspects, but Perry gives her enough edge and individuality to keep her from becoming a cliché. That Perry is the real-life daughter of the actress who plays Mary on BIG BANG (Laurie Metcalf) only adds to her portrayal. The same cannot be said, however, for the rest of the ensemble. Sheldon's siblings (Raegan Revord and Montana Jordan) and his father (Lance Barber) are not developed enough in the pilot to feel like more than tropes (mean siblings, a gruff football coach). Hopefully, future episodes will develop them into more complex and affecting characters.
Hank Stuever, The Washington Post: Chuck Lorre's spinoff of his THE BIG BANG THEORY opts for single-camera format (no sitcom studio audience) to travel back to the challenging childhood of 9-year-old Sheldon Cooper, played by BIG LITTLE LIE's Iain Armitage (with adult-Sheldon voice-over narration from Jim Parsons). Hypergifted at academics but unable to read social cues, Sheldon endures a disastrous first day of high school in East Texas, embarrassing both his older brother (Montana Jordan) and his dad (Lance Barber), who coaches the school's football team. Lorre has never committed to the idea that Sheldon is on the autism spectrum, preferring a sentimental love-conquers-all approach. Fortunately, Armitage is adorably watchable - so much so that we don't really need Parsons butting in to tidy up the stories.
William Hughes, The AV Club: Armitage and Perry do their best, halfway selling YOUNG SHELDON as a story about growing up with a difficult but gifted kid. (And young actress Raegan Revord has a real talent for expressing her exasperation at her TV twin brother's unending tide of precocious behavior.) But every actual moment of humanity is undercut by narrator Jim Parsons, who's constantly popping in to remind us what kind of mean, joyless know-it-all this kid ultimately grows up to be. Skip.
Billy Nilles, E! Online: CBS was wise to snatch up Iain Armitage after BIG LITTLE LIES made us fall in love with him. He's pitch-perfect here as the title character, and the whole WONDER YEARS-vibe scratches an itch I didn't know I had.
Lauren Humphries-Brooks, We Got This Covered: I expected to dislike YOUNG SHELDON, but can only find mild discomfort with it. It's not so much a show to hate - it's actually less objectionable than some of the more recent seasons of THE BIG BANG THEORY - than a show that just doesn't evoke any emotions whatsoever. The cast seem game, but they're given nothing to do, and the character, as popular as he might have been once upon a time, isn't one to build a whole show around. YOUNG SHELDON is the Saltine cracker of television: bland, inoffensive, and instantly forgettable.
Matt Roush, TV Insider: ...A promising spinoff that's anything but a clone of the phenomenally successful THE BIG BANG THEORY. With nostalgic WONDER YEARS-style narration from Adult Sheldon (Jim Parsons), this sweetly funny comedy introduces a 9-year-old savant (Iain Armitage)-as adorable as his older self is prickly. Entering an unruly East Texas high school in 1989, the primly precocious pipsqueak rattles adolescents and grown-ups who don't know what to make of him. But his devout and devoted mom (the terrific Zoe Perry) has his back. So far, so do we.
Related Articles
More Hot Stories For You