Click Here for More Articles on DEAR EVAN HANSEN
Review Roundup: DEAR EVAN HANSEN Opens In The West End - Read The Reviews!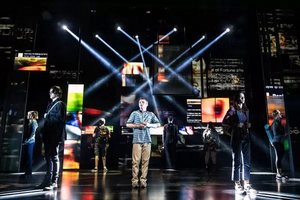 The West End production of Dear Evan Hansen, opened this week at the Noël Coward Theatre, currently booking to 2 May 2020.
The cast comprises Sam Tutty as Evan Hansen, Lucy Anderson as Zoe Murphy, Doug Colling as Connor Murphy and Marcus Harman who will play Evan Hansen at certain performances. They are joined by Rebecca McKinnis as Heidi Hansen, Lauren Ward as Cynthia Murphy, Rupert Young as Larry Murphy, Jack Loxton as Jared Kleinman, Nicole Raquel Dennis as Alana Beck as well as Tricia Adele-Turner, David Breeds, Haydn Cox, Natalie Kassanga, Hannah Lindsey, Mark Peachey, Courtney Stapleton, Alex Thomas-Smith and James Winter.
The winner of six Tony® awards including Best Musical, as well as the 2018 Grammy award for Best Musical Theatre Album, Dear Evan Hansen is directed by four-time Tony Award nominee Michael Greif, features a book by Tony award-winner Steven Levenson and a score by the Tony, Grammy and Academy Award-winning composers of The Greatest Showman and La La Land, Benj Pasek & Justin Paul.
A letter that was never meant to be seen, a lie that was never meant to be told, a life he never dreamed he could have. Evan Hansen is about to get the one thing he's always wanted: a chance to finally fit in. Both deeply personal and profoundly contemporary, Dear Evan Hansen is a new musical about life and the way we live it
---
Caroline Cronin, BroadwayWorld: After a flurry of Tony Awards, and a star turn in the titular role by Ben Platt, Dear Evan Hansen has gained a cult following over these last three years - in large part due to the score by Benj Pasek and Justin Paul, and its zeitgeist-y narrative around social media's role in mental health issues. Its opening in the West End, then, inevitably comes with a lot of baggage and expectation. But fans needn't worry - we've got a hit on our hands here.
Mark Shenton, London Theatre: In the stunningly slick and sleek production that has arrived at the Noel Coward Theatre, the show has also found and will make a new star of recent Italia Conti graduate Sam Tutty in the title role. Just as Jac Yarrow last summer graduated from ArtsEd to take the title role in Joseph and the Amazing Technicolor Dreamcoat at the London Palladium (and who has now been announced will reprise it next summer), Tutty is another discovery, who pulls off the rare trick of projecting adolescent angst and insecurity with paradoxically confident ease. With his strawberry blonde hair and slight physical bearing, he embodies a nerdy character (far more successfully, in fact, that Ben Platt who originated the role on Broadway). There's a truthfulness to his acting - and a robust singing voice - that makes him feel utterly authentic and intensely moving.
Michael Billington, The Guardian: This musical arrives from the US laden with honours - including six Tony awards and a Grammy - and you can see why. It captures the agonies of youth, allows the songs to grow out of the action and boasts a great role, here memorably taken by Sam Tutty, for its lead actor. I admired the show without lapsing into unqualified rapture.
Alex Wood, WhatsOnStage: It's an unlikely subject matter for a musical, and Steven Levenson's book and Benj Pasek and Justin Paul's score revel in being at odds with one another - the anxiety-inducing precariousness of Evan's deception (there's a creeping sense throughout that truth is seeping through the cracks) undercuts the joviality of the soaring, rousing numbers, especially the climactic end to act one when things begin falling apart during the triumphant "You Will Be Found".The result is something quite extraordinary - a musical not like any other. Director Michael Greif's staging is desperately, torturously uncomfortable at times, while other moments shimmer with genuine pathos.
Clive Davis, The Times: If it all sounds dark and unsettling, there is life-affirming humour too. The exhilarating set-piece Sincerely, Me finds Evan and a tech-savvy friend inventing and embellishing messages that are mouthed by the departed Connor. It is an astonishing moment, at once heartless yet funny and poignant. The rock-flavoured melodies come from a subtle but propulsive band seated on a platform above the actors. Requiem is a haunting lament, and while the second act's songs are more prosaic, Evan's confessional, Words Fail, still hits home.
Alice Saville, Time Out: Steven Levenson's book is painfully astute on the way a lie can build and build, and take on a life of its own. Connor is no longer a boy; he's an idea, something that's discomfitingly explored in a scene where Evan moves his ghost about like a puppet as he and his almost-friend Jared try to give him a backstory. And when a lie's helping save other lives, does the truth even matter? There's a growing, yawning chasm where the real Connor should be; everyone benefits from his absence to mould him into the friend, the ideal son, the sympathiser they never had.
Nick Curtis, Evening Standard: Michael Greif's production feels as if it's been transported lock, stock and barrel from Manhattan, right down to the eyes-aloft, from-the guts-style of singing, which always looks odd and overdone in London. Ultimately, this is a high school drama about stalkers, trolls and those who piggyback on tragedy. Which may be a tough sell for a London musical audience.
Marianka Swain, iNews: Though the musical shows how you can be both victim and perpetrator simultaneously, the second half doesn't interrogate Evan's actions strongly enough, and a rushed ending loses sight of the secondary characters. However, this is a thoughtful examination of mental illness, family and class difference, plus how the internet age shapes us - and can feed a Trump or Boris-like manipulation of the truth.
Dominic Cavendish, Telegraph: I was consistently (darkly) entertained, not just by the narrative twists and turns but the internal knots into which Hansen ties himself, prompted by his tangle of misplaced altruism, grasping opportunism and beta-male insecurity. At the same time, the evening does feel - much like its protagonist - supremely calculated; and for all its cleverness, there is an air of chilliness about it. Original though the scenario undoubtedly is, it unfolds fairly schematically; too few of the characters feel fully fleshed out.
Tim Bano, The Stage: Tutty does his own thing, and he soars. Crucially, he's more likeable than Platt, which solves some of the show's problems. His Evan is a tight, jittery knot of anxiety, embarrassed by his own existence, looking the whole time like he wishes the world would swallow him up. His panicky, rabbit-in-headlights expression never leaves his pale face, and he fiddles with his fingers and shirt buttons like he's surprised he's got limbs and not sure what to do with them. If he relies too much on the speedy delivery of his lines to signal his anxiety, that's only a minor complaint. The horrific turmoil of anxiety is all there. A particular high point sees him sing the confessional, unburdening song Words Fail while also breaking down in floods of ugly, snotty tears.
John Nathan, Metro: Its soft rock score is by La La Land lyricists Benj Pasek and Justin Paul. Even better, Steven Levenson's gripping story is unlike any of the many US high school shows you've ever seen. Best of all is 21-year-old Sam Tutty, who in his West End debut is launched by Michael Greif's slick production into the stratosphere of musical stardom.
Paul Taylor, Independent: With his phenomenal voice and almost flagrant cuteness, Platt generates the impression (however unfair) of leading a charmed life as a performer. Tutty is more than equal to the part's extraordinary demands - his strong singing voice has the plaintive wail and SOS falsetto of someone in a rapture of neediness - but he also radiates the haplessness of a misfit propelled into a situation that is at once horribly comic and tragic. Farcically tongue-tied, and with his own idealised fantasies of having had an intimate friendship, he succumbs to the temptation of exploiting the family's grief.
Lucy Brooks, Culture Whisper: Sam Tutty is remarkably confident in his West End debut, playing Evan with a squirmy shyness and a sweet but strong singing voice. He makes the adolescent awkwardness at once funny and deeply tender. He has strong support from Rebecca McKinnis as Evan's overworked single mum, juggling worries and ambitions for her son with the guilt and devotion of parenthood.