Reprise 2.0 Completes Cast of SWEET CHARITY; Terron Brooks, Krystal Joy Brown, and More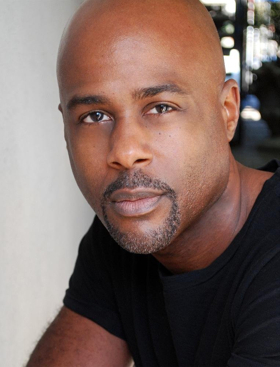 Casting is now complete for the inaugural REPRISE 2.0 production of Sweet Charity. Directed and choreographed by Kathleen Marshall, the classic Broadway hit plays from June 20 to July 1 at UCLA's Freud Playhouse. Tickets for Sweet Charity are now on sale at Reprise2.org or by phone at 800-982-2787. REPRISE 2.0 is led by producing artistic director Marcia Seligson.
The production stars previously announced
Laura Bell Bundy
(Legally Blonde - Tony Award Nomination, Hairspray, Anger Management) as "Charity,"
Barrett Foa
(Eric Beale on NCIS: Los Angeles, Avenue Q, The 25th Annual Putnam County Spelling Bee) as "Oscar" and
Jon Jon Briones
(Miss Saigon West End (Olivier Award Nomination) and Broadway (Drama Desk Award Nominee); The Assassination of Gianni Versace: American Crime Story as "Modesto Cunanan," father of Versace's murderer, "Andrew Cunanan") as "Herman." Sweet Charity also features
Terron Brooks
(NBC mini-series The Temptations, The Lion King on Broadway) as "Daddy Brubeck,"
Krystal
Joy Brown
(Big Fish, Motown the Musical, Leap of Faith on Broadway) as "Helene,"
Yvette Gonzalez-Nacer
("Cha Cha" on FOX's Grease: Live!, National Tour of In the Heights) as "Nickie, "
Ashley Loren
(Broadway and National Tour of Jekyll & Hyde) as "Ursula," and
Robert Mammana
(Broadway and National Tour of Les Miserables) as "Vittorio." The ensemble of Sweet Charity includes
Ari Aaron
, Justin Badding, Claudia Baffo, Gillian Bozaijan, Victor Chan,
Catriona Fray
,
Bella Hicks
, Lucia Joyce,
Jeffrey Landman
,
Ashley Matthews
, Grayson McGuire,
Amber Mercomes
,
Angeline Mirenda
,
Chuck Saculla
,
Evan Strand
, and
Louis Williams
. Sweet Charity features musical direction by
Gerald Sternbach
; scenic design by Stephan Gifford; costume design by Angela Calin; lighting design by
Jared A. Sayeg
; sound design by
Jonathan Burke
; hair design by
Judi Lewin
and projection design by Ryan Marsh. Jessie Vacchiano serves as production stage manager and casting direction is by
Michael Donovan
. REPRISE 2.0 returns a professional musical theater season to UCLA's intimate 586-seat Freud Playhouse in partnership with UCLA TFT's Department of Theater. This initiative allows the school to expand activities for its theater students - in performance, lighting, sound and set design, as well as interning with REPRISE 2.0 personnel in directing, stage management, casting, producing, musical direction, costuming and choreography. Students also appear in the productions on stage as part of the ensemble, as appropriate. The ensemble of Sweet Charity features UCLA student Claudia Baffo and UCLA Alumni
Gillian Bozajian
and
Catriona Fray
, and the Projection Designer of Sweet Charity is UCLA third year undergraduate student Ryan Marsh. The REPRISE 2.0 2018 Season also includes Tony Award Nominee
Carmen Cusack
in Victor/Victoria directed by
Richard Israel
and choreographed by
John Todd
(September 5 - 16); and Grand Hotel - The Musical (October 24 - November 4) directed by
Arthur Allan Seidelman
and choreographed by
Kay Cole
. Single tickets for Sweet Charity are now on sale at
Reprise2.org
or by phone at 800-982-2787. Subscription packages are still available at
Reprise2.org
or by phone at 1-866-811-4111. All of the productions will be conducted by REPRISE 2.0 Musical Director
Gerald Sternbach
. Joining the REPRISE 2.0 team with Seligson are Co-Artistic Directors
Glenn Casale
and
Michael Donovan
; Executive Producers
Kevin Bailey
and
Arthur Allan Seidelman
; and General Manager Matthew Herrmann. Sweet Charity Sweet Charity is a collaboration between some of Broadway's most spectacular talents. The hilarious, razor-sharp dialogue is by
Neil Simon
(Barefoot in the Park and The Odd Couple); the pop-influenced, jazzy music by
Cy Coleman
(Barnum and City of Angels) and lyrics by the legendary
Dorothy Fields
("On the Sunny Side of the Street" and "I Can't Give you Anything But Love"). Based on
Federico Fellini
's The Nights of Cabiria, Sweet Charity was director
Bob Fosse
's riotously colorful valentine to his then-wife, Broadway dancing phenomenon
Gwen Verdon
. Premiering in 1966, it was nominated for nine Tony Awards and ran for 608 performances. John McClain said in the Journal-American, "The word was all around that Sweet Charity was a hit and after catching it I can only add that it is a big fat one ... there was that wonderful electricity which crackles through an audience at a successful premiere. Sweet Charity is simply an atomic smash." Charity was played in Las Vegas and London by
Juliet Prowse
and by numerous stars in subsequent New York revivals, including
Debbie Allen
and later
Ann Reinking
(1986),
Christina Applegate
(2005) and
Sutton Foster
(2016). The film version (1969) stars
Shirley MacLaine
and was directed and choreographed by Fosse. The story centers on Charity's life as a dance hall hostess "with a heart of gold", determined to break out of the Fan-Dango Ballroom. Her misadventures in 1960s New York take her from a zany night with Italian film star Vittorio Vidal (in which she ends up alone in his bedroom closet), to dating the neurotic and shy Oscar Lindquist. When Oscar proposes, he insists he doesn't care about Charity's profession. But in the end, he does care very much and Charity is soon back to having her toes and heart stepped on in the ballroom. But not before singing and dancing to such rousing Broadway classics as "Big Spender," "If My Friends Could See Me Now," "Where Am I Going," and "There's Gotta Be Something Better Than This." The REPRISE 2.0 production is directed and choreographed by one of Broadway's most celebrated artists,
Kathleen Marshall
. A winner of three Tony Awards (with six more nominations), she directed and choreographed such Broadway hits as Anything Goes(2011 revival with
Sutton Foster
) and The Pajama Game (2006 revival with
Harry Connick
, Jr.). She was Artistic Director of New York's "Encores" series from 1996-2000.