Readings of ALBINO DEER Complete Casting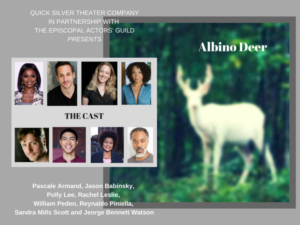 Quick Silver Theater Company (QSTC), in partnership with the Episcopal Actors' Guild (EAG), will present readings of Albino Deer as part of EAG's Open Stage Grant.
Part documentary theater, part devised script, Albino Deer is a memory play / play on memory that examines the nature of memory and place and the human consequences of environmental policy.
environmental regulations to benefit their deep-pocketed industrial benefactors.
The resignation of Scott Pruitt brought a long-anticipated end to a sordid chapter of venality and self-dealing; however, in the wake of his departure, the Trump EPA has not skipped a beat gutting. While many see the last five-hundred-odd days of the Trump Presidency as a nadir for environmental conservation, in fact his administration is the logical conclusion of decades of pro-business, pro-development policies that despoil the environment and prevent accountability for polluters.
As with so many other areas of public policy, the devastating consequences of decisions that endanger public health disproportionately affect the bodies of those in marginalized communities who can least survive the effects.
For three years, Quick Silver Theater Company founder Tyrone Mitchell Henderson has brought a company of actors, directors and playwrights to his hometown: the City of Geneva--a community of less than 13,000 in the Finger Lakes Region of upstate New York--to host the company's annual Playwrights of Color Summit.
As Geneva struggles with industrial decline, embodied in abandoned emblems of its former key role in national defense and American industry, the citizens of Geneva struggle with interconnected issues of environmental and economic justice while maintaining fierce pride in their hometown.
Over the past three years, company members became enmeshed with the Geneva community, and it has emerged through ongoing conversations that many Genevans have been falling ill. Remarkably, many cancer survivors in Geneva did not know of each other until they were in shared conversation with theater artists from over three hundred miles away.
Inspired by the potential of conversation and the redemptive power of telling one's own story, QSTC embarked on a year-long series of conversations with individuals intimately acquainted with the political and environmental issues affecting Geneva's citizens. Albino Deer has been arranged by QSTC resident playwright, Sergei Burbank.
The resulting work, still in active refinement, is subject-driven; as such, it has grown from an investigation of a specific process of environmental remediation to rumination on what the last century of American industrialization will leave as a legacy for the centuries to come, the role of science in public life and the very nature of death.
The ensemble of Albino Deer includes: Tony nominee (Eclipsed) and QSTC company member Pascale Armand, Jason Babinsky (Billy Elliot & Ghost), Polly Lee (The Americans), QSTC company member Rachel Leslie, William Peden, Reynaldo Piniella (Venus & The Death of the Last Blackman-Signature Theatre Company) Sandra Mills Scott and Jeorge Bennett Watson (Luke Cage). Albino Deer, compiled by QSTC resident playwright Sergei Burbank, will be directed by QSTC founder Tyrone Mitchell Henderson.
Albino Deer readings will take place at Episcopal Actors' Guild (EAG) historic theatre space at 1 East 29th Street NYC 10016. The Wednesday August 22nd through Saturday August 25th, 2018 readings will be at 7 pm. The Sunday August 26th, 2018 reading will begin at 2 pm. Seating is limited. Run time is approximately 90 minutes with no intermission. Tickets are $20. Discount tickets are available for EAG members. A portion of ticket sales will support the charitable programs of EAG. QSTC ends every event with a talkback (QSTConversation).
To find out more about QSTC and to purchase tickets visit our website: www.QuickSilverTheater.com
Related Articles
More Hot Stories For You