Click Here for More Articles on Stars in the House
RECAP: The Cast of CAROLINE IN THE CITY Did a Reading of the Pilot Episode on STARS IN THE HOUSE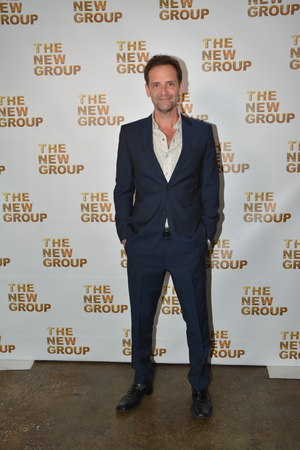 Stars in The House, benefiting The Actors Fund, continued Tuesday night (8pm) for a Caroline in the City Cast reunion with Malcolm Gets, Cathy Ladman, Tom La Grua, Andy Lauer, Eric Lutes, John Mariano, Amy Pietz and Lea Thompson.
Co-creator Marco Pennette talked about how CAROLINE IN THE CITY came to be. "I co-created it with Fred Barron and Dottie Dartland. The three of us got together. We really wanted to do a show that was female-driven. In the mid-90s as far as sitcoms go, there really weren't a lot of female-driven shows and we kind of thought that was a breath of fresh air at that point...We fell in love with this idea of a cartoonist. Cathy [comic] was very big at the time...We ended up writing it on spec which meant no one hired us to write it we just loved the idea. We were working on another show at the time and we ended up writing it. We wrote it for CBS and they said no thank you but NBC said we'll take it and we shipped it over to NBC and they had Lea Thompson under a deal and it all kind of fell into place."
Lea Thompson talked about how she got the role of Caroline. "I actually developed a comedy and a drama and they didn't like them and then they handed me a stack...this was the best story of my life! They handed me a stack of scripts and Warren Littlefield just took one off the top and said 'this CAROLINE IN THE CITY, this is the one you should do.' I go 'why?' and he said 'cause you're name's in the title, they can't get rid of you!' Also, I had two babies so it seemed like a great thing but I also loved the script, it was hilarious and scary. I was so scared to do a sitcom. It was something."
The cast of CAROLINE IN THE CITY did a reading of the pilot episode.
Malcolm Gets sang a section from the workshop of A NEW BRAIN.
Lea Thompson sang from CABARET.
Click HERE to watch the full episode.
Stars in the House continues today (2pm) with Plays in the House: THE CONFESSION OF LILY DARE (Starring Nancy Anderson, Christopher Borg, Charles Busch, Howard McGillin, Kendal Sparks, Jennifer Van Dyck. Directed by Carl Andress)
Click HERE to watch at 2pm
Current and past episodes can be found on the website starsinthehouse.com, as well as a donate button linking viewers to The Actors Fund.
Related Articles
More Hot Stories For You
Patti LuPone Wants to Narrate Mary Trump's New Book For Randy Rainbow to Lip-Sync
Could we be getting a new Randy Rainbow/Patti LuPone collaboration? We sure hope so!...

QUIZ: Attend the Winter's Ball to Find Out Which Hamilton Star Will Be Your Date!
We're going back to 1780 for A Winter's Ball (you know, where the Schuyler Sisters are the envy of all?) for our latest Hamilton quiz!...

VIDEO: On This Day, July 9- Lin-Manuel Miranda, Phillipa Soo, Ariana DeBose, and Leslie Odom, Jr. Say Goodbye to HAMILTON
On this day in 2016, original Hamilton cast members, Leslie Odom Jr., Phillipa Soo, and Ariana DeBose along with the musical's star and composer, Lin-...

VIDEO: Listen to Act 1 of HAMILTON, Acted Out by The Muppets
Voice actor and comedian Ricky Downes III has recorded all of Act I of Hamilton... in the voices of all The Muppets!...

Broadway League Approves 15-Second COVID-19 Test For Actors and Crew; League President 'Cautiously Optimistic' About Early 2021 Return
Broadway League President Charlotte St. Martin told the New York Post that for the first time, she feels 'cautiously optimistic' about Broadway being ...

BROADWAY AT HOME on PBS Continues With GREAT PERFORMANCES: SHE LOVES ME & More
Beginning July 24, GREAT PERFORMANCES will continue to keep the performing arts alive with Broadway at Home, broadcasting a theatrical favorite every ...