Powerful Week Starts Tonight At The Downtown Urban Arts Festival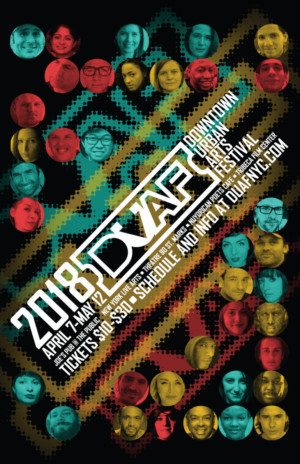 Taking NYC by storm, the sweet 16th annual Downtown Urban Arts Festival (DUAF) opened with a bang with WÉ MCDONALD at Joe's Pub at The Public Theater followed by sold-out showings of "The Vast Mystery Of Who You Are: Part One" by Kim Yaged and "Gay.Porn.Mafia" by Joe Gulla. This week, the festival moves to THEATRE 80 ST. MARKS, 80 ST MARKS PLACE, NEW YORK CITY with an array of new and exciting works written by cutting-edge authors including Anghus Houvouras, J.E. Robinson, Rollin Jewett, and Daniel Damiano.
Live theater from DUAF continues next week before shifting to a star-studded Poetry Slam and then a week-long film festival. Visit www.duafnyc.com for details.
---
WEDNESDAY, APRIL 18 @ 8:00 PM
SUBLET BY Alisa Zhulina
Christy, an overworked hospital resident, new to New York City, sublets a room from an artist working on a mysterious sculpture. Things start to get scary, or is it just Christy's imagination? What's really going on in this express journey to NYC roommate hell fueled by outsized artistic ambition.
AMERICAN TRANQUILITY BY Daniel Damiano
A southern retiree, an Iranian subway station poet and percussionist, a talk-radio show host and a Brooklyn existentialist reflect on the human divide in 21st century America.
---
THURSDAY APRIL 19 @ 8:00 PM
STRINGS BY Charles Curtis
A detective turned modern day vigilante, a lawyer with an ulterior motive, and the strings that bind them both. They each find that neither is truly innocent, and that no matter how fast we run our past catches up with us eventually.
---
FRIDAY, APRIL 20 @ 8:00 PM
THE STRONG MAN BY J.E. Robinson
Decades ago, at the head of his gang, Pearl Crabtree was strong enough to kill any man. Is he now strong enough to kill one of his own?
CORPORATESTHENICS BY Baindu Dafina Kalokoh
From unsuccessfully climbing the corporate ladder to fearlessly summiting Mount Everest, Black Television Network's favorite physical trainer premieres the newest edition to her record selling fitness program. Her unique strength and conditioning techniques are essential to breaking glass ceilings in every profession.
---
SATURDAY, APRIL 21 @ 8:00 PM
HELP ME GET OVER YOU BY Rollin Jewett
John is in love with Phyllis. Unfortunately, he only realizes it after he breaks up with her. Now she's moved on and John can't seem to get her out of his mind. What's a lovestruck fool to do? Ask her to help him get over her, of course. The question is: What's in it for her?
A CIVILIZED WORLD BY ANGHUS HOUVOURAS
An opioid addict is sentenced to death in the near future where being an unproductive member of society is a capital offense. The play centers on the condemned, Eleanor Reed, and her final conversation with Andrew Goodman, a lifelong government shill tasked with explaining the value of her sacrifice.
Related Articles

More Hot Stories For You